oneColumn
PROJECT ATRIUM: MAUD COTTER
WHAT WAS NEVER OURS TO KEEP
JULY 9, 2022 - NOVEMBER 20, 2022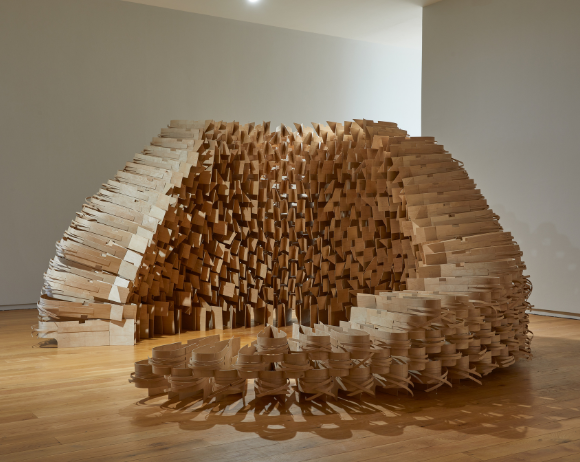 © Maud Cotter, without stilling, 2017-2018, finnish birch ply, weights, 3.5 x 3.5 x 3.5 m, Dublin City Gallery The Hugh Lane, 2021. Courtesy the artist and domobaal. Photography by Denis Mortell.
An acclaimed artist, both in her homeland Ireland and internationally, Cotter is best known for her sculptural installations. Although her early work used glass and steel, in recent years Cotter has turned to other man-made materials such as cardboard, industrial rubber and clear plastic, as well as wood, to create the three-dimensional works through which she explores our definitions and boundaries, both physical and mental, of material form and space.  
For her new commissioned project for MOCA's Project Atrium Series, what was never ours to keep, Cotter responds to the spectacular 40 foot tall Atrium Space with an installation that continues her probe into our relationship with matter, and the forces that govern this relationship; in this case, gravity.  
Co-Curated by Caitlín Doherty, Executive Director, MOCA Jacksonville and Ylva Rouse, Senior Curator, MOCA Jacksonville. Special thanks to Kevin Dolan, Engineer.
SPONSORS
Title Sponsor | Joan and Preston Haskell 
Additional Support | Driver, McAfee, Hawthorne & Diebenow, PLLC.