oneColumn
PROGRAMS
DYNAMIC PROGRAMMING FOR VISITORS OF ALL AGES
MOCA Jacksonville offers a wide variety of program options that empower visitors of all ages to engage more deeply with the art, artists, and ideas of our time. From art classes that let participants explore new skills and media to lectures and discussions that keep conversations going long after the program ends, MOCA is dedicated to providing opportunities for discovery and learning.  
Many of our programs occur on a consistent schedule with new themes each month, some follow a less regular schedule, and others are single occurrences. Learn more about our recurring programs below and keep an eye out for unique programs throughout the year.  
For questions about programs, please contact mocaeducation@unf.edu.
PROGRAMS FOR ALL
MUSEUM NIGHTS 
1ST & 3RD WEDNESDAYS // 5-9 P.M. 
Spend your evenings at MOCA with extended hours the first Wednesday of each month. 
FIRST WEDNESDAYS // Enjoy free admission during Art Walk, happy hour specials, and Made @ MOCA art making activities for creators of all ages, abilities, and skill levels. Plus, browse the wares of tabling artists offering a rotating selection of goods, including ceramics, monotype prints, paintings, gifts, and more.
THIRD WEDNESDAYS // Enjoy happy hour specials, live music, and a variety of special programs like MOCA Movie Night! 
VYSTAR FREE SATURDAYS
EVERY SATURDAY // 11 A.M. - 5 P.M.
Thanks to the generous support of VyStar Credit Union, our community now has greater access to contemporary art. All visitors receive free admission on Saturdays from 11 a.m. to 5 p.m.
MOCA MINI MARKET
December 8-9 // 12-4 p.m.
Applications are open now to be a vendor at MOCA Mini Market! We're looking to showcase local creators and curators of handmade and unique goods. Application and participation for this event are free. Artists must apply during the application period from September 16 - October 16. Apply Now >>
CHILDREN
INSTILLING AN APPRECIATION FOR CONTEMPORARY ART
Through its educational initiatives, MOCA Jacksonville serves the community, inspiring a love of the arts and creativity in thousands of children annually.
A generous gift from J. Wayne and Delores Barr Weaver has empowered the museum to ensure quality educational programs at MOCA for years to come. The J. Wayne and Delores Barr Weaver Educator for Family and Children's Programs is responsible for designing school tours for thousands of students, crafting lesson plans for MOCA Jacksonville's outreach programs, designing innovative art-making activities, creating curriculum for MOCA's Art Camp, conceiving in-gallery interpretative and activity guides for children of all ages, and empowering families to connect and learn while visiting the museum.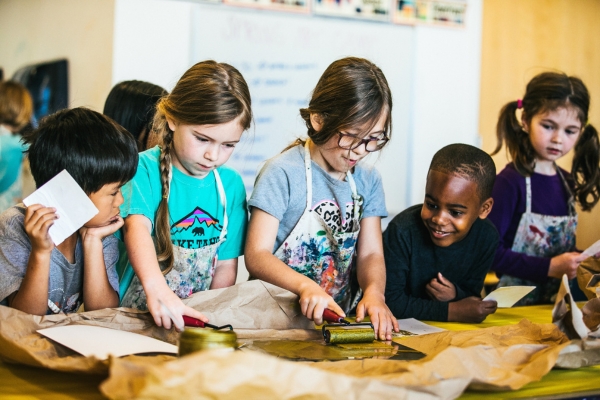 CAMP @ MOCA
MOCA offers seasonal art camps that are full of creativity for kids ages 6-14! Children make new friends and learn art techniques in a variety of media through hands-on learning in a fun and engaging environment. Camps are available during Spring, Summer, and Winter school breaks.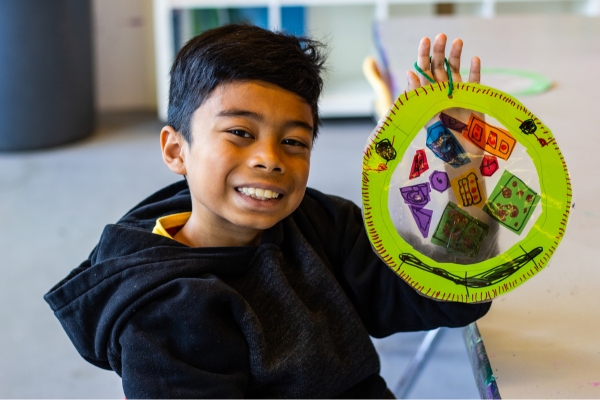 KIDS ART LAB
Kids ages 6-10 join MOCA Educators for fun and engaging art activities inspired by a monthly theme. Each session includes gallery admission, plus an interactive and creative project that kids can bring home—but don't worry the mess of creation stays in MOCA's studios. Join us for Kids Art Lab the second Saturday of each month at noon! MOCA Members save 50% on Art Lab admission.
MADE @ MOCA
Led by professional art educators, Made @ MOCA takes place during each First Wednesday Downtown Art Walk as part of MOCA's Museum Nights program. This dynamic drop-in art-making experience is designed for creators of all ages, skills levels, and abilities. The program is free to the public.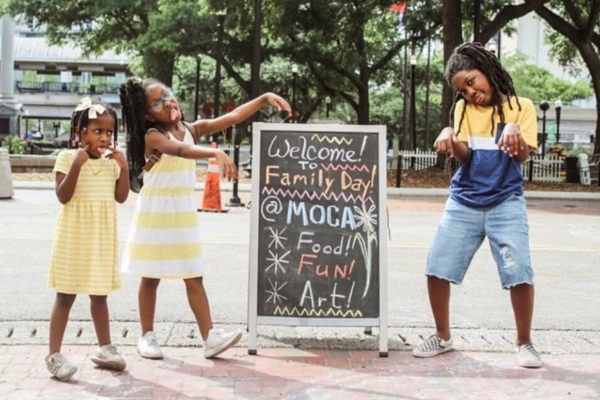 FAMILY DAY
One Saturday each Spring and Fall MOCA Jacksonville opens its doors to families for a day filled with arts education. Enjoy free admission, gallery access, art activities, and additional programs with community partners.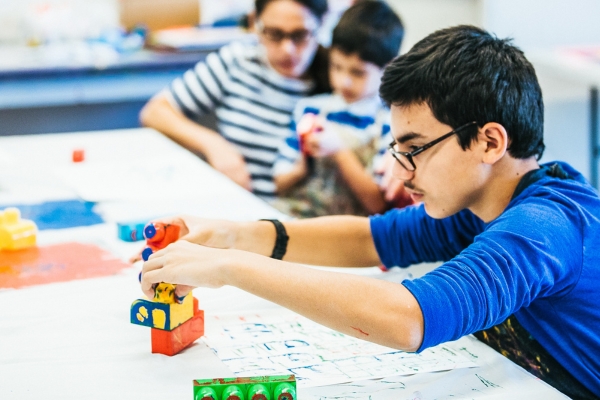 AUTISM CREATES
Autism Creates is an educational initiative designed for children with Autism Spectrum Disorders (ASD) and other exceptionalities. The classes harness art and art-making activities as a means of promoting expression and social interaction between children with ASD and their teachers, caregivers, and peers through activities in the classroom studios and galleries. While children with ASD often struggle with verbal communication, social relations, and sensory development, creative art-making activities enable them to foster new means of self-expression and communication. Created in 2007, this innovative program has been recognized by museum associations and health care providers alike. Join us the second Saturday of each month at 10 a.m.
These programs are supported in part by the Winfield A. Gartner Memorial Fund for Children's Programs.
TEENS
ENGAGING THE NEXT GENERATION OF MUSEUM ENTHUSIASTS 
Teens lead the way in programming at MOCA Jacksonville with a variety of ways to engage. From designing their own programs to completing volunteer service to growing as young artists, the museum is the place for teen programming that inspires. 
TEEN ART COUNCIL
This volunteer group serves to empower local middle and high school students by creating programming for teens, by teens. Members of Teen Art Council meet bi-weekly to learn about the museum, engage with different departments, develop mission-driven projects, and plan a new annual event for teenagers. As Teen Art Council members create and implement programs, they will open doors to new audiences. Members also earn volunteer hours for their participation that count toward college and scholarship requirements. 
TEEN TEACHERS
This volunteer program provides teens with the opportunity to assist museum educators in facilitating Summer Camp @ MOCA. Camp is geared toward children ages 6-14 and includes time in the studios and galleries with inspirational and engaging activities that explore the world of contemporary art. Teen teachers will assist with art making activities. Themes include painting and printmaking, murals and public spaces, photography, and so much more! Volunteer hours count toward requirements for college and scholarships. Shifts are available during all camp weeks and volunteers are asked to commit to at least 2 weeks of service.  
EMERGING ARTIST PROGRAM 
The Emerging Artist Program supports teen artists in developing their skill sets and portfolios for success in studio art programs at the high school and college levels. EAP members will receive project direction for portfolio development, refine their painting and drawing techniques, receive class critiques from peers, create artist resumes, bios, and statements, and receive guidance with applying for school programs and exhibitions. Artists experienced in all mediums are encouraged to apply! 
ADULTS
EXPLORING THE ART, ARTISTS, AND IDEAS OF OUR TIME 
MOCA Jacksonville provides creative, innovative, and inviting learning experiences for all ages. We offer opportunities for all skill levels. Whether you are a novice looking to learn something new or an experienced craftsman looking to refine your skills, we have something for everyone. 
IDEAS OF OUR TIME LECTURE SERIES 
IRREGULAR SCHEDULE // 7 p.m.
This lecture series provides a forum for creative dialogue with artists, educators, and others around some of the most vital and important art and ideas of our time.  
STUDIO PRACTICE
2ND SATURDAYS // 12 p.m.
This monthly series of hands-on, practical art classes empowers students of all levels to learn and create in varying media with the instruction of a local artist.  
MOCA MOVIE NIGHT
3RD WEDNESDAYS // 6:30 p.m.
Enjoy a different movie every month inspired by exhibition themes and current event. Viewers are encouraged to stay after to mingle and discuss the movie with other film lovers. Movie Nights are free with general admission.  
ART OF THE FIGURE WORKSHOPS
1ST & 3RD SATURDAYS // 3 p.m.
This life drawing series, led by local artist William McMahan on the 1st and 3rd Saturday of each month, is designed for artists of all levels of experience. Learn and practice general proportion and key anatomical landmarks by studying a live model. A focus will be placed on creating dynamic figures, demonstration and practice of gesture drawings, and intentional consideration of different levels of finish. Bring your own materials to draw. Newsprint and charcoal are recommended for gesture drawing, but any drawing medium is acceptable for the longer poses.  
ARTFUL MOVEMENT WITH YOGA 4 CHANGE
3RD SUNDAYS // 10 a.m.
Join us for yoga in the galleries the third Sunday morning of each month for an artful yoga practice. In collaboration with local non-profit Yoga 4 Change, Artful Movement is an all-levels yoga class that takes place in the galleries at MOCA Jacksonville. Experienced instructors will lead each class, offering modifications to poses to allow every student to participate at their own level. These classes are designed for all ages and practice levels. Please bring your own yoga mat.  
SEIZE THE CLAY CERAMICS WORKSHOP
4TH SATURDAYS // 1-3 p.m.
Join artist and sculptor, Mark Lester, in MOCA's 5th floor studio for a monthly ceramics workshop. Develop your hand building and glazing skills in this recurring class for artists of all abilities. Low-fire clay, tools, and basic glaze options are provided. Students are welcome to bring additional tools and low-fire glazes. Kiln firing of 1 small piece completed in workshop included for each class attended.    
BRUNCH & LEARN 
IRREGULAR SCHEDULE // 11:30 a.m.
Join us for a light brunch and discussion of a variety of exhibition themes with guest speakers. This intimate brunch setting gives program attendees the opportunity to learn directly from experts, ask questions, and  
COFFEE WITH A CURATOR
IRREGULAR SCHEDULE // 11 a.m.
This intimate event offers conversations with a museum curator about current exhibitions at MOCA. Guests can enjoy coffee and sweet treats, and time in the galleries.