oneColumn
SCHOOLS & EDUCATORS
ENRICHING RESOURCES FOR DEVELOPING MINDS
Quality educational programming is an important part of MOCA Jacksonville's mission to promote the discovery, knowledge, and advancement of the art, artists, and ideas of our time. MOCA offers a variety of program opportunities for schools, including in-person and virtual school tours, in-classroom resources, and engagement opportunities that support literacy, critical thinking, and communication skills.  
Programs for schools are supported in part by the Winfield A. Gartner Memorial Fund for Children's Programs.
SCHOOL TOURS
CURRICULUM-BASED TOURS FOR ELEMENTARY, MIDDLE, AND HIGH SCHOOL
School groups will tour the galleries with a Museum Educator to experience exciting, contemporary artworks firsthand. School groups also visit the studio workshops to create artwork inspired by their visit. All school tours follow grade-level specific curriculum standards.  
Tours are available Tuesday – Friday between 10 a.m. and 3 p.m.  Reservations are required at least 2 weeks in advance.  Groups are limited to 50 students per tour time . Cost is $5 per student.
Virtual School Tours are also available. Learn more in the Meet Me @ MOCA tab.  
To book a tour or ask questions about the program click the button below or contact the Education Team at mocaeducation@unf.edu or 904-620-3212.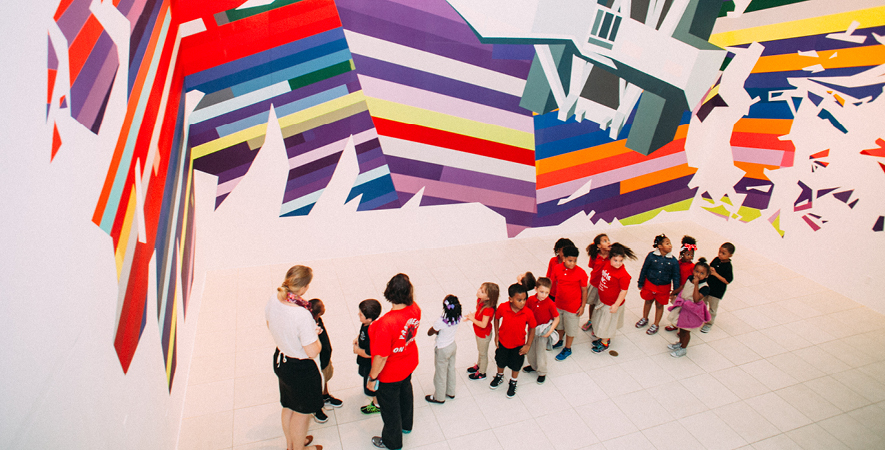 SCHOOL TOUR CATEGORIES & THEMES
School tours are available for the following grade levels, and new standards-based themes are in development for the 2023/24 school year. 
ELEMENTARY SCHOOL
K – 1st grade // Color & Pattern
2nd – 3rd grade // Balance & Movement
4th – 5th grade // Form & Proportion 
MIDDLE SCHOOL
6th – 8th grade  
HIGH SCHOOL
9th – 12th grade  
MEET ME @ MOCA
A VIRTUAL ARTS EDUCATION EXPERIENCE
The Meet Me @ MOCA program provides students in Jacksonville and around the country with the opportunity to receive a LIVE virtual guided tour of MOCA's galleries led by a Museum Educator; a specially created pre- and post-tour curriculum; and an engaging art kit to fuel their creative energy. With three levels of rich content and specially designed curriculum for students in elementary, middle, and high school, the program offers six hours of critical art education, a virtual museum experience, and practice with comprehensive evaluation.  
SCHEDULING & PRICING
Tours are available Tuesday – Friday between 10 a.m. and 3 p.m.  Reservations are required at least 2 weeks in advance.  Groups limited to 50 students per tour time .
Tours - $5 per student    
Art Kits - $10 per student  
Shipping rates vary, free local pick up available  
Are you with a Title I school? Contact us to learn about receiving free access to Meet Me @ MOCA tours and art kits for your classroom. 
To book a tour of ask questions about the program, please contact the Education team at mocaeducation@unf.edu or 904-620-3212. 
PROGRAM OVERVIEW
GUIDED VIRTUAL TOUR WITH MOCA EDUCATORS
Teachers will be able to access to pre- and post-tour curriculum online, including recommended readings, recorded step-by-step art-making activities, and curriculum standards to enhance each student's museum experience. The program also includes a 60-minute live virtual tour of select galleries led by a Museum Educator in our purpose-developed 360° Virtual Tour Platform. Prerecorded options are available. Tour length can be adjusted to fit classroom schedules. 
ART KITS
Art Kits can be sent to schools for in-person or virtual use and include general art supplies for students to use for both the projects associated with the curriculum packet of lessons and to foster additional independent projects.  
TOUR CURRICULUM
Each scheduled tour includes access to tour curriculum packets for all teachers attending the tour. Each packet includes:  
2 pre-tour activities that explore art criticism and promote cross-curricular connections between visual art and other subject areas such as math, science, or history.

 

2 post-tour art-making activities that reinforce themes from the guided tour and promote reflection on the creative process.

 

All curriculum is based on the grade-level theme and is aligned with current state and national curriculum standards.

 

Curriculum packets will be delivered digitally to teachers in advance of their tour; hard copies will be included with Art Kit delivery.

 

Total estimated curriculum time: 6 hours per student 

 
VOICE OF THE PEOPLE
IMPROVING READING AND WRITING THROUGH ART CRITIQUE
MOCA Jacksonville's Voice of the People is an innovative, literacy-based educational arts initiative that hones critical thinking and communication skills as it develops a deeper understanding of contemporary art. Voice of the People serves elementary, middle, and high school students at Title I schools throughout the school year and has been adapted for both in-person and virtual learning. During several visits to MOCA (or virtual lessons), students are introduced to exhibitions, from which they select works of art that speak to them. The students analyze the works, prepare descriptive narratives, and create recordings that serve as part of the museum's audio guide, accessible to all those who visit the galleries during the exhibition or view its 360 Virtual Tour online. In addition to gaining familiarity and comfort within a museum setting and a greater appreciation for art, Voice of the People improves critical thinking skills, encourages participation, develops creative writing and verbal presentation skills, and enhances self-esteem. It also has quantifiable, proven results: Children who participate in the program exponentially improve their reading and writing scores, year-over-year.   
Voice of the People is available as a museum-guided or independent resource for teachers. Contact our Education team to learn more about participating in this program at mocaeducation@unf.edu or 904-620-3212 with any questions.  
QUALITATIVE RESULTS
Voice of the People is a singular opportunity that helps students to shorten the achievement gap, while building confidence and momentum as they pass various milestones within the curriculum. Following the preparation and work, audio guides are made available to students, teachers, staff, and family in the museum setting at an opening reception, and the accomplishments of the students are honored and celebrated. Participants often lead family members through MOCA with a sense of ownership and understanding that culminates from their work in the museum setting and familiarity with the art. 
The level of excitement around this initiative fosters youth leadership in an educational setting, which comes through on the recordings. Consider this example from Tenisha: 
"This amazing artwork is thrilling! When I visited MOCA, my eyes grew wide. The first thing I noticed was the colors popping out like a 3D movie. The colors remind me of yellow tulips in my grandma's garden.  
The masterpiece is called Aizan, Velekete, Govis. The amazing artist's name is Edward Duval-Carrie. The masterpiece's medium is fiberglass and resin. Those are toxic and you need to wear a mask when spraying. 
When I look at this artwork I see the color spicy orange. I spotted shapes like stars and circles, but there are no patterns. My emotions are happy and I think the artist's emotions were too. I think this is a sculpture of an Indian and the two things on the side look like sticky birds. I see dozens of movements. When I look at this work my eyes move up and down and left to right. 
Now you know why I like this masterpiece. Thank you for listening and make sure you come back to MOCA. Bye!" 
OBJECTIVES
The program objectives for Voice of the People are to: 
Improve critical thinking skills through facilitated observation based on the Feldman approach—using description, analysis, interpretation, and judgment of select pieces of art.

 

Encourage creative interpretation of contemporary art through access to art subjects that grow individualized perspective and foster an understanding of contemporary ideas through personal study and response.

 

Develop creative writing skills through the honing of interpretive art responses in the form of written audio scripts.

 

Improve verbal presentation skills in a clear and well-articulated manner through the production of digital audio recordings made available to all museum and website visitors.

 

Encourage cooperative learning in small groups through the shared production process of writing and producing audio guides for contemporary art.

 

Enhance self-esteem through tangible accomplishments in written and spoken products, and ultimately in showcasing this work in the museum setting.

 

Improve self-awareness for participants through group work where the voice of every participant is valued and rewarded, and the ultimate product of the program comprises individual efforts that create a cohesive and unified presentation.

 
MEASURABLE RESULTS
One of the most important measures of success for Voice of the People has been the increase in scores for participants on assessments administered by museum staff before and after the program. This strong evaluative component, given through student and teacher questionnaires, has consistently shown increases in all areas of targeted objectives for this program.