CAITLÍN DOHERTY
oneColumn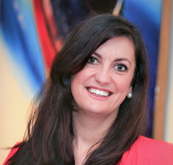 EXECUTIVE DIRECTOR
---
Caitlín Doherty has engaged with artists, students, and communities around the world throughout a career that spans Scotland, Ireland, Qatar, and the United States. She joined MOCA Jacksonville as Director in March 2017.
In 2022, Doherty was chosen to serve on the Meridian International Center's Cultural Diplomacy Leadership Council. Doherty is among 55 Council members representing major arts and cultural institutions, and prominent cultural figures. This appointment to the Council is not only a significant role for Doherty, but also recognizes the work of MOCA Jacksonville as significant within the cultural sector.
Prior to taking the helm at MOCA, Doherty served as chief curator and deputy director of curatorial affairs at the Eli and Edythe Broad Art Museum at Michigan State University. Broad MSU - housed in the striking, 46,000 square-foot Zaha Hadid-designed building - serves as both a teaching institution and a cultural hub for the East Lansing region. During her tenure at Broad MSU, Doherty provided leadership and artistic vision, defining the interdisciplinary scope and direction of the institution's exhibitions, collections, education, and public programs, and ensuring that they reflected a commitment to artistic experimentation, excellence, and public access.
From 2012 to 2015, she served as exhibitions and speaker curator at Virginia Commonwealth University in Qatar, a branch campus of the VCU School of Arts in Richmond, VA. There she organized major exhibitions of international contemporary art and design.
From 2005 to 2008, Doherty worked as the inaugural director of Lismore Castle Arts, one of Ireland's leading contemporary art galleries. She taught art history, design history, and museum and gallery studies at Ireland's Waterford Institute of Technology from 2008 to 2010 and has regularly guest lectured at other institutions internationally. During her tenure in Ireland, Doherty also directed the interdisciplinary arts and cultural initiative Artswave, a flagship European Union arts and culture project, and acted as visual arts coordinator for Garter Lane Arts Centre.
Doherty was born on South Uist, a small island in the Outer Hebrides in Northwest Scotland. She holds master's degrees in art history from the University of Edinburgh and in museum and gallery studies from the University of St. Andrews, both in Scotland.
EXHIBITIONS
Micro-Macro: Andrew Sendor and Ali Banisadr
FEBRUARY 2, 2019 - JULY 28, 2019
Project Atrium: Evan Roth
MARCH 16, 2019 - JUNE 23, 2019
Project Atrium: Amanda Coogan
NOVEMBER 26, 2018 - FEBRUARY 24, 2019
Frank Stella Unbound:
OCTOBER 6, 2018 - JANUARY 13, 2019
Gideon Mendel: Drowning World
AUGUST 31, 2018 - DECEMBER 9, 2018