PROJECT ATRIUM: HIROMI MONEYHUN
APRIL 28 - AUGUST 27, 2023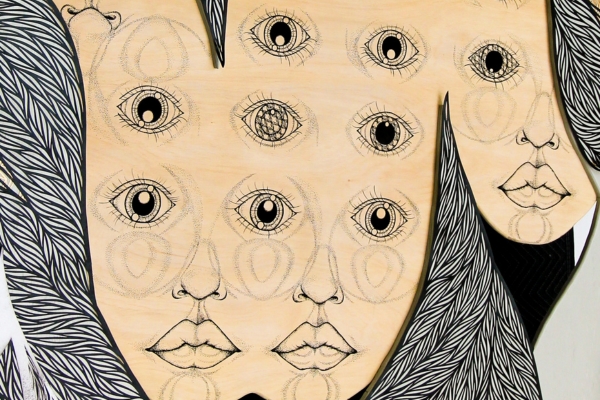 oneColumn
幽 霊 Yūrei (Ghosts), is a call to attention on behalf of the ocean. Utilizing her unique paper cut technique on an unprecedented scale, local artist Hiromi Moneyhun (b. 1977, Kyoto, Japan) urges us to recognize the urgency of the moment. Much of what is ailing the ocean comes from man: oil spills, agricultural and nuclear waste, over-fishing, and massive amounts of plastic waste. Maybe it is too late to reverse the damage. Maybe the Yūrei are already emerging. Or is there still hope? 
The call to action is symbolized by the artist's invitation to the Jacksonville community to help her create the ocean bed in the installation, through the crafting of the origami cranes that cover the gallery floor. In this way, Moneyhun incorporates the old Japanese tradition of senbazuru (one thousand cranes), invoked to bring hope and healing during challenging times.
Project Atrium is a bold series of site-specific and site-sensitive art installations created by emerging and mid-career artists and commissioned by MOCA Jacksonville. Learn more about Project Atrium →
About the Artist
Born and raised in Kyoto, Japan, Hiromi Moneyhun is a papercut artist who has been living in Jacksonville Beach since 2004. She has realized numerous commissioned projects and participated in exhibitions nationwide, including New York City's prestigious Shirley Fiterman Art Center and the Patricia and Phillip Frost Art Museum in Miami, as well as Crystal Bridges Museum of American Art's 2014-15 exhibition, State of the Art: Discovering American Art Now. She was selected as a finalist of the Florida Prize in Contemporary Art at the Orlando Museum of Art and completed a celebrated diorama, Florida in Stereo, a display of her signature paper cut style using Florida colors, at the Fairgrounds St. Pete Museum in St. Petersburg, Florida in 2021. Her latest exhibition Paper Thin & Shadow Deep was at the Appleton Museum of Art, Ocala, FL, through June 18, 2023.
SPONSORS
Sponsor |  Driver, McAfee, Hawthorne & Diebenow, PLLC. 
Additional Support | Diane DeMell Jacobsen, Ph.D.
Special thanks to Sean Mahan, the Japanese Association of Jacksonville, the Sculpture Department at University of North Florida, and to all the volunteers that participated in this project.
Related Events
Events and programs connected to the artist, themes, and mediums presented in this exhibition, plus opportunities to become more involved or enjoy free access to the museum.
Installation Images
Photos by Doug Eng