twoColumn twoRight
#5WOMENARTISTS HIROMI MONEYHUN
March 24, 2023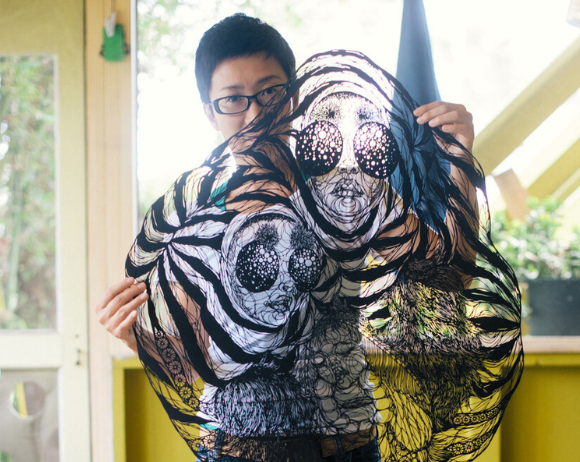 BY KON AWET
CAN YOU NAME FIVE WOMEN ARTISTS?
Since 2016, the National Museum of Women in the Arts (NMWA) has been asking this question on social media each March during Women's History Month. Using the hashtag #5WomenArtists, the campaign calls attention to the fact that women have not been treated equally in the art world, and today they remain dramatically underrepresented and undervalued in museums, galleries, and auction houses.
Each year, hundreds of cultural organizations and thousands of individuals take to social media to answer the challenge, sparking a global conversation about gender equity in the arts. This year, MOCA has chosen 5 women artists we are currently working with to join the conversation and highlight the amazing projects on view in the museum.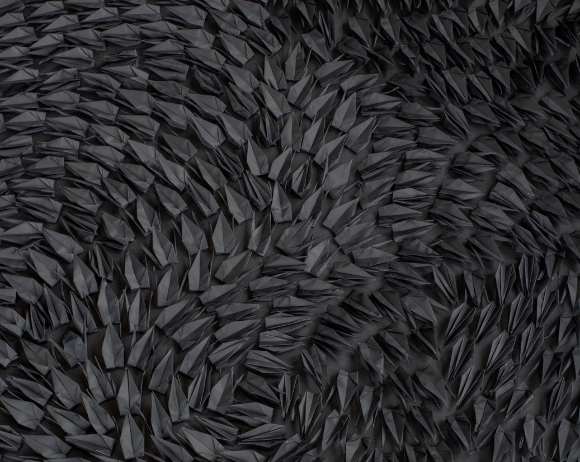 Hiromi Moneyhun's proposal for MOCA's next Project Atrium installation, 幽 霊 Yūrei (Ghosts), which will open in April, is a call to action on behalf of the ocean. For the exhibition, the artist is creating a figurative ocean bed, consisting of paper cranes. In the old Japanese tradition, senba-zuru, folding a thousand paper cranes, is a symbol of hope and healing during challenging times. Moneyhun asks you to participate in this hope project, and help us craft the thousands of origami cranes needed.
Much of what is ailing the oceans comes from man: oil spills, agricultural and nuclear waste, over-fishing, massive amounts of plastic waste. The installation urges us to embrace the planet's oceans and recognize its pain. Maybe it is too late to reverse the damage. Maybe the ghosts are emerging. Or is there still hope?


©Hiromi Moneyhun, Komo Jinjya from the Emergence series (detail), 2022. Paper. Photo courtesy of the artist.
© Hiromi Moneyhun, Komo Jinjya from the Emergence series, 2022. Paper. Photo courtesy of the artist.
© Hiromi Moneyhun, SuwaTaisha from the Emergence series, 2022. Paper and acrylic paint. Photo courtesy of the artist.
Born and raised in Kyoto, Japan, in 1977 Moneyhun is a local papercut artist who has been living in Jacksonville Beach since 2004. With no formal art training, she has evolved a unique, homegrown artistic practice that responds specifically to the tradition of Kiri-e, or Japanese paper cutting, and combines it with the ultra-modern graphic language that is found in Japan today. Her work has been in over 30 exhibition, she has been featured in numerous publications both local and international, and she was the subject of one episode of a Japanese television show.
When creating her work, Moneyhun starts with a line drawing and then uses an X-Acto knife to cut the image out of black archival paper. She uses surgeon-like precision that results in an abstract piece of controlled chaos webbed together, all while maintaining the essence of traditional Japanese art. Although she has no formal training, Moneyhun has been drawing since childhood. She was inspired by Giro Takihira, a Japanese woodblock artist, and E-hon, a Japanese term for picture books.  
In 2010, she became a primary caregiver for an ill family member. Having to juggle between intense caregiving and lengthy periods of downtime, Moneyhun used the time to practice art as stress relief. "Art has always been my special place, and there was never a time in my life more than the period I just described in which art truly came to my rescue," said Moneyhun in a CanvasRebel article in 2022. In 2012, she dedicated herself to the craft and her career has been thriving ever since.