BRENNAN WOJTYLA: CATHEDRAL OF LABOR
2022 UNF Student Artist-in-Residence
JANUARY 20 - DECEMBER 17, 2023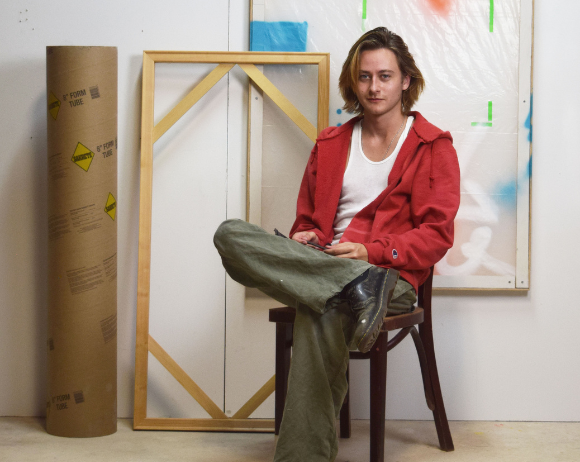 oneColumn
Cathedral of Labor is an ongoing project within the transdisciplinary artistic practice that Brennan Wojtyla has been developing for the past three years. Based upon the idea of decontextualizing industrial forms and processes by presenting them in a fine art context, Wojtyla introduces an examination of utilitarian forms outside of the confines of their usual functional purpose.
In this exhibit, the works displayed are relics of the Cathedral of Labor which, within their newfound context, are raised beyond their previous life of functionality into the realm of formality. In this way, Wojtyla aims to broaden the viewers' perception and awareness of their surroundings, encouraging us to observe the objects of our daily lives with an artistic eye and expand our definition of "art."
MOCA Jacksonville's student Artist-in-Residence program is a highly competitive opportunity for University of North Florida seniors from the College of Art, Art History, and Design. The selected student receives access to a MOCA studio to complete a new body of work, hone their skills, and exhibit their work in a museum setting.
Read more on the Blog:
Q&A with Student Artist-in-Residence Brennan Wojtyla
What is a transdisciplinary artist?
A transdisciplinary artist moves beyond just working in multiple disciplines, they use different fields of study in a way that seamlessly and harmoniously comes together in their work.
Transdisciplinarity requires collaboration between disciplines to create cohesive work, for instance, Brennan blends sculpture, videography, and engineering (among others) throughout his practice.
One Ton, 2022. Cinder blocks, pallet, polyester straps, and steel saddle. Photo by Doug Eng.
One Ton is a work that exemplifies concepts of the transdisciplinary practice Cathedral of Labor. Accounting for the performative nature of transporting the blocks, the extensive documentation of installation, the blurred lines of where the piece begins and the structure of the museum intersect, and how the viewer perceives the piece in space. The piece is composed of 2,000 lbs of cinderblocks suspended from the ceiling of the museum. Once the show is over, this pallet of cinderblocks will no longer be in the Cathedral of Labor and will be returned to a life of functionality.
Installation Images
Photos by Doug Eng