twoColumn twoRight
BLACK ART MATTERS WITH SHERVONE NECKLES
February 21, 2023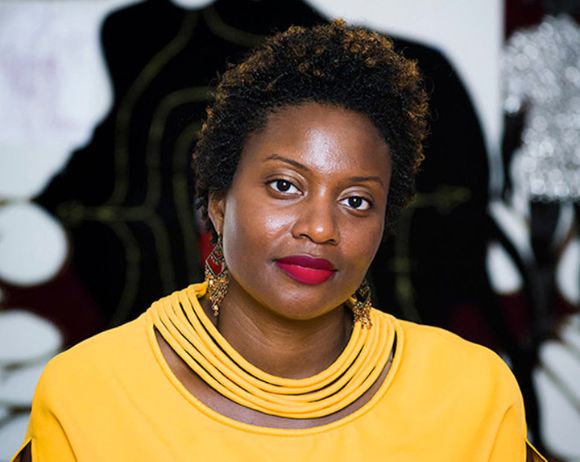 BY KON AWET
MOCA Jacksonville's virtual lecture series Black Art Matters (BAM) highlights Black art, culture, representation, and history. Each talk is led by leading Black voices in the arts, including noted artists, curators, and historians. In January, we were joined by artist Shervone Neckles, whose exhibition Bless This House is on view now at MOCA Jacksonville. 
Neckles is an interdisciplinary artist, active community worker, and educator. She was born in Huntington, New York in 1979 and is currently based in Queens, New York. Neckles has strong ties to the Caribbean Island of Grenada, where her family is from. Being the first U.S. born of her generation, her parents viewed her as a vessel to express Grenadian pride, gifting her with heirlooms and teaching her the values of being Grenadian. Their yearning for home eventually rubbed off on Neckles. She felt a connection to the sayings of an Indian scholar, Homi Bhabha, who discusses how one never leaves home but internalizes it and carries it as an inscape.
As a small child, she started practicing printmaking with her family as a fun activity. It wasn't until she was in seventh grade that she was properly informed about the craft. Her teacher had a passion for printmaking, and that spark spread to Neckles as she was taught new techniques. As her skills expanded she began to experiment, switching from flat surfaces to three dimensional objects. As an undergraduate, various professors encouraged her to experiment further and she challenged herself to use materials in ways they aren't designed for. 
Shervone Neckles, Domiciliation: Bless this House, Installation View at MOCA Jacksonville. One-of-a-kind mixed media silkscreen prints on 20 & 16-gauge clear polymerizing vinyl chloride (PVC) sheets with thread and fabric trimming, variable dimensions.

Included in Bless is House are ten pieces from the Provenance series, which expresses Neckles' exploration of selfhood through portraits made of materials such as polyester plates, textiles, silk screening, cut-outs, loose herbs, PVC, and embroidered lines. The portraits depict Neckles holding her great grandparents' ancestral home, paying homage to the lineage of preservation. Every piece is a unique view of her self-discovery journey, infused with studies of herbs, universal principles, various readings, and solutions to life-long questions.
Other works by Neckles pay tribute to the great African American inventor, Lewis Howard Latimer. Latimer was known for collaborating with other great inventors like Alexander Graham Bell, Thomas Edison, and Hiram S. Maxim. He is most famous for improving Edison's invention of the light bulb, making incandescent light bulbs last longer, be more cost-effective, and easier to mass produce. He also contributed to inventions such as the telephone and electrical systems, helping to improve the quality of our lives today. Inspired by Latimer, Neckles created Beacon, a towering 12-foot-tall public interactive steel sculpture based on two of his mechanical drawing patents-his 1881 electrical lamp and the 1882 process of the carbon filament in the incandescent light bulb. As you approach the sculpture, the proximity sensor activates a pulsing light that fades in and out like a traditional light bulb or a pulsating heart. The sculpture is currently displayed in Brooklyn, New York but will soon move to the Museum of Science in Boston, Massachusetts.
During her BAM lecture, Neckles gave a sneak preview of a piece called Untitled Morning Porridge, from her Memory Work Series. These works on created on hand made paper that is created with ingredients from Grenadian family recipes. Recipes in her family are orally passed down instead of written down, allowing her to change and substitute some ingredients not available in the states. Her process of mixing, chopping, pouring, and measuring grants her the opportunity to tell the history of Grenada.