SHERVONE NECKLES
oneColumn
Bless This House
SEPTEMBER 3, 2022 - MARCH 5, 2023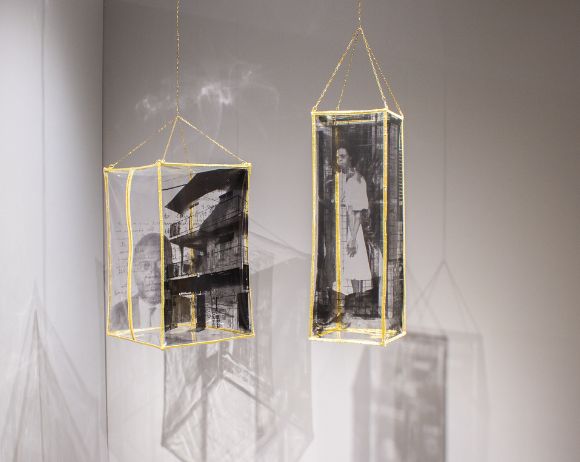 Shervone Neckles, Domiciliation: Bless this House, Installation View at MOCA Jacksonville. One-of-a-kind mixed media silkscreen prints on 20 & 16-gauge clear polymerizing vinyl chloride (PVC) sheets with thread and fabric trimming, variable dimensions.
The song, Bless this House in the voice of Mahalia Jackson filled the rooms of Shervone Neckles' family home in Grenville, Grenada, West Indies. Encircled by the repeated refrain in varying tones, this Gospel calls for a blessing-to the walls, roof, door, and windows. Lastly, it somberly calls for a heartfelt prayer to the people that inhabit the house. This song, like all prayers, is a solemn request for help in the face of uncertainty, an appeal for guidance towards refuge and security.
What makes a House one's Home?
This question is always in the minds of immigrants, including Neckles' Afro-Caribbean family, who migrated to Flatbush, Brooklyn, New York, in the 1960s and 70s. The selection of prints and installation in this exhibition reminds us of the importance of our identities and legacies, where we are from-and where Home truly lives.
The UNF Gallery at MOCA Jacksonville is programmed in collaboration with the Department of Art, Art History, and Design at the University of North Florida (UNF). This exhibition is made possible by support from the Devereux family and presented in conjunction with the Barbara Ritzman Devereux Visiting Artist Workshops at UNF. This exhibition was curated by Sheila Goloborotko and Andy Kozlowski, Associate Professors at the UNF Department of Art, Art History, and Design.
Additional support for this exhibition was made in part by the City of Jacksonville, the Cultural Council of Greater Jacksonville, the Florida Division of Cultural Affairs, the National Endowment for the Arts, and the University of North Florida.
TAKE A VIRTUAL TOUR