oneColumn
SUSTAIN: CLAY TO TABLE
AUGUST 27, 2016 - OCTOBER 30, 2016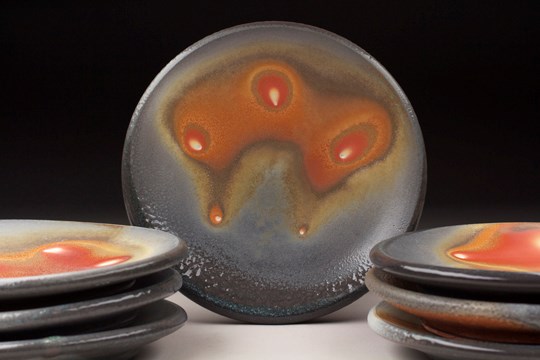 © ROBIN DuPONT, Plates, 2015. Soda-fired porcelain, 1 x 8 x 8 inches, each. Photo courtesy of the artist.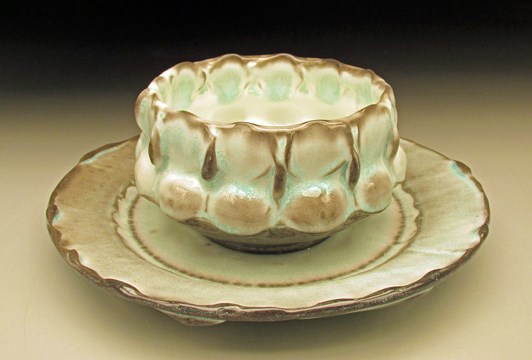 © BRENDA LICHMAN, Cup and Saucer, 2015. Soda-fired porcelain, 4 x 5 x 5 inches. Photo courtesy of the artist.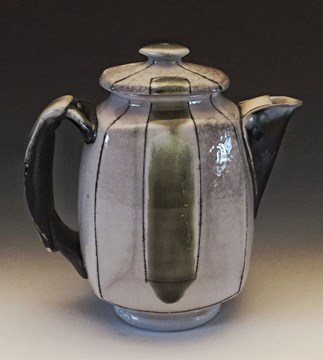 © LORNA MEADEN, Coffee Pot, 2015. Soda-fired porcelain, 7 x 6 x 5 inches. Photo courtesy of the artist.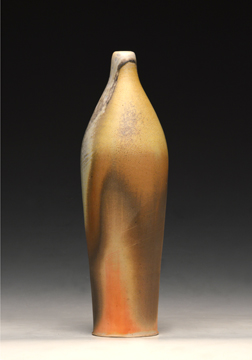 © SIMON LEVIN, Bottle, 2015. Wood-fired porcelain, 10 x 4 x 4 inches. Photo courtesy of the artist.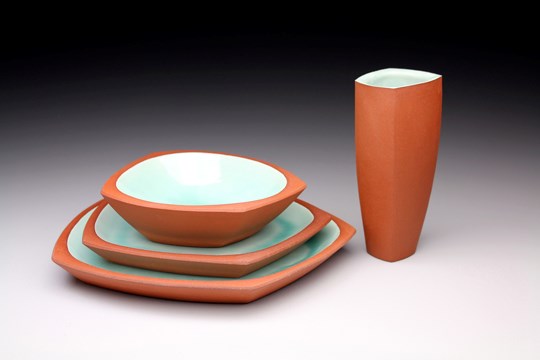 © TODD HAYES, Place Setting, 2015. Terracotta, 8 x 12 x 10 inches. Photo courtesy of the artist.
FOR TENS OF THOUSANDS OF YEARS, humans have turned clay into vessels for the food that sustains them. Communities are historically identified by the way they form and decorate these objects. From plates to teacups, the ceramic objects on view are used for serving, storing, and carrying food and water. They also reveal our attitudes toward food, dining, and dinnerware.
Sustain: Clay to Table celebrates this creative and historical process by presenting preeminent contemporary handcrafted tableware by sixteen nationally recognized ceramic artists. UNF professors Stephen Heywood and Trevor Dunn invited these North American artists to create place settings and tableware that best exhibit their understanding of materials, process, function, and design. Through these creations, each artist carries on the traditions of the past that continue to sustain the future.
JENNIFER ALLEN
Jennifer Allen received her BFA (2002) from the University of Alaska, Anchorage, and her MFA (2006) from Indiana University, Bloomington. In March 2008, the National Council for the Education of Ceramics (NCECA) named Allen as a National Emerging Artist. Among other awards, she was the recipient of the 2006-2007 Taunt Fellowship at the Archie Bray Foundation in Helena, Montana. Jennifer is currently a member of an online collective of ceramic artists called Objective Clay. In addition to keeping a home studio, she currently teaches ceramic classes at West Virginia University in Morgantown.
Image courtesy of the Artist.
BIRDIE BOONE
Birdie Boone is a maker of tableware and a researcher of the domestic realm, especially of social tendencies and their effects on personal identity with regard to food and modern lifestyle. Boone received her BA in fine arts from The College of William and Mary in Virginia in 1994 and an MFA in artisanry/ceramics from the University of Massachusetts, Dartmouth in 2005. Notably, she was a long-term resident artist at the Archie Bray Foundation for the Ceramic Arts in Helena, Montana, from 2007 to 2009. Boone currently lives and maintains a full-time studio practice in rural southwestern Virginia.
SHANE CHRISTENSEN
Shane Christensen has been a practicing potter since 1993. He attended Dixie State University and Southern Utah University, graduating with a Bachelor of Arts degree in ceramics and sculpture. He earned his Master of Fine Arts from Edinboro University of Pennsylvania in ceramics. After graduate school, Christensen worked full time as a professor of art at Western Texas College in Snyder, Texas, from 1999 to 2004. He also taught at Snow Canyon High School from 2004 to 2012 while being an adjunct professor at Dixie State. Christensen is currently in a tenure track position at Dixie State as an assistant professor of art and is the chair of the Visual Arts Department. Even though this work is based in the American folk tradition, many of the pieces have an Asian influence as well. His pots consist of simple functional objects to large-scale vases and platters that use of imagery through decals and other techniques. Christensen's pottery has been exhibited locally, nationally, and internationally.
Image courtesy of the Artist.
ROBIN DUPONT
Robin DuPont's education in ceramics has been wide-ranging and includes training from four institutions in three different counties. After receiving at BFA fro Alberta College of Art and Design in Calgary, Canada, DuPont also studied at Kootenay School of the Arts in Nelson, British Columbia, and the Australian National University in Canberra, before completing his MFA at Utah State University in Logan. His professional development experience also includes a three-year apprenticeship with a studio potter; several research and work studies in Canada, the United States, Australia, and Korea; and residencies at the Banff Centre for the Arts, Red Deer College, and the Medalta International Artist in Residence program. He was the 2011-2012 Rawlinson Visiting Artist at the Alberta College of Art and Design and visiting faculty with the School of Art at the University of Manitoba in Winnipeg for the 2012-2013 academic year.
KENYON HANSEN
Kenyon Hansen is a full-time studio potter from the Upper Peninsula of Michigan. He has been an artist-in-residence at the Archie Bray Foundation, where he was awarded the Lincoln Fellowship, as well as Watershed Center for the Ceramic Arts. In 2013, he was selected as an emerging artist by Ceramics Monthly. Kenyon has taught at Haystack Mountain School of Crafts and Greenwich House Pottery in New York City. His functional ceramics can be found in galleries throughout the country and in friend's homes. Hansen is currently a visiting artist and ceramics instructor at Finlandia University in Hancock, Michigan.
Image courtesy of the Artist.
TODD HAYES
Having spent much of his life exploring the mountain and desert regions of Utah, Todd Hayes has gained an acute awareness of nature and draws inspiration from his environment to inform his work. He received a BFA from Utah State University in Logan and his MFA from Wichita State University in Kansas. Hayes currently lives and works in Logan where he is a studio potter who focuses primarily on tableware and holds the position as ceramics studio coordinator at Utah State University.
Image courtesy of the Artist.
TOM JASZCZAK
Originally from Minnesota, Tom Jaszczak received a BA in visual art and a BS in biology with a minor in chemistry from Bemidji State University. He was an assistant to both Simon Levin and Tara Wilson and was a summer resident and a long-term resident at the Archie Bray Foundation. In fall 2015, Jaszczak began a three-year residency with his wife, Maggie Finlayson, at the Penland School of Crafts. He has received several awards and honors, including a Jerome Projects Grant, emerging artist awards at NCECA and Ceramics Monthly, Lincoln and Lil Street Fellowships through the Archie Bray Foundation, and in summer 2014, Jaszczak was an honored maker at the Maker's Faire at the White House in Washington, D.C. He has exhibited his work at several galleries around the nation, including exhibitions at the Holter Museum of Art, Greenwich House Pottery, Trax Gallery, the Pottery Show at the Old Church, Northern Clay Center, and Leedy Voulkos Art Center. Jaszczak's current body of work is made of red earthenware and is soda fired to cone 3 with a small minimalist decorative element.
Image courtesy of the Artist.
SIMON LEVIN
Simon Levin moved to Gresham, Wisconsin, in 1999, answering a pastoral call for his wife, Susan Phillips, from First Presbyterian Church of Shawano. He quickly established Mill Creek Pottery, which has continued to grow in size and influence. Today, Mill Creek Pottery is a destination for pottery lovers, art collectors, and young potters looking to learn.
Image courtesy of the Artist.
BRENDA LICHMAN
Brenda Lichman grew up in Brookfield, Wisconsin, where she developed an early interest in art and handmade objects. She received her BFA in ceramics from the University of Wisconsin-Eau Claire in 1998 and earned her MFA in ceramics with a minor in drawing from the University of North Texas in 2002. Lichman was featured as an emerging artist by Ceramics Monthly in May 2009. Her work was also awarded Best of Show in the Wichita Falls Museum of Art's 2014 and 2015 Empty Bowl xhibitions, juried respectively by Dan Hammett of the University of Dallas and Patsy Cox of the University of California, North Ridge. Lichman's work has been broadly exhibited across the country in notable exhibitions, such as the 23rd Strictly Functional National in 2015.
Image courtesy of the Artist.
LINDA MCFARLING
During her junior year of college, while getting a BFA in painting, Linda McFarling took a ceramics class. She fell in love with clay. She lives and work in the mountains of Western North Carolina. McFarling aims to make pots that honor the rich traditions of the past, while hopefully adding to them. Her pottery is wheel thrown, textured, and altered directly on the wheel in an attempt to create strong, quiet, lively organic forms. The textures she uses are drawn from natural objects and the landscape around her.
Image courtesy of the Artist.
LORNA MEADEN
Lorna Meaden's work is soda-fired porcelain. She begins with an idea about function, and her goal is for the form and surface of the pots to be interdependent. Meaden starts with the three-dimensional division of space, continues with drawing on the surface, and finishes with the addition of color. She is driven by the insatiable pursuit of "the good pot."
Image courtesy of the Artist.
CHRIS PICKETT
Chris Pickett received his BFA from the University of Tennessee and his MFA from the University of Florida. Pickett served as a long-term resident fellow at the Archie Bray Foundation from 2012 to 2014, and is currently the Barbara Rittenberg Fellow at the Clay Art Center in Port Chester, New York, and adjunct faculty at Marymount Manhattan College in New York City.
SCOTT ROBERTS
Scott Roberts was born and raised in Austin, Texas. He attended the University of North Texas in Denton from 1977 to 1980. He set up his first pottery practice outside Austin in 1981. In 1986, he and his wife, Kay, moved to Durango, Colorado. In 1987, they had the rare opportunity to work with renowned British potter Richard Batterham. After returning to Durango, they bought an old farmhouse in the North Animas Valley where they live and work today. He makes pots for the kitchen and table.
MCKENZIE SMITH
McKenzie Smith is a potter working in Florida. He worked as a core student at the Penland School of Crafts, and he received his BFA from the University of South Florida and his MFA from the University of Florida. Residencies include the Archie Bray Foundation, Banff Center for the Arts, Baltimore Clayworks, and the University of Miami. Smith has exhibited widely and taught numerous workshops.
ALEX WATSON
Alex Watson graduated with a BFA from Utah State University in Logan, Utah, in 2005. After graduating, he moved to Colorado, where he lived and worked until 2013. Watson is now in Kansas City, Missouri, making what he considers to be simple, well-designed objects. He is interested in making pots that are modern and elegant, while still being utilitarian and user-friendly. A color palette of primarily white and cool blue, with fine trims of cherry red, offsets the warm tones of the exposed earthenware clay.
TARA WILSON
Tara Wilson is a studio artist living in Montana City, Montana. She has given lectures and workshops throughout the United States and her wood-fired utilitarian work has been exhibited internationally. When not working in the studio, she can be often be found in the south hills on her mountain bike. Wilson set up her studio in Montana City in 2008 after finishing residencies at the Archie Bray Foundation and Red Lodge Clay Center.