oneColumn
INVISIBLE CITIES: Paintings by Nathan Lewis
MARCH 2, 2019 - JULY 21, 2019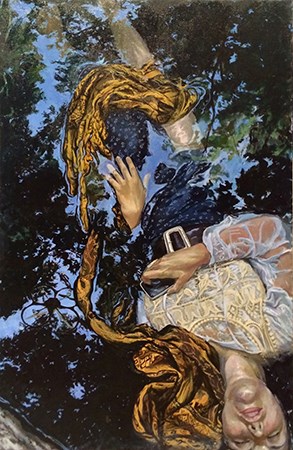 © NATHAN LEWIS, The Trees Become Her, 2016. Oil on canvas, 48 x 29 inches. Courtesy of FLA Gallery and the artist.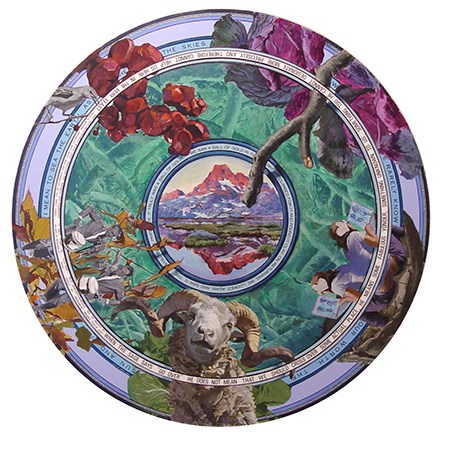 © NATHAN LEWIS, The Blessed Isles, 2008-09. Acrylic and oil on canvas, 48 inches diameter. Courtesy of FLA Gallery and the artist.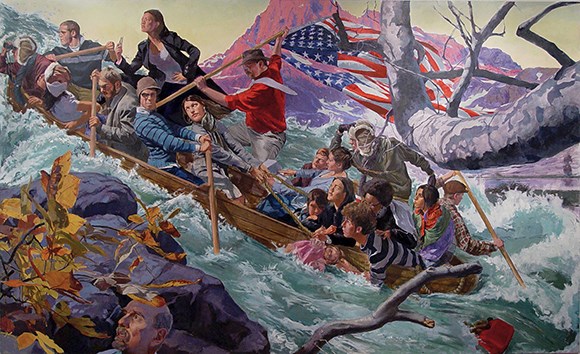 © NATHAN LEWIS, Till We Find the Blessed Isles Where Our Friends Are Dwelling, 2008-09. Acrylic on canvas, 120 x 72 inches. Courtesy of FLA Gallery and the artist.
This exhibition presents paintings by Nathan Lewis that address a sense of longing-a longing for escape, prosperity, justice, love, completion, a promised land, or an invisible city. At the same time, however, the works also suggest what stands in the way of these longings and dreams. Painted over a ten-year period, these paintings explore contemporary life and politics, and depict complex social narratives drawing inspiration from literary, philosophical, cultural, and musical references including American alternative rock band, The Pixies, twentieth-century writer Franz Kafka, and the German philosopher and cultural critic, Friedrich Nietzsche. Other influences of note include the ancient Roman poet Ovid and the California punk band, Suicidal Tendencies. By incorporating imagery related to these historical and cultural figures, Lewis' paintings reference a multitude of artistic genres including History painting, Icon painting, Realism, Cinema, and Sign painting.
NATHAN LEWIS
Nathan Lewis is a California born painter and installation artist. He received his MFA from Tufts University and the School of the Museum of Fine Arts, Boston. Lewis also studied at the Florence Academy of Art in Italy and in St. Petersburg, Russia. His work has been exhibited both nationally and internationally in museums, galleries, and universities and is included in private collections throughout the United States, Russia, Colombia, Germany, England, France, and India. Lewis' paintings have been on the cover of numerous books and journals, included in films shown at the Cannes and Sundance Film festivals, and have been published and reviewed by the Boston Globe, the New York Press, International Artist, The Huffington Post, Fine Art Connoisseur, and the New York Times. He is currently a tenured Associate Professor of Art at Sacred Heart University in Fairfield, Connecticut.
Photo courtesy of the artist and FLA Gallery.