oneColumn
IN THE WATER
SEPTEMBER 1, 2018 - FEBRUARY 24, 2019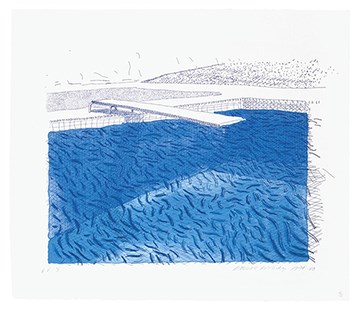 © DAVID HOCKNEY, Lithograph of Water Made of Lines, Crayon and Two Blue Washes Without Green Wash, 1980. Lithograph in 6 colors, 29 3/4 x 34 1/2 inches. Gift of Preston H. Haskell, 2013.01. © David Hockney / Tyler Graphics Ltd.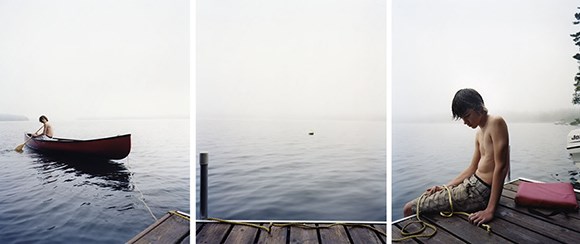 © DAVID HILLIARD, Boys Tethered, 2008. C-prints mounted to aluminum, 40 x 90 inches. Museum purchase through the Acquisition fund and Collectors' Circle with funds donated in honor of Linda Larkin Smith, 2011.03.
In conjunction with Gideon Mendel: Drowning World, this exhibition presents a selection of artwork from the Museum's permanent collection focusing on the theme of water. Imagery includes idyllic seascapes, portraits of swimmers and beach-goers, and depictions of ships and boats. While the exhibition highlights humanity's affinity for water and explores the myriad ways in which oceans, rivers, and pools provide outlets for leisure and enjoyment, it also includes works that portray floods and hurricanes. This presentation of works therefore points to both the beauty and potential peril of water.
KOTA EZAWA
Japanese artist Kota Ezawa was born in Stuttgart, Germany, and later moved to the United States, where he received a BA from the San Francisco Art Institute and later an MA from Stanford University. Ezawa creates highly stylized animated videos, collages, prints, and slide projections that address the appropriation of current events and the oversaturation of related images in popular culture. Perhaps best known for his computer animated films, Ezawa's practice is process-oriented and labor-intensive often involving the production of hundreds of drawings for one piece.
Image courtesy of Kota Ezawa.
ETHAN MURROW
Ethan Murrow received his bachelor's degree from Carleton College and his MFA from The University of North Carolina at Chapel Hill. Recent solo shows of drawings, video, and sculpture include La Galerie Particulière in Paris and Brussels, Slete Gallery in Los Angeles, Winston Wachter Fine Art in New York City and Seattle, and the Clay Center for the Arts and Sciences in West Virginia. Murrow was recently commissioned by the Institute of Contemporary Art Boston to build a two-story wall drawing for the Feinberg Art Wall in the museum's lobby. His work is in many public, private, and corporate collections and has been reviewed and published widely around the world. Murrow is a professor at the Museum School at Tufts University in Massachusetts. Murrow is MOCA Jacksonville's 2017 Stein Prize recipient.
Photo by Stewart Clements Photo.
SHINIQUE SMITH
Born in Baltimore, Maryland, Shinique Smith now lives and works in upstate New York. Her work is inspired by the vast nature of "things" that we consume and discard, which resonate on a personal and social scale. The graffiti of her youth, Japanese calligraphy, and abstraction are influences from which she extracts "the graceful and spiritual qualities in written word and the everyday." Smith's work has also been widely exhibited at prestigious venues such as the Museum of Fine Arts, Boston, the Brooklyn Museum, the Denver Art Museum, the Los Angeles County Museum of Art, the Madison Museum of Contemporary Art in Wisconsin, the Bronx Museum of the Arts, the Smithsonian National Portrait Gallery in Washington, D.C., Yerba Buena Center for the Arts, Contemporary Arts Center New Orleans, the New Museum in New York, MoMA PS1 in New York, and the Studio Museum in Harlem, among others. Smith earned her BFA (1992) and MFA (2003) from the Maryland Institute College of Art, where she now serves on the Board of Trustees, and her master's degree in teaching (2000) from the School of the Museum of Fine Arts and Tufts University, both in Massachusetts.
Portrait of the artist. Photo by Eric Wolfe.