Facets: Contemporary Expressions in Sculptural Ceramics
September 6 - November 26, 2023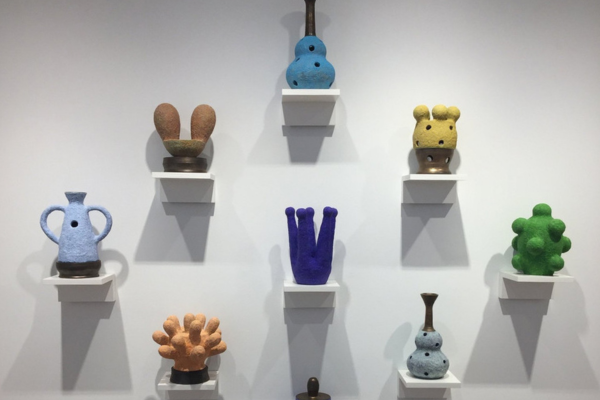 © Virginia Scotchie, "Diamond Shape," 2017. Stoneware Clay, Glaze, variable dimensions. Courtesy of the artist.
oneColumn
Facets: Contemporary Expressions in Sculptural Ceramics features work by eleven internationally recognized contemporary ceramic artists working to push the boundaries in the vibrant and rapidly evolving landscape of contemporary sculptural ceramics. Many of them, like artists Iva Haas and Todd Shanafelt, incorporate materials such as wood, metal, and fabric into their work in order to explore abstract or mechanical forms; while artists such as Tom Bartel explore the figure through fragmentation and simplification of the human form. Others, like Matt Wilt, synthesize the two, creating forms from composites of the physical body and the synthetic world; while yet others look to the landscape and natural world for inspiration.
UNF  Connection
The UNF Gallery at MOCA Jacksonville is programmed in collaboration with the Department of Art, Art History, and Design at the University of North Florida (UNF). This exhibition was curated by Stephen Heywood, Professor of Ceramics and Trevor Dunn (pictured), Associate Professor of Ceramics. Both professors have lectured internationally, led workshops around the country, and have extensively exhibited their work. They engage in ground-breaking scholarly research, and as experts in their fields, provide outstanding undergraduate instruction through a broad and diverse curriculum. The UNF Ceramics department's dynamic and innovative programs go beyond curriculum and classroom walls to foster experiential and transformational learning through internships, community engagement, undergraduate research and exhibition, study abroad, and gallery practice and museum study opportunities in collaboration with MOCA.
Artists  in  the  Exhibition
Tom

Bartel

Linda Cordell

Iva

Haas

Brain Harper

Peter Chirstian Johnson

Ben Lambert
Matt

Miltros

Virginia Scotchie

Todd

Shanafelt

John Utgaard

Matthew

Wilt
Related Events
Events and programs connected to the artists, themes, and mediums presented in this exhibition, plus opportunities to become more involved or enjoy free access to the museum.