oneColumn
PROJECT ATRIUM: JOELLE DIETRICK
Cargomobilities
JULY 18, 2015 - OCTOBER 25, 2015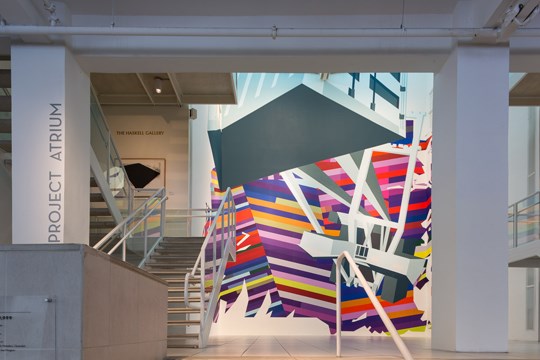 Image courtesy of Doug Eng.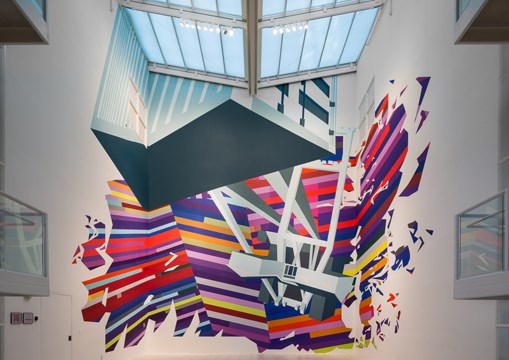 Image courtesy of Doug Eng.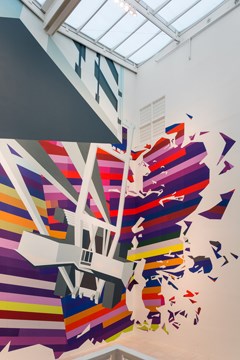 Image courtesy of Doug Eng.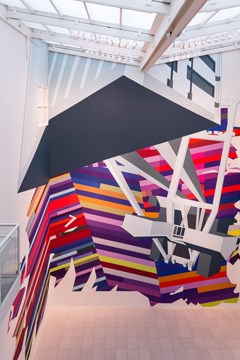 Image courtesy of Doug Eng.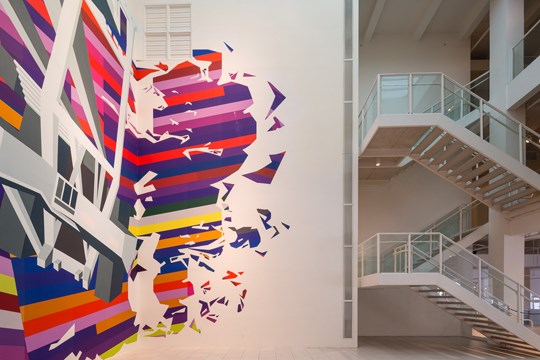 Image courtesy of Doug Eng.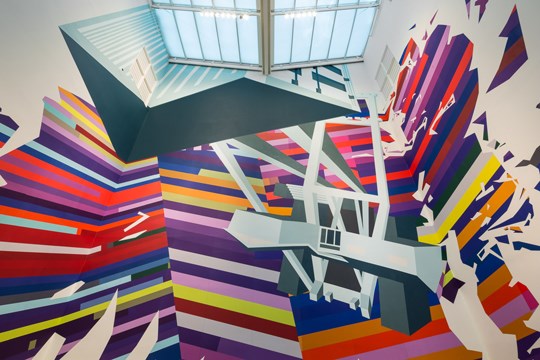 Image courtesy of Doug Eng.
In Cargomobilities, Tallahassee-based painter Joelle Dietrick produces a multilayered mural of paint and adhesive fabric to present a visual commentary about the interconnectedness of macro economies and micro systems. Fascinated with geolocation data for cargo ships and shipping containers, the artist employs a glitch art aesthetic that allows her to analyze, recode, manipulate, and visualize data into a pulsating scene of cranes, cargo ships, and houses.
Producing Cargomobilities, the largest mural of the new series, is no small feat. To start, Dietrick mined years of data from larger informational systems, such as the housing market from 2005 to 2015 and geolocation data for cargo ships, and found inspiration in their complex data patterns. She then transformed the failures of said systems into an abstract environment of houses, shipping containers, and cranes that evokes the physical scale of the industry
As part of her research, Dietrick toured Jacksonville Port Authority (JaxPort), the eighteenth largest port in the nation and sixth largest port on the East coast. "The scale of the men working set against the boats and containers was extraordinary. I was able to see the larger systems at work and their relationships to individual people," said the artist. As a result, Dietrick applied a 1:1 ratio to construct the painting's images to scale
In Cargomobilities, cloud-like glitch patterns are layered upon semi-recognizable blue forms that register as a visual representation of the port's exterior. The multidimensional painting, however, also comments on the informational technology system and potential errors in digital and analog data. Dietrick's technique of "glitching" data files-where one letter or number is replaced with another letter or number in a string of data-into new splintered images is a visual correlation to the complex inner workings of the global industry and its dependency on accurate data
As in her previous paintings, the artist uses "color forecasts" as found objects. Each year, the paint manufacturer Sherwin-Williams releases new color palettes, such as Voyage in 2015, that are predicted to be a market trend. While the poetic titles of Voyage-from Riverway to Crystal Clear to Cyberspace that she paints with here-relate to the artist's interest in the shifting spaces of transnational systems, the other vibrant imagery references colors seen on a computer's screen, bringing the mural full circle back to the realm of technology
Like the frenzied pace of information flow at JaxPort, Cargomobilities is a continuous, rapid, networked, and energy-dense temporary painting.
Project Atrium features site-specific and site-sensitive installations by emerging and mid-career artists. The unique placement, dimensions, and scale of the Atrium Gallery provide a compelling challenge to the chosen artist - a call to reinvention and active collaboration with the architecture of the Museum on a monumental scale.
JOELLE DIETRICK
Joelle Dietrick's paintings, drawings, and animations explore contemporary nesting instincts and their manipulation by global economic systems. Her recent artworks and research consider housing trends that complicate our relationship to place, particularly the notion of home in the wake of the housing industry collapse. Her work has been shown at Transitio_MX in Mexico City, TINA B Festival in Prague and Venice, Museum of Contemporary Art (MCA) Chicago, MCA San Diego, Long March Space Beijing, ARC Gallery Chicago, Soho20 New York, and MPG Contemporary Boston. She has attended residencies at the Künstlerhaus Salzburg, Anderson Ranch, the Virginia Center for the Creative Arts, Banff Centre for the Arts, and the School of the Visual Arts and received fellowships from the University of California, Florida State University, and the Deutscher Akademischer Austausch Dienst (DAAD).
Image courtesy of Holly Clark.
SPONSORS
PRESENTING
SUPPORTING
Driver, McAfee, Hawthorne & Diebenow, Jessie Ball duPont Fund, Boeing