oneColumn
IMAGINATION SQUARED¹⁰
APRIL 16, 2021 - AUGUST 8, 2021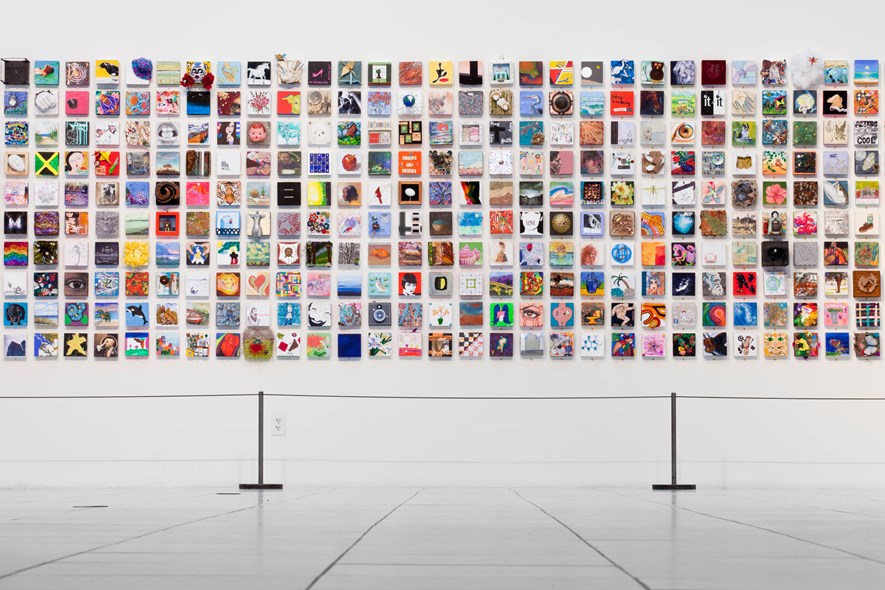 Installation view Imagination Squared, 2010. Installation at MOCA Jacksonville. Photo by Doug Eng.
A CREATIVE RESPONSE TO OUR TIMES
In this unique moment in history, MOCA Jacksonville celebrates Project Atrium's 10-year Anniversary revisiting a project that helped to inspire it, inviting the community to participate in a creative response to our times.
In September of 2010, a unique public collaborative installation was presented in the MOCA Atrium Gallery. The brainchild of Christina Foard and Dolf James, it consisted of almost 1,000 five-by-five square artworks created by the Jacksonville community. For the purpose of the project, an artist was defined as any person who turned in a completed square. The experience was transformative, and more than 5,000 people attended the opening.
This installation paved the way for the creation of MOCA's bold Project Atrium Series, that for the past 10 years has featured site-specific installations by emerging and mid-career artists and become a mainstay of the Jacksonville arts scene. The unique placement, dimensions, and scale of the Atrium Gallery provide a compelling challenge to the chosen artists-a call for reinvention and active collaboration with the architecture of the Museum on a monumental scale.
This year MOCA celebrates 10 years of Project Atrium with Imagination Squared10, reminding our community, just as the first iteration of Imagination Squared did a decade ago, that even during these most difficult times, we are each important as individuals-we have a voice, and share a space in this community and world together. We invite you to participate in this celebration, which will take place April 16 - August 8, 2021 in the MOCA Atrium Gallery.
A SPECIAL THANK YOU TO BROOK AND HAP STEIN, TITLE SPONSORS OF PROJECT ATRIUM: 10 YEAR ANNIVERSARY FOR THEIR GENEROUS SUPPORT.