oneColumn
PROJECT ATRIUM: IAN JOHNSTON
Fish Tales
NOVEMBER 14, 2015 - FEBRUARY 28, 2016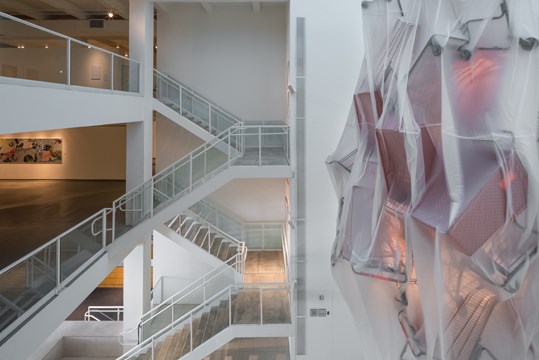 Image courtesy of Doug Eng.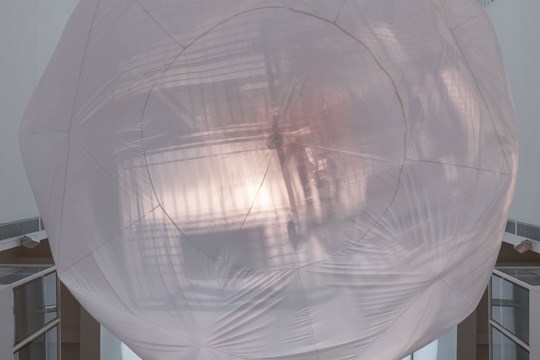 Image courtesy of Doug Eng.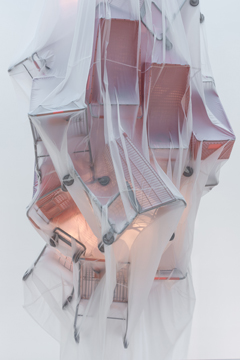 Image courtesy of Doug Eng.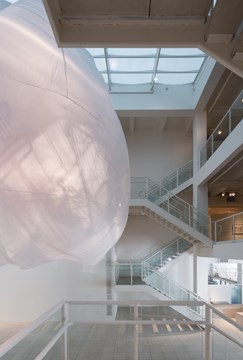 Image courtesy of Doug Eng.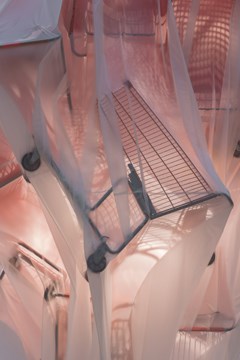 Image courtesy of Doug Eng.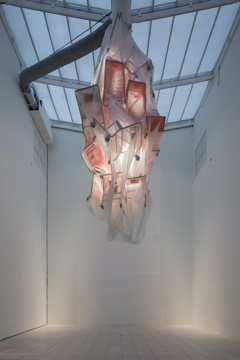 Image courtesy of Doug Eng.
THE SCULPTURE Fish Tales by Canadian architect-turned-artist Ian Johnston is one in constant flux. On view in MOCA Jacksonville's Atrium Gallery, the suspended work is composed of shopping carts, nylon, industrial parts, and an elaborate mechanical system that allows its physical form to change shape within minutes via a vacuum-forming process. Due to its fluctuating states, it may be an enormous white ovoid filled with air or a massive amount of draped material that veils and subtly reveals the cluster of plastic and metal shopping carts underneath it.
Fish Tales is nonetheless a performance piece, where Johnston creates a multisensory experience, or spectacle, via an inflating and deflating work of art as its accompanying soundscape reverberates in the space around it. At once mesmerizing and captivating or sobering or uncomfortable, the "living" sculpture looms above us to evoke the colossal scale of consumption today.
The shopping cart, now a cultural icon of consumption, was created in the 1940s as a device to help consumers buy more items at one time. The carts in Fish Tales were borrowed from a local recycling and material brokering company in Jacksonville-pausing their fate, but only momentarily. Shrouded in nylon, the once recognizable objects become ghosts of their former selves that also foreshadow their future at the recycling plant.
The shopping cart can also evoke sharply divided economic lines. Not only are the carts used for shopping, but at times people who are homeless adopt them as containers for their possessions. In this context, the cart illustrates the divide among socioeconomic classes, or the "haves" versus "have-nots."
The phrase "fish tales" is often defined as exaggerated stories or whopper recollections of otherwise normal events. By creating a 22-x-18-foot sculpture with carts at its core, Johnston exaggerates the global tale of consumption with a witty, tongue-in-cheek approach.
Project Atrium features site-specific and site-sensitive installations by emerging and mid-career artists. The unique placement, dimensions, and scale of the Atrium Gallery provide a compelling challenge to the chosen artist-a call to reinvention and active collaboration with the architecture of the Museum on a monumental scale.
IAN JOHNSTON
Ian Johnston is an architect turned sculptor based in Nelson, British Columbia. Since the mid-1990s he has been pursuing an interest in ceramic and more recently large-scale installations that often include ceramic. Johnston studied architecture at Algonquin College, Carleton University in Ottawa, and with the University of Toronto at Paris, France. Prior to opening his Nelson studio in 1996, he spent five years working at the Bauhaus Academy in post-Berlin Wall East Germany. At the Bauhaus, together with two architects, he developed and facilitated a series of workshops around themes of urban renewal and public intervention in a tumultuous time of cultural transformation. His recent body of work Refuse Culture: Archaeology of Consumption examines our relationship with the environment in a series of installations using ceramic and mixed media appealing to multiple senses of the viewer.
Image courtesy of Thomas Hager.
SPONSORS
PRESENTING
SUPPORTING
Driver, McAfee, Hawthorne & Diebenow, Jessie Ball duPont Fund