oneColumn
PROJECT ATRIUM: CHIHARU SHIOTA
Letters of Love
FEBRUARY 4, 2022 - JUNE 26, 2022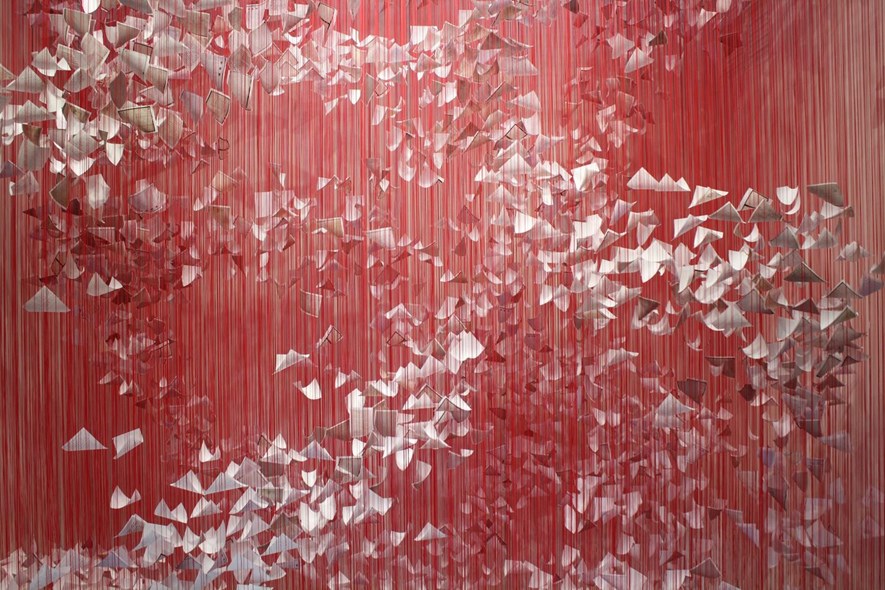 Berlin-based artist Chiharu Shiota (b. Osaka, Japan, 1972), is known for her performances, drawings and installations that explore the intangible. Particularly well-known is her series of installations consisting of threads, primarily in red or black, strung across entire spaces, often incorporating found or collected objects. Trained as a painter, she found her ideal mode of expression early on in her career, as a way to "paint" in space. Shiota describes the thread as a metaphor for human relationships, that "can be cut, intertwined, and entangled." Often arising out of personal experience, memories or dreams, her work attempts to express our most intimate experience of life: consciousness, existence, memory, and loss; the inner universe that defines the boundaries of self and our relationship to others and the world around us.
For Project Atrium, Shiota has created an immersive environment with suspended red ropes throughout the space. Weaving traces of hope for human connectedness, the ropes enclose letters of love received by the artist from across the globe.
SPONSORS
Title Sponsor | Joan and Preston Haskell
Additional Support | Driver, McAfee, Hawthorne & Diebenow, PLLC.