oneColumn
PROJECT ATRIUM: CARL JOE WILLIAMS
Making Great Lives Matter
NOVEMBER 20, 2020 - MARCH 21, 2021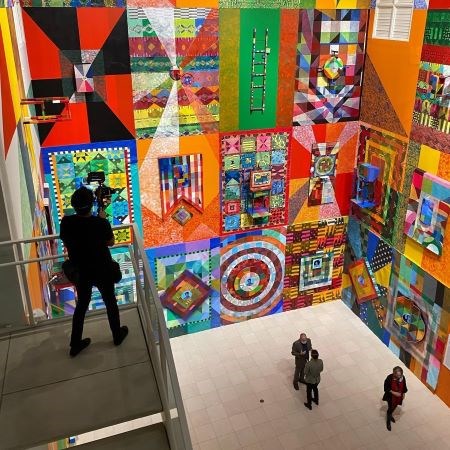 ©CARL JOE WILLIAMS, Making Great Lives Matter, 2020. Site-specific installation at MOCA Jacksonville.
In Making Great Lives Matter, Carl Joe Williams, a New Orleans- based multimedia artist, presents a large-scale project that considers the idea of the American Dream. In the Atrium, Williams' signature vibrant and rhythmic geometric patterns, inspired by African American quilt patterns and ancient sacred geometry, cover the 40ft high Atrium walls. Embedded throughout are objects and power symbols, including Adinkra symbols from West Africa; the American flag, and Confederate flag; as well as ancient symbols adopted by supremacist groups in the 20th century; all woven together to form a historical backdrop for the televisions and video monitors in the lower tiers. The televisions feature harrowing newsreel footage of injustice, including the death of George Floyd that shook the country in May of 2020. The lower tier of videos features members of the Jacksonville community providing answers to a series of questions posed by the artist that explore their own perspectives on the American Dream. Watch videos of Jacksonville community members answering questions posed by Carl Joe Williams.
JOIN THE #MAKETHEDREAMREAL CAMPAIGN
MOCA Jacksonville and Carl Joe Williams are collaborating on a hashtag campaign to open a national conversation about American identity. What does the American Dream mean to you? How does your family's history, personal and economic, reflect the American Dream? How does the Dream serve one race over another, and what are some things we can do to change that? Join artist Carl Joe Williams and MOCA Jacksonville in opening a conversation about national identity. Post your answers and ideas on your social media with the hashtags #makethedreamreal and #mocajax, and MOCA may select your post to share on its platforms reaching 55,000 followers.
CARL JOE WILLIAMS
New Orleans native Carl Joe Williams creates large scale installations and narrative-driven work that include complex color combinations in rhythmic and harmonic patterns inspired by numerology from nature, as well as by cultural echoes of African diasporic memory. In his works reflective and textured surfaces, and kinetic and sonic elements contribute to create a transportive visual experience. The installations often include figures, as well as repurposed objects. Over the years Williams work has expanded to involve murals, sculpture, book illustrations, sound and videography. Williams continues to explore narratives that speak to our collective human condition.
Photograph of Carl Joe Williams. Photo by Tammy Mercure.