oneColumn
PROJECT ATRIUM: ANGELA STRASSHEIM
NOVEMBER 22, 2014 - MARCH 1, 2015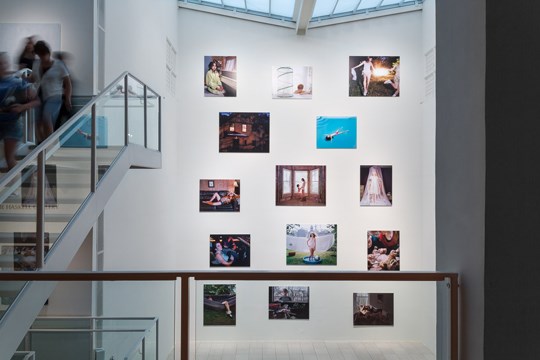 Image courtesy of Doug Eng.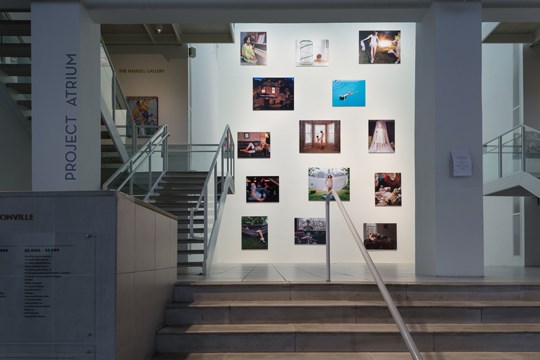 Image courtesy of Doug Eng.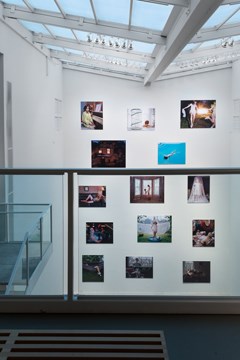 Image courtesy of Doug Eng.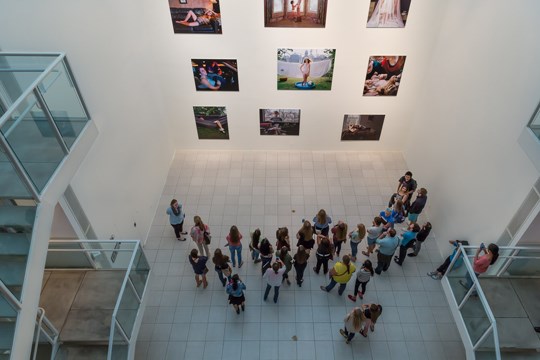 Image courtesy of Doug Eng.
Photographer Angela Strassheim illustrates transitional points in our lives-particularly the precious, fleeting nature of childhood and reflections on becoming a mother. Many photographs feature her nieces and nephews at several phases of their lives, and half have never been exhibited before. For instance, in Untitled (Moving In), a preteen boy peers into a window, surveying a kitchen counter cluttered with cleaning products, a potted plant, a can of Mandarin oranges, candy canes, giant lollipops, and other random items only found tossed together during a move. His face barely masks his feelings of upheaval. Untitled (Girl in Blue Dress) depicts a pixie princess frozen in a childhood phase that evaporates too quickly. Untitled (Headlights), featuring a half-clothed teenage girl and boy running with abandon in dimly lit woods, portrays the freedom of young adulthood.
The large-format prints, some as big as seventy-five inches wide, can be viewed from all three floors of the gallery where they are hung salon-style. Their placement is based on how viewers will engage with the works. For example, Untitled (Moving In) is hung just above eye level, making the boy appear to gaze at onlookers below. The layout also allows images to speak to one another through their proximity and positioning.
Strassheim shoots with a 4 x 5 view camera, using Polaroid film to preview instant versions of her final exposures. Much of her work has required elaborate strobe lighting to capture exacting details in images with expansive depth of field focus. She honed that practice during training at the Forensic Imaging Bureau in Miami where she learned how to shoot everything related to photography and law enforcement-every element could be crucial evidence.
"I don't take pictures. I make photographs," she said. Much like a painter constructs a painting, "everything in a photograph is there because I decided it would be there." In Untitled (Isabel at the Window), light shines from windows of a two-story house shrouded in twilight, but the details are so clear that viewers can detect a home security sticker on the door.
Her work style has been evolving, though. Newer pictures often use less lighting and less depth of field, sometimes out of necessity. She now has a rambunctious two-year-old, who sometimes makes it difficult to work in her usual methodical style, but he has provided new perspective.
Project Atrium features site-specific and site-sensitive installations by emerging and mid-career artists. The unique placement, dimensions, and scale of the Haskell Atrium Gallery provide a compelling challenge to the chosen artist - a call to reinvention and active collaboration with the architecture of the Museum on a monumental scale.
ANGELA STRASSHEIM
Born in 1969, in Bloomfield, Iowa, Strassheim lives in Connecticut and works in New York and Israel. She received a BFA in media arts from the Minneapolis College of Art and Design in 1995. She attended the Forensic Imaging Bureau in Miami where she received her Forensic & Biomedical Photography Certification in 1997. She earned her MFA in photography at Yale University in 2003. Her work appears in the collections of the Art Institute of Chicago, the Guggenheim Museum in New York, the Walker Art Center in Minneapolis, the Monterey Museum of Art in California, and many others. She has exhibited in museums and galleries around the world.
Image courtesy of Andrea Blanch.
SPONSORS
PRESENTING

SUPPORTING
Driver, McAfee, Hawthorne & Diebenow, Boeing, Brooke and Hap Stein