oneColumn
CREEKS RISING: A CITY REFLECTED IN HOGANS & MCCOYS CREEKS
MAY 6, 2022 - JUNE 30, 2022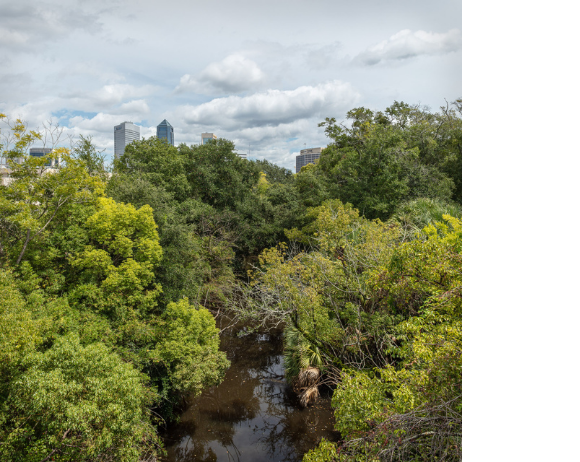 © DOUG ENG, McCoys Creek – Above Park, Park St. Overpass, 2021. Inkjet print, 24 x 24 inches. Photo courtesy of the artist.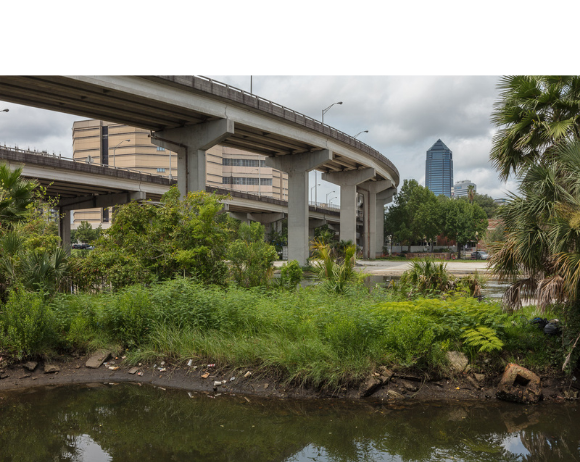 © DOUG ENG, Hogans Creek – Jailhouse View, E. Monroe St., 2021. Inkjet print, 24 x 16 inches. Photo courtesy of the artist.
In honor of the city's Bicentennial, this exhibition presents documentation and photographs by local photographer Doug Eng of the two urban creeks in Jacksonville: Hogans and McCoys Creek. After years of pollution and neglect, the nonprofit Groundwork Jacksonville has partnered with the City of Jacksonville to rebuild the "emerald necklace" of trails, parks, creeks, and greenspace encircling the urban core that was envisioned by famed architect Henry Klutho in the early 20th Century. As part of this "Emerald Trail," Groundwork Jax aims to remedy flooding, clean the water, create more natural habitat for birds, fish, and wildlife, and once again provide parks, trails, and access for creek recreation for Jacksonville.
Groundwork Jacksonville is the only Groundwork trust in Florida, and the first in the Southeastern United States. For more information visit groundworkjacksonville.org.
For more information on the artist, visit dougeng.art.
DOUG ENG
Doug Eng is a photographer and installation artist whose work aims to raise awareness of various environmental issues. He has an educational and professional background as an engineer and software programmer. A Jacksonville native, Eng received his BS and MEng in Structural Engineering and architecture from Cornell University. His technical science background provides him with a unique skill set that he utilizes in his photographs. Eng ultimately decided photography would be his main medium in which he could fully capture and communicate his ideas to the world.