oneColumn
ART WITH A HEART IN HEALTHCARE
WHAT LIFTS YOU UP
SEPTEMBER 11, 2022 - JANUARY 8, 2023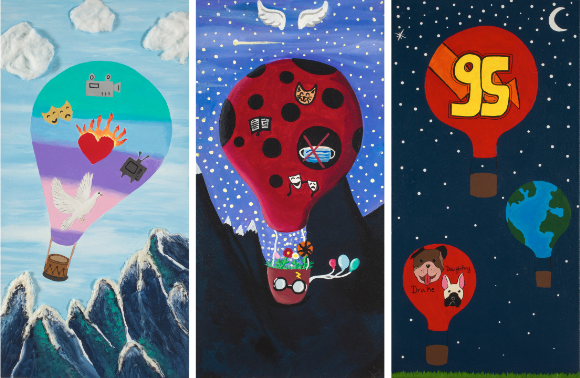 Quinalia, age 12, Never Give Up, 2022. Acrylic on canvas, 24 x 12 inches. > Addison, age 11, What Lifts You Up, 2022. Acrylic on canvas, 24 x 12 inches. > Coner, age 6, What Lifts You Up,2022. Acrylic on canvas, 24 x 12 inches.
MOCA Jacksonville continues its partnership with Art with a Heart in Healthcare (AWAHIH), a nonprofit organization that provides personalized art experiences to enhance the healing process for patients and families at Wolfson Children's Hospital, Nemours Children's Clinic, St. Vincent's, Mayo Clinic, and Baptist Medical Center. The exhibition What Lifts You Up was created under the guidance of AWAHIH Artists-in-Residence. Each patient and AWAHIH Artist-in-Residence work together to celebrate and explore the artistic process, gaining self-confidence and self-awareness in the process.
Through the years, the program has developed different themes to encourage the patients to express themselves through art, helping them to articulate their feelings, ideas and experience, while gaining technical skills in both art and photography. MOCA is proud to be part of this program, transforming the healthcare experience of young patients through the power of creative expression in the arts.
Special thanks to the Artists-in-Residence who made this year's program possible: Dylan Bauer, Heidi Drost, Kianna Godoy, Amy Irizarry, Brooke McKinney, Lisa Miyares, Jill Olmo, Matt Richards, and Abigail Santos. This exhibition is sponsored by Florida Blue. Additional support for this exhibition was made in part by the City of Jacksonville, the Cultural Council of Greater Jacksonville, the Florida Division of Cultural Affairs, the National Endowment for the Arts, and the University of North Florida.