oneColumn
THE EVOLUTION OF MARK-MAKING
JANUARY 28, 2017 - MAY 14, 2017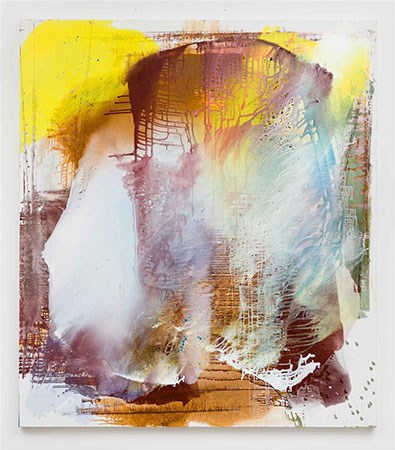 © JACKIE SACCOCCIO, Time (Smelt), 2016. Oil and mica on linen, 90 x 79 inches. Museum of Contemporary Art Jacksonville, museum purchase with funds provided by Brooke and Hap Stein in honor of the Stein Prize. Image courtesy of 11 Rivington Gallery.
MOCA Jacksonville's Permanent Collection is rich with significant examples of gestural abstraction as well as post-painterly abstraction, as seen in works by Jackie Saccoccio and Jules Olitski respectively. Others reject fluid gestures in favor of straight lines, hard angles, and shapes, illustrating how a geometrical focus was central to many abstract movements as well. The Evolution of Mark-making provides a new paradigm to interpret old favorites alongside recent acquisitions and to understand how this major theme extends across time and media.
Borne out of Modernist painting as well as "action painting" — where paint is spontaneously dribbled, splashed, or smeared onto the canvas — this theme extends to present day, where brushstrokes fade away to innovative mark-making techniques. For example, Color Field painter Sam Gilliam pours layers of acrylic paint onto unprimed canvases. Or sculptor Shinique Smith uses a rope as a line — a gesture — to contain garments' forms and patterns. Here, the mark is an extension of the artist's mind, motivated by an impulsive, intuitive process between the artist and medium. Yet others, such as Jasper Johns and Sol LeWitt, adhere to strict, self-prescribed rules to execute their work. The Evolution of Mark-making presents a broad survey of concurrent and ground-breaking approaches to gesture.
MAYA HAYUK
With their symmetrical compositions, intricate patterns, and lush colors, Maya Hayuk's paintings and massively scaled murals recall views of outer space, traditional Ukrainian crafts, airbrushed manicures, and mandalas. Hayuk weaves visual information from her immediate surroundings into her elaborate abstractions, creating an engaging mix of referents from popular culture and advanced painting practices alike, while connecting to the ongoing pursuit of psychedelic experience in visual form.
Photo courtesy of Pascale Brischoux and MIMAMUSEUM.EU, Brussels, March 2016.
JILL NATHANSON
The color field paintings by Jill Nathanson are rich with contradiction as they explore color energies, material versus immaterial, as well as tensions between form and color. Process oriented, she embarks on a thorough practice of creating studies from torn transparent paper before finalizing placements and hues. Nathanson then pours polymer gels of hand-crafted oils and acrylics into elegant, fluid paintings on panel.
Photo by Polite Photographic.
JACKIE SACCOCCIO
In 2008, abstract painter Jackie Saccoccio first began an ambitious body of work relating to portraiture. Her "improvisational portraits," as she refers to them, are borne out of her interest in centrifugal forces in portraits. As she reinterprets portraiture, she researched the materials, such as mica, utilized by Renaissance painters. Evolving the practice, Saccoccio's surfaces are freckled with mica and translucent varnishes, creating multilayered planes of shifting forms. In these large-scale paintings, Saccoccio's process includes tipping, dragging, and shaking the large-scale works over one another, where liquid pools of color, directional lines, and translucent orbs coexist.
Portrait of Jackie Saccoccio with Portrait (Candy). Photo credit: Anna D'Alvia.
SHINIQUE SMITH
Born in Baltimore, Maryland, Shinique Smith now lives and works in upstate New York. Her work is inspired by the vast nature of "things" that we consume and discard, which resonate on a personal and social scale. The graffiti of her youth, Japanese calligraphy, and abstraction are influences from which she extracts "the graceful and spiritual qualities in written word and the everyday." Smith's work has also been widely exhibited at prestigious venues such as the Museum of Fine Arts, Boston, the Brooklyn Museum, the Denver Art Museum, the Los Angeles County Museum of Art, the Madison Museum of Contemporary Art in Wisconsin, the Bronx Museum of the Arts, the Smithsonian National Portrait Gallery in Washington, D.C., Yerba Buena Center for the Arts, Contemporary Arts Center New Orleans, the New Museum in New York, MoMA PS1 in New York, and the Studio Museum in Harlem, among others. Smith earned her BFA (1992) and MFA (2003) from the Maryland Institute College of Art, where she now serves on the Board of Trustees, and her master's degree in teaching (2000) from the School of the Museum of Fine Arts and Tufts University, both in Massachusetts.
Portrait of the artist. Photo by Eric Wolfe.