oneColumn
PAINTING THE PICTURE
WORKS FROM THE PERMANENT COLLECTION
DECEMBER 22, 2018 - MAY 12, 2019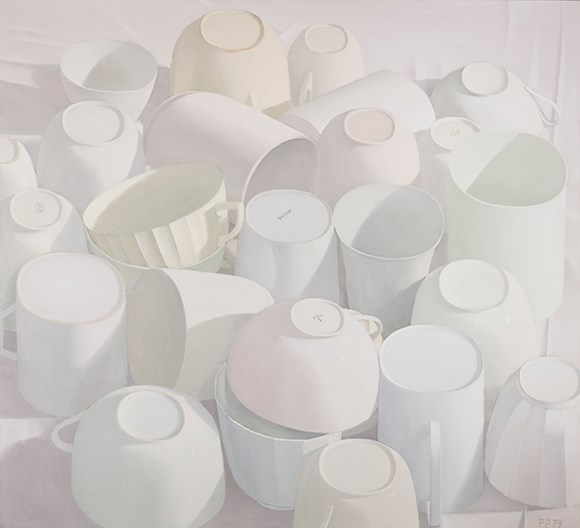 PETER PLAMONDON, Cups T-2641, 1979. Oil on canvas, 62 x 68 inches. Gift of Donald and Maria Cox, 2009.03.16. © Peter Plamondon. Used by permission.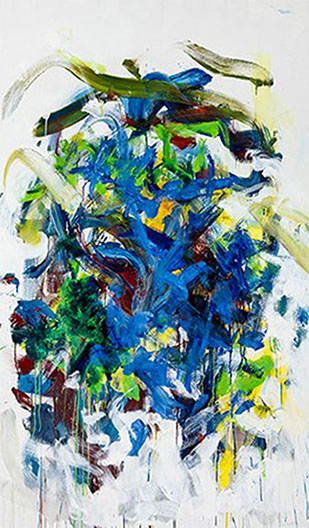 © JOAN MITCHELL, Chord III, 1986. Oil on canvas, 77 x 44 3/4 inches. Gift of Donald and Maria Cox, 2016.04.06. © Estate of Joan Mitchell.
Painting the Picture highlights a number of significant works from the Permanent Collection that span the latter half of the 20th century, ranging from abstraction to narrative-based painting. In total, MOCA's collection of painting represents approximately sixteen percent of the Permanent Collection. This selection of works demonstrates the lasting tradition of painting through a multitude of methods, styles, and subject matter.
RICHARD ANUSZKIEWICZ
A practitioner in geometric abstraction, Richard Anuszkiewicz trained at the Cleveland Institute of Art and later with artist Josef Albers at Yale University, where he received an M.F.A. in 1955. During the 1960s and early 1970s, Anuszkiewicz helped to found the Optical Art ("Op Art") movement-named for its use of optical illusions in art. Often Anuszkiewicz explores color relationships and optical responses by utilizing detailed, complex, and linear designs. The resulting compositions are simultaneously flat and energetic, where illusionary effects are visible in the perceived color changes.
LEON BERKOWITZ
A founding member of the Washington Color School, Leon Berkowitz created vibrant paintings that explore form through expansive fields of color and light. Unlike the Abstract Expressionists of the 1940s and 1950s who drew inspiration from internal psychological states, Berkowitz was inspired by the external world, particularly landscapes. Berkowitz taught art for more than ten years in Washington D.C. high schools and later taught at the Corcoran Gallery's School of Art for almost twenty years. His work is included in the collections of the Hirshhorn Museum and Sculpture Garden, the High Museum of Art, and the Museum of Modern Art in New York.
Image courtesy of Wally Findlay Galleries International, Inc.
JAMES BOHARY
Painter James Bohary is most well-known for employing expressive brushwork, thick impasto, and sweeping gestural marks in his oil paintings. While his paintings are abstract and almost always non-objective, they draw influence and inspiration from nature-ranging from landscapes to seascapes to animal life. In his work, he also recalls his personal explorations of specific places, such as time in New York, Puerto Rico, and Newfoundland. Often, the richly colorful buildup of paint extends to the edges of the canvas, creating an almost topographical surface.
Photo by Marcus P. Newton. Courtesy of the Elizabeth Harris Gallery, New York.
SAM GILLIAM
Sam Gilliam received his MA in painting from the University of Louisville in 1961 and has been an active painter, teacher, and innovator since the 1950s. Gilliam was a key member of the group of artists known as the Washington Color School (1950s-1960s). This group originated in Washington, D.C., and included artists in favor of flat planes of color as opposed to gestural abstraction that was characteristic of many New York School artists from the preceding decade. Few modern and contemporary artists are regarded as the first in employing certain techniques or artistic visions. Gilliam, however, succeeded in that effort serendipitously when he first removed his painted canvas from the stretcher and manipulated it into a three-dimensional draped sculpture. While Gilliam is perhaps best known for his drape paintings, he also created colorful collages, prints, works on paper, and two-dimensional paintings inspired and influenced by jazz music and Abstract Expressionism.
Sam Gilliam, 2014. Photography: Steven Frietch. Courtesy of the artist and David Kordansky Gallery, Los Angeles, California.
PHILIP GUSTON
Painter and printmaker, Philip Guston is best known for his cartoonish work dating from the 1960s. Returning to the figure during the height of the Abstract Expressionist movement (1943-1965), Guston painted mundane objects such as light bulbs, books, shoes, and bricks. Typically, he rendered his subjects in a limited palette featuring shades of red, pink, and white. A leading figure in the Neo-Expressionist movement where artists emphasized human psychology, Guston was a self-taught artist who worked alongside Jackson Pollock and Willem de Kooning. Although not immediately well received, Guston's work is now exhibited in major museums worldwide.
Photo: F. K. Lloyd © The Estate of Philip Guston, courtesy Hauser & Wirth
RONNA HARRIS
Ronna S. Harris is a painter who has been a member of the Tulane University faculty since 1989. She received her M.F.A. in Painting from the University of California Santa Barbara. Her work has been exhibited at museums and art centers throughout the United States including the Huntsville Art Museum, the New Orleans Museum of Art, the Birmingham Museum of Art, and the Orlando Museum of Art, among others. In 2000, the White House Historical Association commissioned Harris to represent the state of Louisiana and create an original work, The East Sitting Room. The painting became a permanent part of the exhibition, "White House Impressions: The President's House Through the Eyes of the Artist," and now circulates to Presidential Libraries. Harris is represented by Steven Callan at Callan Fine Art, New Orleans, LA.
Image courtesy of the artist.
HANS HOFMANN
Hans Hofmann (1880-1966) is one of the most important figures of postwar American art. Celebrated for his exuberant, color-filled canvases and renowned as an influential teacher for generations of artists-first in his native Germany, then in New York and Provincetown-Hofmann played a pivotal role in the development of Abstract Expressionism. From his early landscapes of the 1930s, to his "slab" paintings of the late 1950s, and his abstract works at the end of his career upon his death in 1966, Hofmann continued to create boldly experimental color combinations and formal contrasts that transcended genre and style.
Portrait of Hans Hofmann, c. 1960-65. Reproduction, including downloading of Hans Hofmann works is prohibited by copyright laws and international conventions without the express written permission of Artists Rights Society (ARS), New York.
PAUL JENKINS
American abstract artist Paul Jenkins, along with his contemporaries Mark Rothko and Jackson Pollock were members of the New York School, an informal group of artists active in the 1950s in New York City that embraced avant-garde styles. As an abstract expressionist, Jenkins employed compositional strategies indicative of the movement including a controlled paint-pouring technique that explores the interaction of color, shape, and form. Jenkins' interest in tactile painting methods was likely informed by his experience growing up in Kansas City, Missouri where he worked at a ceramics factory. His significant body of work includes oil and acrylic paintings and works on paper, often characterized by radiant fields of vibrant color and lyrical abstraction.
JOAN MITCHELL
A graduate of the Art Institute of Chicago, Joan Mitchell moved away from her academic training in 1949 to a style inspired by Paul Cezanne, Vincent Van Gogh, and Wassily Kandinsky. After settling in New York in 1950, she abandoned representation entirely and turned to painting abstractions based on her response to landscape. Mitchell exhibited her work regularly throughout the fifties, showing alongside artists such as Willem de Kooning, Jackson Pollock, and Hans Hofmann. As a leading figure of the Abstract Expressionist movement, her art is characterized by many layers of vibrant color inspired not by emotion and the subconscious, but by her surroundings.
Joan Mitchell, c. 1962. Photographer unknown, Joan Mitchell Foundation Archives.
ROBERT MOORHEAD
Robert Moorhead received his M.F.A. in design from Carnegie Mellon University in 1969. Following graduate school, Moorhead worked as a transportation designer for the Rensselaer Research Corporation in Troy, New York. Next, he joined the faculty at Deerfield Academy, where he taught architecture, design, and calligraphy. Moorhead creates paintings characterized by geometric compositions as well as calligraphic-inspired abstract work. Many of his paintings combine his varied interests, including typography and poetry.
Photo by Andrea Moorhead
JENNY MORGAN
Although classically trained as a figure painter, Jenny Morgan is breaking with the labor-intensive preciousness associated with the realist approach. Technically intricate with a haunting quality, Morgan's paintings experiment with psychological visual realism, obscuring the physical to expose the spiritual. She obfuscates the portraits' meticulous details by annihilating their likeness, stripping away layers like physical and spiritual wounds, while retaining a striking intimacy. Like an archeologist, she digs to discover the subject's identity.
Image courtesy of Thomas Hager.
ED PASCHKE
Perhaps one of Chicago's most well-known artists, Ed Paschke spent much of his career in the city, attending the School of the Art Institute of Chicago (SAIC) for both his B.F.A. in 1961 and M.F.A. in 1970. A member of the Chicago Imagists-a group of SAIC affiliated artists influenced by comics, cartoons, popular culture, and Art Brut-Paschke often created highly stylized paintings and prints of figures rendered in bright colors. As the Mary Jane Crowe Professor in Art and Art History at Northwestern University, Paschke influenced a number of students and promoted community engagement through the arts.
KEVIN PETERSON
Although Kevin Peterson is a figurative painter, his gritty, graffiti-covered backgrounds share the stage with his irresistible human subjects. The walls bear the scars of a ragged and dangerous world. The children are pure, young, and innocent. The two appear to be polar opposites, but the girls seem empowered by their surroundings, not afraid of them. Peterson's hyper-realistic style contrasts angelic youth against desolate, urban backgrounds, yet evidence of the painter's brush adds warmth and hope.
Image courtesy of Thomas Hager.
JACKIE SACCOCCIO
In 2008, abstract painter Jackie Saccoccio first began an ambitious body of work relating to portraiture. Her "improvisational portraits," as she refers to them, are borne out of her interest in centrifugal forces in portraits. As she reinterprets portraiture, she researched the materials, such as mica, utilized by Renaissance painters. Evolving the practice, Saccoccio's surfaces are freckled with mica and translucent varnishes, creating multilayered planes of shifting forms. In these large-scale paintings, Saccoccio's process includes tipping, dragging, and shaking the large-scale works over one another, where liquid pools of color, directional lines, and translucent orbs coexist.
Portrait of Jackie Saccoccio with Portrait (Candy). Photo credit: Anna D'Alvia.
YOLANDA SANCHEZ
Cuban-American artist Yolanda Sanchez is most well known for her abstract, expressionistic and non-figurative paintings and prints. Often citing nature as a significant source of inspiration, Sanchez also draws on her personal experiences and background, including her Cuban heritage and the colors and forms found in South Florida's landscapes and seascapes. A woman of many talents, Sanchez is also a Fulbright scholar who holds a Ph.D. in Clinical Psychology. After teaching psychology for many years, she received a degree in Fine Arts from Florida International University in 1991 followed by an M.F.A. in Painting from Yale University in 1994. Sanchez continues to create lyrically abstract work while serving as the Director for the Art Program at the Miami International Airport.
Image courtesy of the artist
THEODOROS STAMOS
Working alongside painters Jackson Pollock and Ad Reinhardt, Theodoros Stamos contributed significantly to the development of Abstract Expressionism. Stamos often employed organic shapes and allusions to exotic landscapes, and as an American-Greek artist and avid traveler, Stamos referenced Greek culture as well as East Asian aesthetics in some of his work. Stamos exhibited regularly in New York during the mid to late twentieth-century and was a part of the instrumental exhibition, The New American Painting, which introduced Abstract Expressionism to European audiences in 1958-59.