oneColumn
ERICA MENDOZA: VISUAL LOVE LETTERS
DECEMBER 14, 2014 - MARCH 29, 2015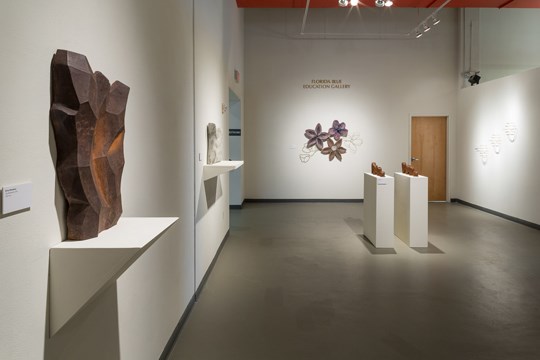 Image courtesy of Doug Eng.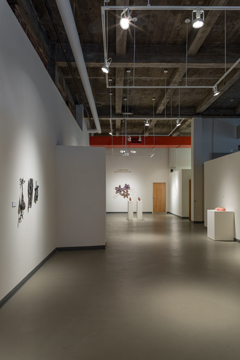 Image courtesy of Doug Eng.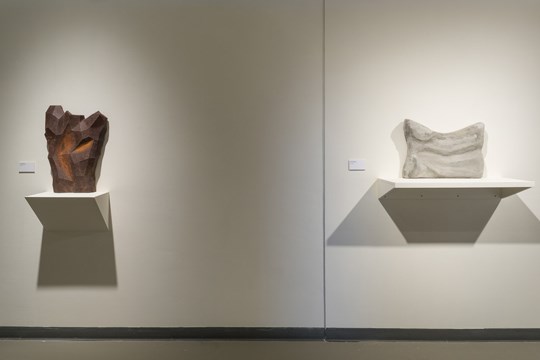 Image courtesy of Doug Eng.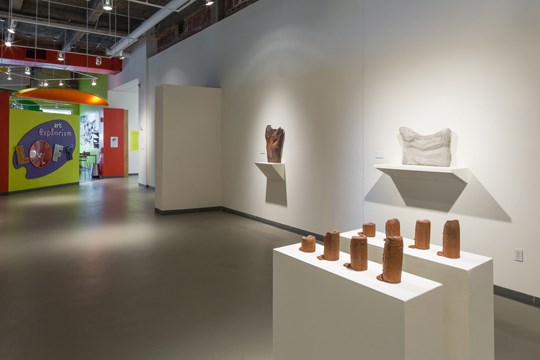 Image courtesy of Doug Eng.
THE WORKS in Visual Love Letters actualize the intangible, internal responses to the formation of a new relationship. Each "love letter" focuses on a specific moment "written" to a single person. The relationship progresses from naive beginnings to weightier matters. Feelings of nervous excitement, yearning, and desire take the form of concrete, steel, and cast iron. These universal emotions inhabit the utility of the materials used, drawing parallels to the idea that another person can feel like a crucial element for survival. The sturdiness of the substantive materials represents the formidable bonds in a relationship. The passage of time appears in the repetition of snuffed candles. The objects' weight contrasts physically and conceptually with depictions of delicate flowers, soft fabric, and the supple human form. The intensity required to create each piece reflects the labor involved in maintaining coexistence with a loved one. This series of sculptural works documents the artist's present experiences but also serves as declaration of continuously moving forward.
Erica Mendoza was named MOCA Jacksonville's first annual University of North Florida student artist-in-residence. The Department of Art and Design senior spent the fall semester creating this body of work in a studio space on the Museum's fifth floor, interacting with visitors and explaining her work process. In addition to exhibiting her work at MOCA, Mendoza learned from Museum professionals how to develop her work, prepare it for display, and market it to the public.
ERICA MENDOZA
Erica Mendoza received her BFA in sculpture at the University of North Florida and is currently an MFA candidate at the University of Tennessee in Knoxville. Interested in many different materials such as cast metals, steel, leather, and natural... >> Read More
Image courtesy of Jennifer Grissom and the University of North Florida.