oneColumn
UNMASKED: ART WITH A HEART IN HEALTHCARE
AUGUST 23, 2015 - DECEMBER 6, 2015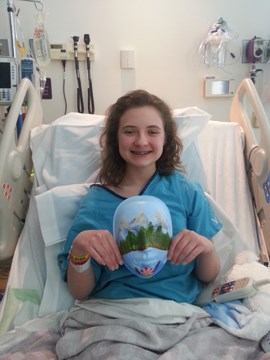 BROOKE, age 12. Brooke is inspired by art, especially fashion and design. She is a cheerleader and enjoys things that are in motion, fast-paced, and colorful. Brooke sings and plays the guitar. One day she would like to become a veterinarian because of her love for animals. "I love to visit Colorado because I enjoy being outside in the fresh air and in nature where I can bike, ride horses,and snowboard. Everywhere I look there is something beautiful and interesting."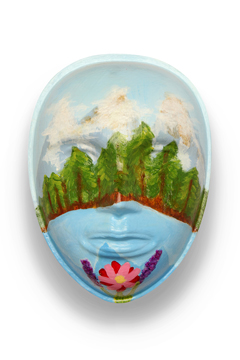 BROOKE, age 12. Brooke is inspired by art, especially fashion and design. She is a cheerleader and enjoys things that are in motion, fast-paced, and colorful. Brooke sings and plays the guitar. One day she would like to become a veterinarian because of her love for animals. "I love to visit Colorado because I enjoy being outside in the fresh air and in nature where I can bike, ride horses,and snowboard. Everywhere I look there is something beautiful and interesting."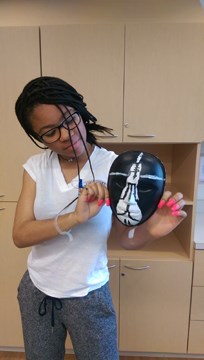 ARIANA, age 13. Ariana is intense, extremely thoughtful, and intelligent. She has big dreams for her future, as long as it is never "boring." Her inspiration comes from her cousin—a great artist who died last year. "Since it is time to vote, I am drawing the flag, but I am painting it black for the people of Baltimore and for African-Americans. The prayer hands signify the parents who are afraid for their children leaving home because they are not promised to return. I purposefully chose working in black and white because the colors symbolize racial tension and are a bold artistic statement."
ARIANA, age 13. Ariana is intense, extremely thoughtful, and intelligent. She has big dreams for her future, as long as it is never "boring." Her inspiration comes from her cousin—a great artist who died last year. "Since it is time to vote, I am drawing the flag, but I am painting it black for the people of Baltimore and for African-Americans. The prayer hands signify the parents who are afraid for their children leaving home because they are not promised to return. I purposefully chose working in black and white because the colors symbolize racial tension and are a bold artistic statement."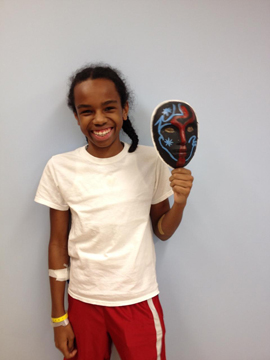 JAHZYM, age 14. Jahzym is cool and smart with many interests but says he never felt he had any special talent in art. His experiences painting in the hospital opened him up to more creative possibilities. "My ideas were inspired by Native American tattoos. I really like to splatter paint, and I love the look of bold designs and graphics."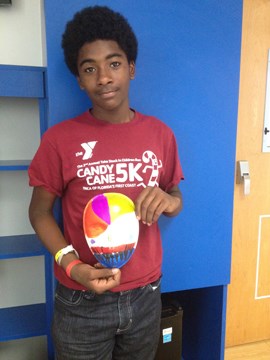 JAVONTE, age 14. Javonte is a focused, thoughtful, and introspective young man. He loves animals and sports. Dogs, football and basketball top those categories.He found painting while he was in the hospital to be a perfect creative outlet. "I just wanted to put stuff down and feel free. My painting is mostly abstract, and I was able to use all of my favorite colors."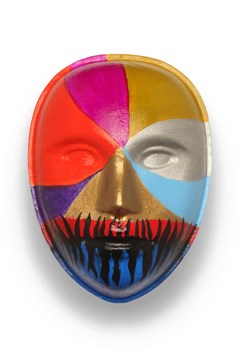 JAVONTE, age 14. Javonte is a focused, thoughtful, and introspective young man. He loves animals and sports. Dogs, football and basketball top those categories.He found painting while he was in the hospital to be a perfect creative outlet. "I just wanted to put stuff down and feel free. My painting is mostly abstract, and I was able to use all of my favorite colors."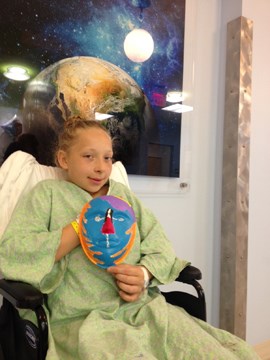 JENNA, age 12. Jenna loves adventure and welcomes new and exciting opportunities. She has taken dance classes for the past four years, and jazz is her specialty. "I was thinking about a dancer dancing in the wind with the wind blowing all the flowers around her."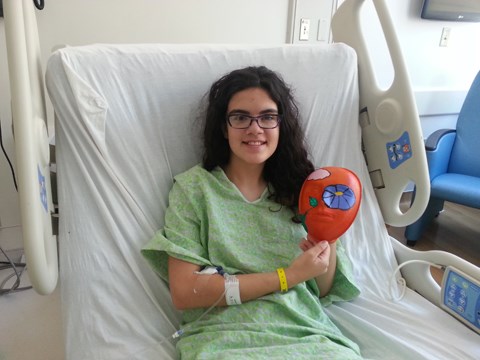 SOFIA, age 12. Sofia's many interests in the performing arts include dancing, acting, and musical theater. Reading and drawing are her favorite pastimes. She keeps her prized secret stash of chocolate hidden from her brother. "I love to draw flowers because I love to be in nature. It is refreshing to be out of the hospital bed and drawing nature because being in the hospital is so sterile."
un·mask, verb
Expose the true character of or hidden truth about.
The mask does not represent a face. It is a metaphor for what lives inside the artist, a canvas on which a patient's story can be told. Each artist started with a question-what's in your head?
MOCA Jacksonville continues its partnership with Art with a Heart in Healthcare, a nonprofit that provides personalized fine art experiences to enhance the healing process for patients and families at Wolfson Children's Hospital. Patients in the program, sponsored by First Tennessee Foundation, partner with an artist-in-residence who brings out their natural talents and expands their art-making skills while promoting self-confidence and self-awareness during their hospital experience.