oneColumn
JENN PEEK: (I)dentify as Phoenix
DECEMBER 14, 2019 - APRIL 12, 2020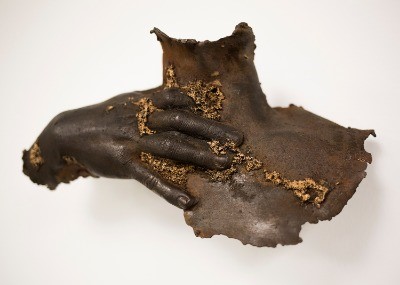 © JENN PEEK, Obsession, 2018. Cast iron and gold leaf. 7 x 14 x 5 inches. Photo courtesy of Alexa Velez.
THURSDAY, JANUARY 9, 2020
PUBLIC RECEPTION
6 - 8 P.M. • FREE TO THE PUBLIC
Inspired by the immortal phoenix, MOCA's 2019 UNF Artist-in-Residence Jenn Peek utilizes multi-media methods and materials to explore the themes of metamorphosis, construction of identity, and the beauty of transitioning to new stages of life while honoring one's roots.
JENN PEEK
Jenn Peek is a multidisciplinary artist attending the University of North Florida to complete her Bachelor of Fine Arts with a concentration in sculpture. Her artwork focuses on processes of cast iron and steel fabrication, but she... >> Read More
Photo courtesy of the artist.