oneColumn
SYNTHESIZE: ART + MUSIC
JUNE 3, 2017 - SEPTEMBER 24, 2017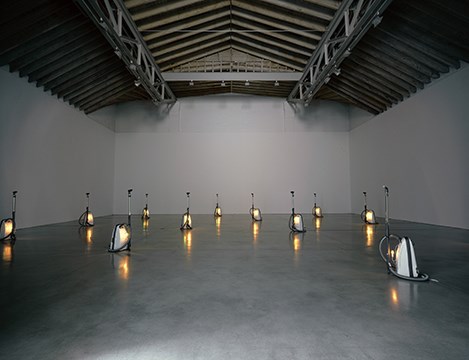 © CELESTE BOURSIER-MOUGENOT, harmonichaos 2.1, 2006. 13 vacuum cleaners, each outfitted with one tuner, one harmonica and one lightbulb, overall dimensions variable. Installation view at Paula Cooper Gallery, New York. Image courtesy of the artist and Paula Cooper Gallery.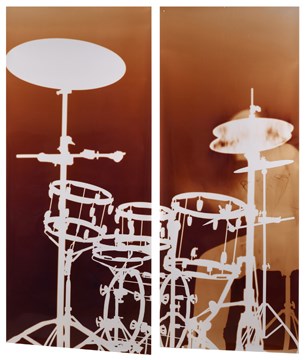 © FARRAH KARAPETIAN, Got to the Mystic, 2014. Unique chromogenic photogram from constructed negative, 97 x 82 inches. Courtesy Von Lintel Gallery, Los Angeles.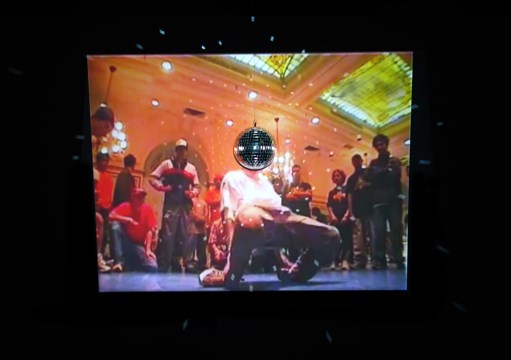 © JAMES CLAR, Dance Therapy (detail), 2012. Video installation, 22-minutes loop disco ball and projector, dimensions variable. Courtesy of the artist.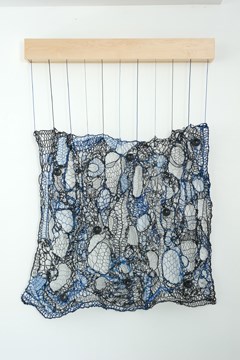 © JULIANNE SWARTZ, Black and Blue Weave, 2013. Wire, speakers, electronics, multi-channel soundtrack, 73 x 51 x 6 inches. Courtesy of Josee Bienvenu Gallery. Photo by Chris Kendall.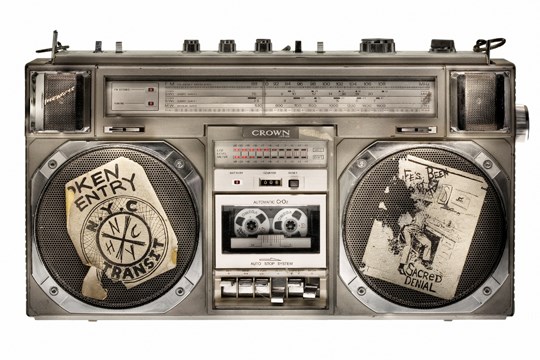 © LYLE OWERKO, Boombox 2, 2010. Archival pigment print, 44 x 65 inches. Courtesy of the artist and Jackson Fine Art.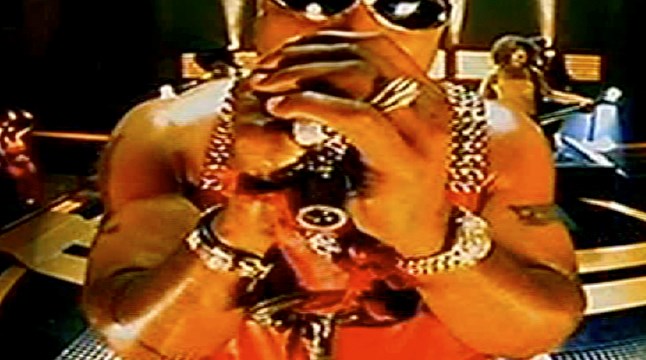 © RASHAAD NEWSOME, The Conductor (detail), 2008. Video installation, dimensions variable. Courtesy Rashaad Newsome Studio, New York.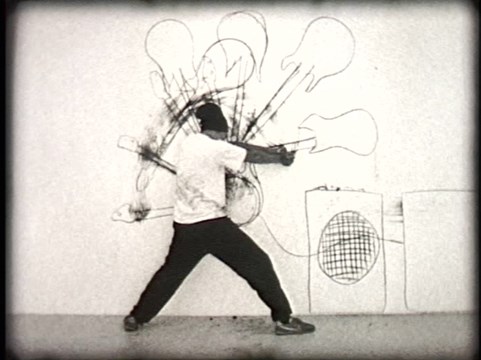 © ROBIN RHODE, Untitled (Air Guitar) (detail), 2005. Digital animation, 7:15 min (projection), dimensions variable. Courtesy of the Artist and Lehmann Maupin, New York and Hong Kong.
Synthesize (verb): to compose or combine parts or elements so as to form a whole.
Synthesize: Art + Music presents a wide array of visually and aurally dynamic pieces that underscore the ways artists synthesize, compose, and bring together the visual and sonic in unpredictable ways. Consisting of video, sculpture, and installation, the exhibition reveals how artists remix classical and pop music, electronic beats, instruments, and music videos to form multilayered connections between visual art, music, film, and popular culture. At times, musical instruments are created from unexpected objects or animated lines. At others, singers and bodily movements explore the relationship between rock stars and fandom. Rich with musical and cultural references, Synthesize is a thought-provoking investigation about the potential of and relationship to music in visual form.
Pushing the boundaries of both art and music, the works on view highlight various ways in which visual arts make music. For example, French composer and artist Céleste Boursier-Mougenot outfits vacuum cleaners with harmonicas and sound-frequency analyzers. As the vacuums turn on and off, sucking air into the harmonicas, they produce an unpredictable, fortuitous orchestration of instruments.
In The Conductor, African-American artist Rashaad Newsome combines clips culled from rap music videos with selections from composer Carl Orff's classical masterpiece "Carmina Burana," a piece of music that has itself been widely sampled in pop culture. The music video footage has been edited to isolate and remix shots of the rap artists' hand gestures so they appear to be conducting Orff's orchestra, a juxtaposition that allows Newsome to playfully break down boundaries between seemingly opposed cultural form.
Throughout the exhibition, the remix attitude takes center stage as it incorporates numerous visual and musical references and challenges our understanding of what each medium can be. Featured artists include Céleste Boursier-Mougenot, James Clar, Farrah Karapetian, Rashaad Newsome, Lyle Owerko, Robin Rhode, and Julianne Swartz.
CÉLESTE BOURSIER-MOUGENOT
French sound artist Céleste Boursier-Mougenot ((French, b. 1961) produces music in surprising and unexpected ways through large-scale acoustic environments. He first began his career as a musician yet began producing sonic installations as early as the 1990s. Boursier-Mougenot extracts the musical potential from diverse objects-live birds, vacuum cleaners, and kitchenware, among others-and explores their musical possibilities within a prescribed system. By marrying such aural capabilities and architectural settings, the artist draws our attention to sounds of everyday life and asks viewers to consider the way we perceive, create, and interact with music.
Courtesy of the artist and Paula Cooper Gallery. Photo by Florian Kleinefenn.
JAMES CLAR
Media artist James Clar (American, b. 1979) uses technology as a medium to critique the dis-associative affects of technology itself. Working with light as a sculptural form, his work explores the effects of media and technology within our culture. His major interest is in new technology and production processes, which he uses as a medium, while analyzing and critiquing their modifying effects on human behavior.
Image courtesy of Austin Irving.
FARRAH KARAPETIAN
Los Angeles-based artist Farrah Karapetian (American, b. 1978) investigates questions surrounding photographic representation and reality as they surface in her photographs and sculpture. Her large-scale camera-less photographs are produced using constructed negatives, or handmade props, to infuse unexpected texture and volume into the otherwise flat, opaque shadows. In the vibrant pictures, Karapetian's subjects represent public and political spheres, such as war veterans, Egyptian protestors, and most recently, stagecraft.
Tintype portrait courtesy of Geoffrey Berliner.
RASHAAD NEWSOME
Working in video, performance, and collage, Rashaad Newsome (American, b. 1979) remixes seemingly chaotic expressions of street culture into rigorously formal compositions. Drawing from high and low sources, he mashes together American hip-hop culture and the European heraldic tradition as a way to celebrate African-American culture.
Image courtesy of Seth Caplan
LYLE OWERKO
A self-professed "pop-culture junkie," Lyle Owerko's (Canadian, b. 1968) visual images have found an indelible place in the lexicon of pop culture and journalism. The photographer and filmmaker is best known for his perception and knowledge of urban movements, such as The Boombox Project that celebrates the quintessential big city accessory perched on shoulders or ornamenting front stoops, the icon of the punk, new wave, and hip-hop movements from the 1970s to the 1980s.
Image courtesy of the artist and Jackson Fine Art, Atlanta.
ROBIN RHODE
Coming of age in a newly post-apartheid South Africa, Robin Rhode (South African, b. 1976) was exposed to new forms of creative expression motivated by the spirit of the individual rather than dictated by a political or social agenda. Influenced by hip-hop, film, and popular sports, the Berlin-based multidisciplinary artist creates arrestingly beautiful narratives employing everyday materials, such as charcoal and chalk. In his Super 8mm films and digital animations, Rhode plays the sole protagonist who transforms urban landscapes into imaginary worlds, blending high and low art and cultural references along the way.
Image courtesy the artist and Lehmann Maupin, New York and Hong Kong.
JULIANNE SWARTZ
Blending high and low-tech materials, Julianne Swartz (American, b. 1967) utilizes both existing and self-made technologies to create sculpture, installations, and photographs that prompt viewers to question our culture's relationship to technology. Light, a common material in her practice, is paired with new technologies, special optics, and mirrors to form participatory works, where her handmade simplicity astounds onlookers. Swartz's pieces also possess matchless audio tracks that communicate barely audible computer-generated voices or softly sung remixed love tunes via PVC tubing or speakers.
Image courtesy of Eric Lubrick.