oneColumn
STATE OF THE ART: LOCATE
JANUARY 21, 2022 - MAY 1, 2022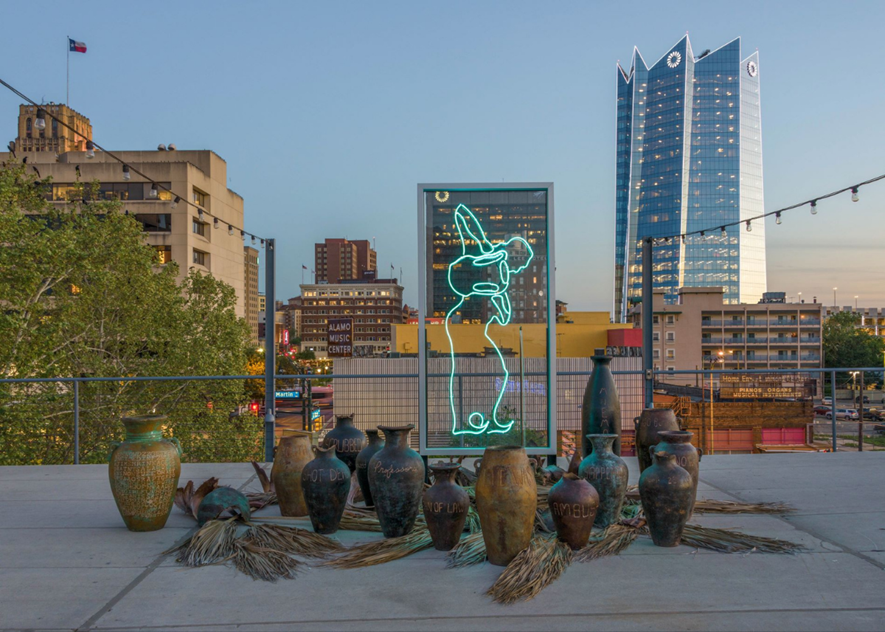 © Sama Alshaibi, The Cessation, 2019. Neon, aluminum, acrylic copper, palm fronds, terracotta and sound. Dimensions variable. Courtesy of Sama Alshaibi orginally commissions by Artpace San Antonio.
State of the Art, organized by Crystal Bridges Museum of American Art in Bentonville, Arkansas, is an exploration into how art by contemporary artists from throughout the country reflects the present moment. The first edition of State of the Art took place in 2014 to great acclaim. This second edition, State of the Art 2020, features a fresh new group of artists selected by leading curator Lauren Haynes, along with associate curators Alejo Benedetti and Allison Glenn, that opened on February 20, 2020 at Crystal Bridges. It presented more than 100 works by 60 artists who represent a cross-section of artists working in the United States today. Artworks include paintings, sculpture, photography, video, performance, and mixed media.
In collaboration with Crystal Bridges, MOCA is pleased to present a selection from the 2020 edition, State of the Art 2020: Locate.Locate speaks to the ways in which artists orient themselves through relationships-either to people or places-and how they, through that relationship, locate things hidden from view. In this way, the works in the exhibition include an exploration of expansive ideas of family and home, a dive into how identity is linked with location, and a probe into how artists today seek truths buried in history.
State of The Art 2020: Locate is organized by Crystal Bridges Museum of American Art, Bentonville, Arkansas.
The national tour of State of the Art 2020 is sponsored by Bank of America with additional support from Art Bridges.