oneColumn
SOUTHERN EXPOSURE: PORTRAITS OF A CHANGING LANDSCAPE
MAY 16, 2015 - AUGUST 30, 2015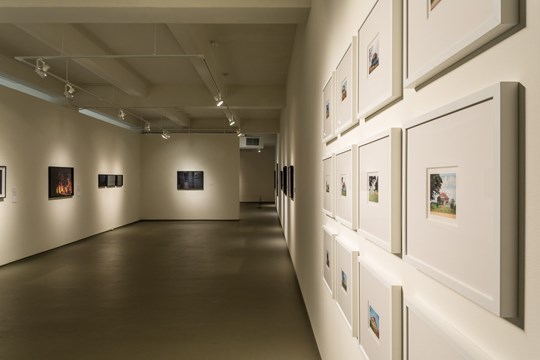 Image courtesy of Doug Eng.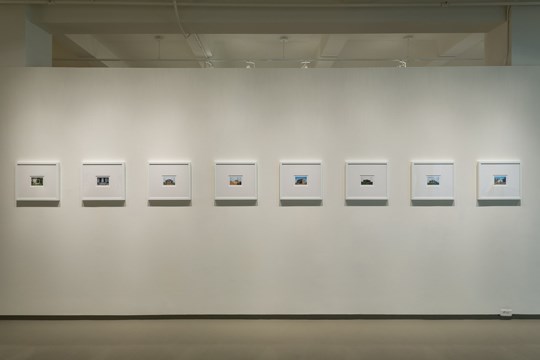 Image courtesy of Doug Eng.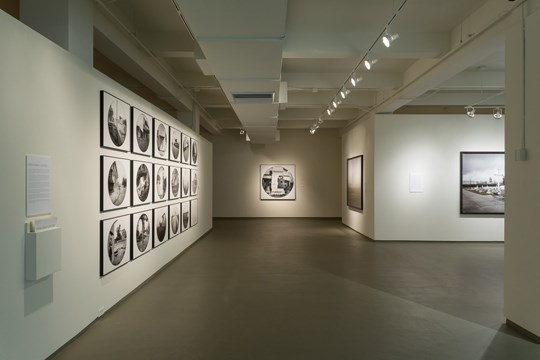 Image courtesy of Doug Eng.
Image courtesy of Doug Eng.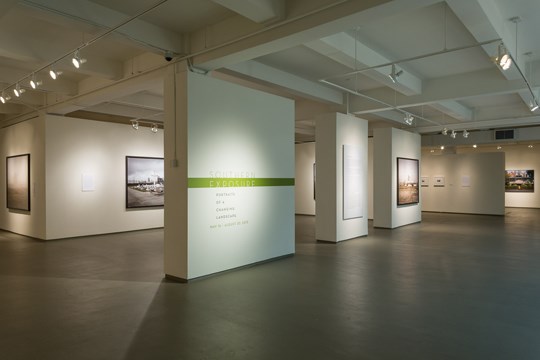 Image courtesy of Doug Eng.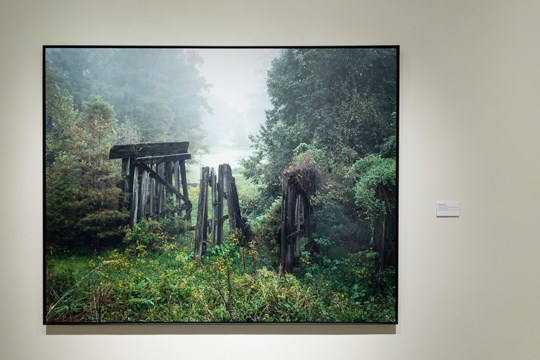 Image courtesy of Doug Eng.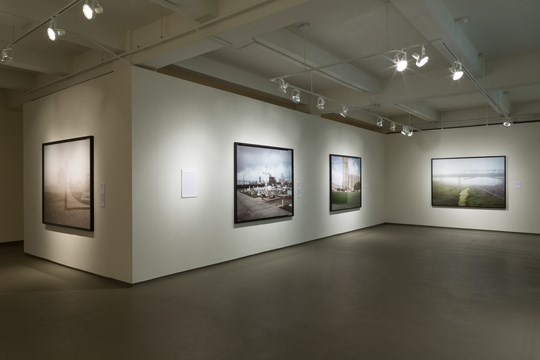 Image courtesy of Doug Eng.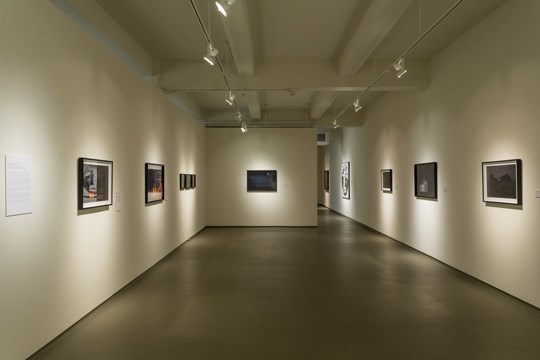 Image courtesy of Doug Eng.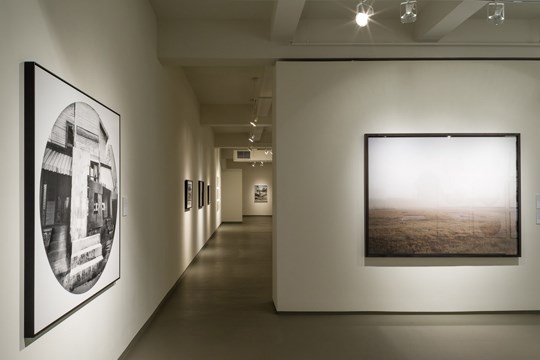 Image courtesy of Doug Eng.
RICHLY DETAILED IMAGES come to mind when someone says "the American South" or "the Deep South." Moss-draped oaks creating canopies over enormous columned mansions. Lazy rivers winding through verdant shores teeming with wildlife. Southern Exposure: Portraits of a Changing Landscape explores the territories that exist in our collective memory of the South-as it was and as it exists today.
Often monumental in scale and sublimely beautiful, the black and white as well as color photographs on view, by such renowned artists William Christenberry, Sally Mann, Richard Misrach, Andrew Moore, and Alec Soth, alongside the fresh, compelling visions of Deborah Luster and Jeanine Michna-Bales, present a timeless portrait of this storied region.
As the term portraiture suggests, each of the works not only captures the likeness of the South, it also reveals hidden elements that define and shape the land. Through a painstaking focus on the specificities of Southern geography, each artist also evokes the spirit, character, experience, and mood of the place bracketed by his or her lens. At times, the images reveal otherwise hidden historical depths, and at other times, they may focus on the complex psychologies written on the very surface of the land.
In all cases, the works on view conspire with another Southern tradition-storytelling-to weave complex narratives that shape and motivate the appearance of the terrain. The visual stories that emerge underscore the significance of the past-and the impact of the additive layers of history that reside within a single place. While the works on view represent portraits of a changing landscape, they also underscore the fact that this change is slow and not always linear. As one of the South's greatest storytellers, William Faulkner, aptly noted, "The past is never dead. It's not even past." Perhaps for this reason, no other medium is better suited to the task of creating a meaningful, complex portrait of the Southern landscape than photography. Capable of freezing time and giving immortality to the dead, at its inception, photography was celebrated and criticized as a ghostly technology. Southern Exposure, too, strikes this spectral nerve, reminding us that the photographs in this exhibition capture not only what we see, but also that which haunts us still.
MULTIMEDIA
ARTISTS & ALCHEMISTS PORTRAIT SERIES: SALLY MANN WET PLATE COLLODION AMBROTYPES
The offical promotional portrait video on Sally Mann for the documentary feature Artists & Alchemists.
WHY THE CIVIL WAR STILL MATTERS TO AMERICAN ARTISTS: SALLY MAN
Artists Terry Adkins, William Dunlap, Sally Mann and Dario Robleto come together to discuss how they address aspects of the American Civil War in their recent bodies of work and why. Moderated by Smithsonian American Art Museum Senior Curator Eleanor Jones Harvey.
WILLIAM CHRISTENBERRY
William Christenberry is a renowned photographer, painter, and sculptor whose work relates to his upbringing in the South, particularly Hale County, Alabama. As early as the late 1950s, Christenberry used a Kodak Brownie, an amateur's camera that he first received as a childhood Christmas gift, to produce small three-by-five-inch color snapshots, which he saw as sketches for his other forms of art. Around 1962, photographer Walker Evans encouraged the young Christenberry to make photographs of the South, a place that he knew intimately but had not previously considered as a subject. Slide film and 35 mm cameras became a standard part of his photographic practice, along with an assortment of Brownie cameras that produced color negatives.
Photograph by Chan Chao, Washington, DC.
DEBORAH LUSTER
For New Orleans-based Deborah Luster, photography is a cathartic exercise. In 1998, the photographer's mother was murdered. Grief-stricken, Luster embarked the same year on a project of photographing inmates, many of them convicted of violent crimes, in state prisons in Louisiana. After completing the countless portraits in One Big Self: Prisoners of Louisiana, Luster dedicated the next decade to documenting the remnants of violence in her hometown. Tooth for an Eye: A Chorography of Violence in New Orleans Parish is a photographic archive of contemporary and historical homicide sites in New Orleans, where the homicide rate has, historically and today, numbered significantly higher than the national average. Luster's meticulous research of the sites and the crimes committed there is evident. Each photograph is accompanied by the location, date and time, the victim's name, and even notes about the event, as in 1100 Block North Prieur. February 28, 2007. Herbert Preston (19). Recently returned Katrina evacuee. Gunshots to head and body.
Photo credit: State of Louisiana.
SALLY MANN
Over the past twenty years, Virginia-based photographer Sally Mann has drawn inspiration from both her family and the land to produce a poignant body of work. Her photographic portrayals of Southern landscapes, historic architecture, and her children have earned her countless accolades and a place among the most significant artists of the contemporary era. Since her early portraits of her young children in the late 1990s, Mann has gone on to document her idyllic home on a farm in Virginia as well as the greater American South, both of which reflect her steadfast interest in history, the passage of time, and the transformative power of death and decay. Time and again, Mann's pictures explore the subject of mortality and reveal the uncanny beauty in her subjects.
© Sally Mann. Photography by Liz Ligouri. Courtesy Gagosian Gallery.
JEANINE MICHNA-BALES
Dallas-based photographer Jeanine Michna-Bales feels a personal connection with the Underground Railroad. Growing up in Indiana, one of the first free states reached by fugitive slaves on their way north, she studied the subject in school and made frequent field trips to historic sites. Over the past ten years, the photographer has researched, retraced, and documented a path, roughly 2,000 miles in length, of actual sites, cities, and places that freedom-seekers passed through during their journey.
Image courtesy of Thomas Hager.
RICHARD MISRACH
Richard Misrach is one of the most influential color photographers of his generation. Over the past forty years, he has produced large-scale color photographs that reflect on human intervention in the landscape and the environmental impact of industry. His best-known series, Desert Cantos, portrays the horrific beauty of human-wrought disasters in the Nevada Desert. Misrach's ongoing exploration of color, light, and time recur in his recent photographs of the South. In 1998, Misrach traveled to the South on a commission from the High Museum of Art in Atlanta to create a new body of work as part of the museum's series Picturing the South. When he discovered the industrial corridor of the Mississippi River, between Baton Rouge and New Orleans in Louisiana, he found his project. Dubbed "Cancer Alley," this area is infamous for its toxicity and the exceptionally high occurrences of cancer that plague its residents.
Image courtesy of David Butow.
ANDREW MOORE
Photographer Andrew Moore is best known for capturing places of historical significance-Cuba, Russia, and post-recession Detroit-in all of their beauty and squalor. In the series Detroit Disassembled, he documents the once Motor City capital of the United States in its current state of dilapidation-windowless grand hotels, vast barren factory floors, and collapsing churches-where dignity and tragedy reside side by side. The photographer is drawn to such abandoned spaces and deteriorating architectural structures because of their storytelling possibilities. For Moore, architecture is a witness to history-it is a physical structure and container of decades of memories and stories secured within its physical being. As his photographs explore the intersection of history and time, they also invite the viewer to navigate between the past and the present, what was once there and what remains visible today.
Image courtesy of Thomas Hager.
ALEC SOTH
Sleeping by the Mississippi, Minnesota-based photographer Alec Soth's visualization of river landscapes and communities in the series, offers an alternate view of the life surrounding America's iconic, yet often neglected "third coast." As a student, Soth attended a lecture by photographer Joel Sternfeld, who traversed America in a van as he photographed the land. It was at that moment that the artist decided to capture the United States in this same wandering manner. In the series, Soth's embrace of the American vernacular is set toward small-town curiosities, where he investigates the funkier side of the American river culture through its eccentrics, gritty landscapes, fraying towns, and dreamers. The title "Sleeping by" suggests a sense of slumbering subjectivity as well as a metaphor for wandering and dreaming. Thus, the series is ultimately a meandering from Winona, Minnesota, to Baton Rouge, Louisiana, which Soth traveled over the course of five years. Equipped with a large-format 8 x 10 view camera, he approached his subjects and often posed the question, "What is your dream?"
Photo by Mike McGregor.
SPONSORS
SUPPORTING