oneColumn
ROMANCING THE MIRROR
DECEMBER 4, 2020 - JUNE 20, 2021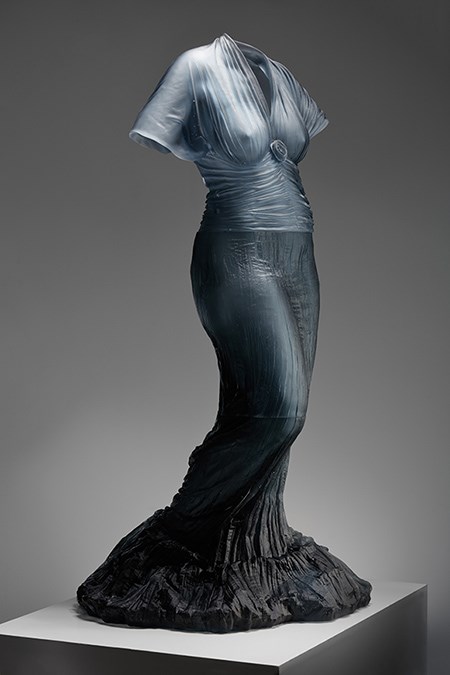 © 2020 Karen La Monte, Nocturn 1, 2015. Cast glass and light, 57 x 27 x 27 inches. Courtesy of the artist and Gerald Peters Contemporary.
TAKE A SELF-GUIDED VIRTUAL TOUR NOW
The group exhibition Romancing the Mirror showcases a new generation of women artists. Although developing in different directions, these artists have in common the masterful, yet playful, use of different techniques employed with freedom and ease, to present an inherently female sense of self and way of looking at the world.
The artists featured, painters Frances Goodman, Jenna Gribbon, Hayv Kahraman, Tschabalala Self, and sculptors Diana Al-Hadid, Karen Lamonte, and Nevine Mahmoud, take themselves, their lives and environments, as narrative subjects, while at the same time challenging classical depictions and definitions of the female in the history of art.
DIANA AL-HADID
Diana Al-Hadid (b. 1981) was born in Aleppo, Syria and currently lives and works in Brooklyn, New York. Her interest in process has led Al-Hadid to explore materials such as fiberglass and polymer gypsum, a modified form of the mineral used in plaster and wallboard.
FRANCES GOODMAN
Frances Goodman (Johannesburg, South Africa, 1975) received her MA in Fine Arts from Goldsmiths College at the University of London, England in 2000. In her multimedia work, Goodman explores definitions of female identity found in popular culture, expressing the aspiration, desire and anxiety that intertwine in its consumption, often using unconventional materials associated with female vanity. 
JENNA GRIBBON
Jenna Gribbon (b. 1978) lives and works in Brooklyn, NY. She received her MFA from Hunter College in New York. Much of her work is focused on the female nude; playing on historical gender roles, she highlights the voyeuristic aspect, so often associated with the female nude. 
HAYV KAHRAMAN
Hayv Kahraman (b. 1981) lives and works in Los Angeles, CA. Originally from Baghdad, Iraq, her family were forced to flee the country during the first Persian Gulf War in 1990. Art became a way of emphasizing her own story and cultural displacement as a refugee, highlighting the ways in which she felt required to conform to Eurocentric ideals. 
KAREN LAMONTE
Karen  LaMonte (New York, 1967) graduated from the Rhode Island School of Design in 1990 and lives and works in Prague, Czech Republic. Although she uses a wide range of media in her work, from ceramic, bronze and iron, to alabaster, paper and marble, it is her sublime glass sculptures depicting the human form that have become internationally renowned. 
NEVINE MAHMOUD
Nevine Mahmoud (London, 1988) lives and works in Los Angeles, CA. Following a BFA from Goldsmiths College, at the University of London, England, she received her MFA from the University of Southern California in Los Angeles in 2014. Mahmoud emphasizes playful contradictions to create a sense of tension between the viewer and her often overtly sensual works. 
TSCHABALALA SELF
Tschabalala Self (Harlem, NY, 1990) is a New Haven-based artist who received her MFA from Yale University in 2015. Self's work is intrinsically related to her sense of identity, and her exploration of the iconographic significance of the Black female body in contemporary culture.