oneColumn
KARA WALKER: CUT TO THE QUICK
FROM THE COLLECTIONS OF JORDAN D. SCHNITZER AND HIS FAMILY FOUNDATION
MAY 20, 2022 - OCTOBER 2, 2022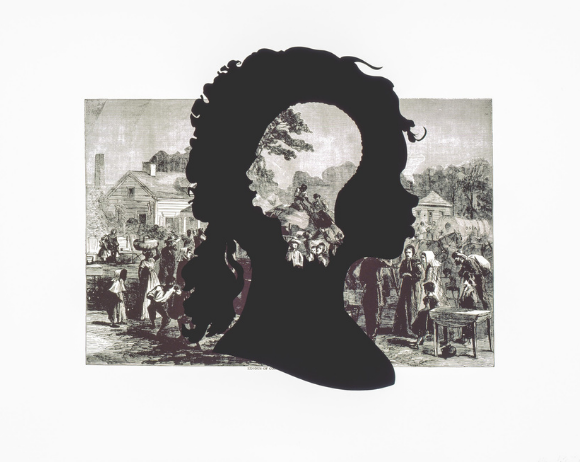 © Kara Walker, Harper's Pictorial History of the Civil War (Annotated): Exodus of Confederates from Atlanta, edition 21/35, 2005. Offset lithography and screenprint, 39 x 53 in. Collection of Jordan D. Schnitzer. Photo by Strode Photographic LLC.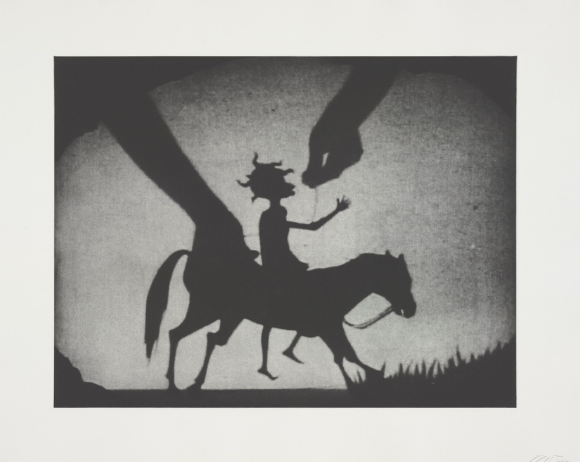 © Kara Walker, Testimony, edition 12/40, 2005. Photogravure, 22 3/8 x 31 in. Collection of Jordan D. Schnitzer. Photo by Strode Photographic LLC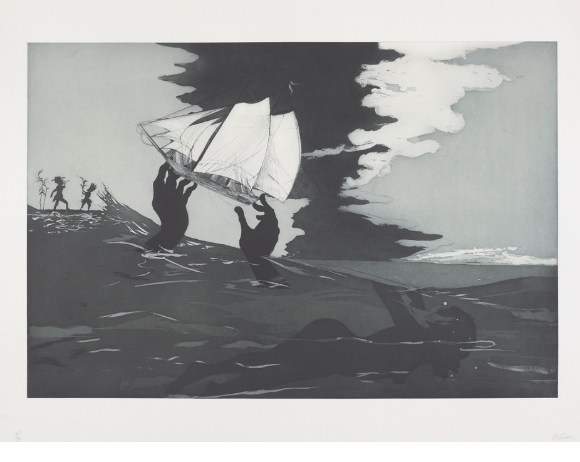 © Kara Walker, An Unpeopled Land in Uncharted Waters: no world, edition 19/30, 2010. Etching with aquatint, sugar lift, spitbite and drypoint, 27 x 39 in. Collection of Jordan D. Schnitzer. Photo by Strode Photographic LLC
Offering a broad overview of her career, this exhibition positions Kara Walker as a leading artist of her generation through more than 80 works in a variety of media, such as prints, drawings, paintings, sculpture, and film. These powerful and provocative images address themes of racism, gender violence, and exploitation, along with power structures like imperialism and colonialism, especially as they play out in the histories and hierarchies of Art. Walker is best known for her large-scale silhouette cutouts that have stirred controversy though their depictions of exaggerated racial and gender caricatures and the Antebellum South that challenge viewers to consider America's painful legacy of slavery. Co-curated by Susan H. Edwards, former director of the Frist Art Museum in Nashville, Tennessee, and Nashville poet Ciona Rouse.
Kara Walker: Cut to the Quick is from the Collections of Jordan D. Schnitzer and His Family Foundation. This exhibition is sponsored by Florida Blue. Support for art education initiatives has been provided through a Program Partnership Grant from the Douglas Anderson School of the Arts Foundation. Additional support was provided by the City of Jacksonville, the Cultural Council of Greater Jacksonville, the Florida Division of Cultural Affairs, the National Endowment for the Arts, and the University of North Florida.
SELF-GUIDED VIRTUAL TOURS
Explore the exhibition with a 360 degree view of the gallery, with clickable works displaying more information and enlarged images for a close-up look.
TAKE A VIRTUAL TOUR
CONTENT WARNING
This exhibition contains mature content, including depictions of physical and sexual violence. Viewer discretion is advised.
We understand that the works on view are complex, unsettling, and possibly triggering. We offer our Reflection Space on the third floor as a safe space to reconnect with the rhythm of your breathing, to rest, to reflect, and, if you should wish, to share your thoughts.

ABOUT THE JORDAN SCHNITZER FAMILY FOUNDATION
All works in this exhibition were acquired by Jordan D. Schnitzer, one of the premier collectors in the United States. The Foundation was established in 1997 as a non-profit organization to manage the collections of Jordan D. Schnitzer and the Jordan Schnitzer Family Foundation. Today, the collection has become one of the most important post-war and contemporary collections in all media, exceeding 20,000 objects, and has grown to be the country's largest private collection of prints and multiples. He generously lends work from his collection to qualified institutions with no additional fees. Since the program's inception, the Foundation has organized over 180 exhibitions and has loaned works to over 160 museums. In addition, The Foundation publishes scholarly brochures, exhibition catalogues, and catalogues raisonnés in conjunction with exhibitions drawn from the collections.
For more information go to jordanschnitzer.org
COMMUNITY ADVISORY COMMITTEE FOR THE EXHIBITION
Deja Echols | Yvenie Etienne | Hope at Hand | Dr. David Jamison | Chad Labenz | Dr. Tru Leverette | Princess Simpson Rashid | Sheila Spivey | Adonnica L. Tole