oneColumn
IN LIVING COLOR: ANDY WARHOL AND CONTEMPORARY PRINTMAKING
FROM THE COLLECTIONS OF JORDAN D. SCHNITZER AND HIS FAMILY FOUNDATION
FEBRUARY 13, 2016 - MAY 15, 2016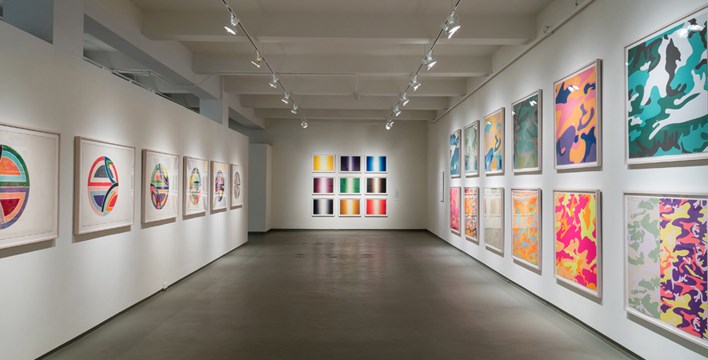 Image courtesy of Doug Eng.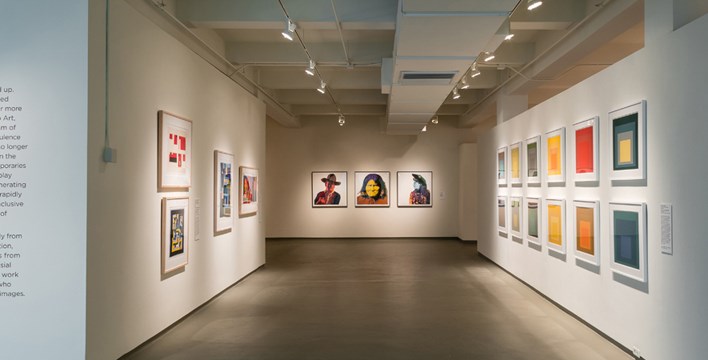 Image courtesy of Doug Eng.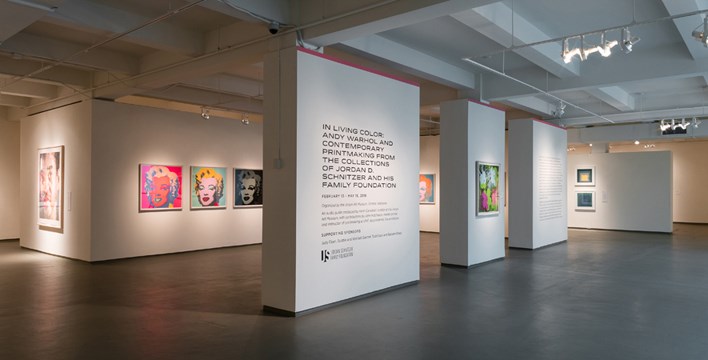 Image courtesy of Doug Eng.
Image courtesy of Doug Eng.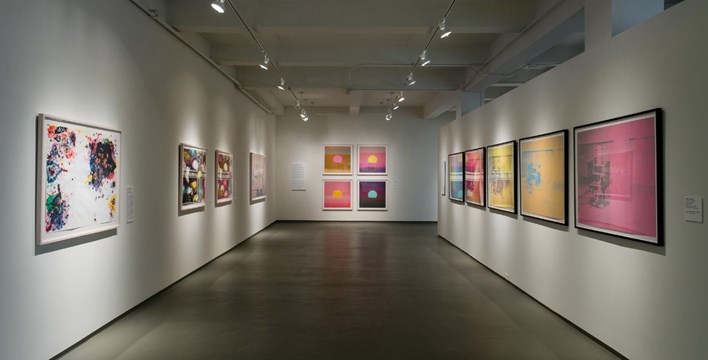 Image courtesy of Doug Eng.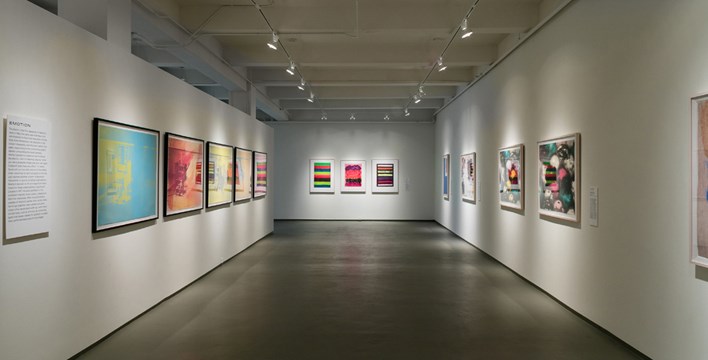 Image courtesy of Doug Eng.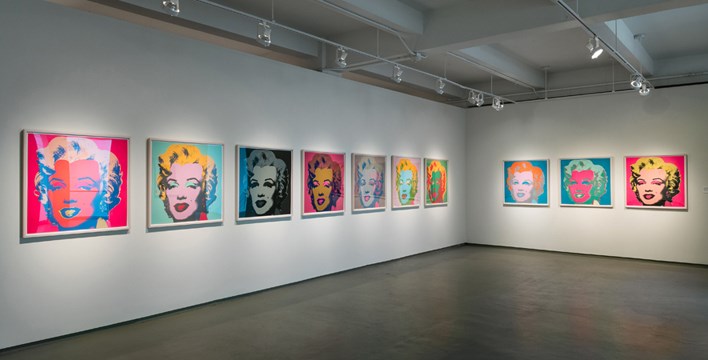 Image courtesy of Doug Eng.
Andy Warhol (1928-1987) depicted the world with the volume turned up. Employing a seemingly endless palette, his work has challenged our perceptions of popular culture, politics, and consumerism for more than fifty years. Warhol was the central figure of American Pop Art, a genre that emerged in the late 1950s in reaction to the heroism of Abstract Expressionism. For Pop artists, social and political turbulence coupled with unprecedented consumerism meant that art was no longer about the persona of the heroic individual artist, as it had been in the years immediately following World War II. Warhol and his contemporaries sought to eradicate the notion of the "genius artist" and downplay the role of originality in art, adopting mechanical means of generating images, such as screen-printing, which theoretically allowed for an endless production of images. In drawing inspiration from the rapidly changing world around them, Pop artists sought to be more inclusive in their subjects, and more aware of the day-to-day conditions of contemporary existence.
Spanning three decades of Warhol's career, this exhibition features some of the artist's most iconic screen prints, including his portraits of Marilyn Monroe and Mao Zedong, the splashy camouflage series, and the controversial Electric Chair portfolio. Drawn exclusively from the rich collections of Jordan Schnitzer and his Family Foundation, In Living Color is divided into five sections-experimentation, emotion, experience, subversion, and attitude. In each, Warhol's work is placed in conversation with other artists of the postwar era who use color as a tool to shape how we interpret and respond to images.
Organized by the Joslyn Art Museum, Omaha, Nebraska
An audio guide produced by Karin Campbell, curator at the Joslyn Art Museum, with contributions by John Hutcheson, master printer and instructor of printmaking at UNF, accompanies the exhibition.
JOSEF ALBERS
Bauhaus artist and teacher Josef Albers was instrumental in bringing ideas of European Modernism to America. His 1963 book Interaction of Color provided one of the most comprehensive analysis of the function and perception of color to date. Albers is renowned for his compositions that explore the relationships of color through a single, simple form, usually the square. His series Homage to the Square, produced from 1949 until his death, used a single geometric shape to systematically explore the vast range of visual effects that could be achieved through color and spatial relationships alone.
Josef Albers in his studio, Orange, Connecticut, 1968-1969. Silver gelatin print. Courtesy the Josef and Anni Albers Foundation. Photograph by Sedat Pakay.
JOHN BALDESSARI
In the late 1960s, John Baldessari began combining Pop Art's use of imagery from mass media with Conceptual Art's use of language. Early in his career, Baldessari incorporated images and texts in his photo-based art. By appropriating photographs from advertising and movie stills, he went on to juxtapose, edit, and crop them in conjunction with written texts. The layered, often humorous compositions, where colored dots mask figures, carry disparate connotations, underscoring how relative meaning can be.
Courtesy of the artist and Marian Goodman Gallery.
LOUISIANA BENDOLPH
Commonly recognized for her work with quilts, Louisiana Bendolph is among the younger generation of quilt makers. Her abstract style consists of asymmetrical shapes, bright colors, and framed edges, resulting in images that are stunning gateways into both the past and the future. Her work was included in the national touring exhibition Gee's Bend: The Architecture of the Quilt.
Louisiana Bendolph in the Paulson Bott Press Studio, 2007. Courtesy of the Artist and Paulson Bott Press.
ROSS BLECKNER
New York-based artist Ross Bleckner is known for painting a spectrum of subjects-from pulsating lines in his resurrection of Op Art in the 1980s to the magnified cellular structures of autoimmune diseases in the 1990s.
Photo copyright: David Seidner. Courtesy: Mary Boone Gallery, New York.
LOUISE BOURGEOIS
Using the body as a primary form, internationally acclaimed Louise Bourgeois explored the full range of the human condition. A Paris native, her early work is associated with Surrealism as seen in the integration of fantastic elements into her prints and sculptures. Bourgeois moved to New York in 1938, where she focused primarily on sculpture, crafting biomorphic forms. Her complex body of work includes poetic drawings to room-sized installations.
Louise Bourgeois in 1980. Photo: Mark Setteducati, © The Easton Foundation/Licensed by VAGA, NY.
CHUCK CLOSE
Chuck Close is renowned for his highly inventive techniques of painting the human face and is best known for his large-scale, photo-based portrait paintings. In 1988, Close was paralyzed following a rare spinal artery collapse; he continues to paint using a brush-holding device strapped to his wrist and forearm. His practice extends beyond painting to encompass printmaking, photography, and, most recently, tapestries based on Polaroids.
Photo by: Gianfranco Gorgoni.
RICHARD DIEBENKORN
West Coast American painter Richard Diebenkorn came to define the California School of Abstract Expressionism during the early 1950s. His seductive colors and surfaces, found in works teetering between figuration and abstraction, are most commonly associated with Abstract Expressionism and the Bay Area Figurative Movement of the 1950s and 1960s.
Photo credit is Leo Holub.
SAM FRANCIS
Sam Francis is regarded as one of the leading interpreters of color and light in postwar America. After graduating from California Berkeley in 1950 with a degree in art, Francis moved to Paris, where he would go on to be named by Time magazine as "the hottest American painter in Paris these days." The Southern California climate-from its sun, sea, and skies-pervades his vibrant oils and translucent watercolors, where abstract forms float sensuously and weightlessly.
Sam Francis in Tokyo studio, c. 1957. Photo by Francois-Rene Roland, courtesy Sam Francis Foundation, California.
HELEN FRANKENTHALER
Helen Frankenthaler was among the most influential artists of the mid-twentieth century. Influenced by Abstract Expressionist painting practices, particularly those of Jackson Pollock and Franz Kline, Frankenthaler invented the "soak-stain" technique, in which she poured turpentine-thinned paint onto canvas, producing luminous color washes that appeared to merge with the canvas and deny any hint of three-dimensional illusionism. Her breakthrough use of paint on canvas gave rise to Color Field Painting.
Helen Frankenthaler in front of 'Freefall', Tyler Graphics Ltd., Mount Kisco, New York, 1993. Photographer: Marabeth Cohen-Tyler. National Gallery of Australia, Canberra. Gift of Kenneth Tyler 2002. Image courtesy of the Helen Frankenthaler Foundation.
KEITH HARING
Keith Haring rose to prominence in the early 1980s with his graffiti drawings made in the subways and on the sidewalks of New York City. He developed a distinct Pop-graffiti aesthetic centered on fluid, bold outlines against a dense, rhythmic overspread of imagery of crawling children, barking dogs, and dancing figures, all set in motion by staccato-like lines. Haring is regarded as a leading figure in New York's East Village Art scene in the 1970s and 1980s.
Photo courtesy of Keith Haring Foundation.
ANISH KAPOOR
British-Indian sculptor Anish Kapoor is most recognized for public sculptures that are equal form and feats of engineering. Whether using the materials of classical sculpture like stone and bronze or newly applied forms of aluminum, pigment, enamel, resin, polymer, and PVC, Kapoor's sculpture seems to disappear, dissolve, levitate, or extend beyond a space the viewer can perceive. His sculptures and installations use pioneering technology to address absence and void as sites of potential.
© Anish Kapoor; Courtesy Lisson Gallery. Photography: Ji-Youn Lee.
DOROTHEA ROCKBURNE
Beginning in 1950, abstract painter Dorothea Rockburne attended the legendary Black Mountain College in Asheville, North Carolina, where classes with Merce Cunningham, John Cage, and perhaps most significantly, mathematician Max Dehn, had a seminal influence on her work. Dehn's teachings often merged the mathematical world and the natural world, providing Rockburne with new and complex approaches to her work. Working with varied materials including industrial wrinkle-finish paint, tar, and metal, Rockburne paints, cuts, draws, folds and calculates to create complex works of art built upon mathematical foundations.
Image courtesy of the Artist.
ED RUSCHA
Defying categorization, Ed Ruscha's photography, drawing, painting, and artist books record the shifting emblems of American life in the last half century. His deadpan representations of Hollywood logos, stylized gas stations, and archetypal landscapes distil the imagery of popular culture into a language of cinematic and typographical codes that are as accessible as they are profound. Inspired by the ironies and idiosyncrasies of life in Los Angeles, Ruscha inserts glib words and phrases, from colloquial and consumerist usage, atop photographic images or fields of color in his work.
Photo by Aubrey Mayer. Courtesy of Ed Ruscha and Gagosian Gallery.
FRANK STELLA
From free-standing sculptures to architectural sites, Frank Stella's unyielding experimentation has made him a key figure in American modernism, leading to such developments as Minimalism, Post-Painterly Abstraction, and Color Field Painting. An early practitioner of nonrepresentational painting, Stella gained early, immediate recognition in 1959 with his series of coolly impersonal black-striped paintings that turned the gestural brushwork and existential angst of Abstract Expressionism on its head.
Photo by Kristine Larsen
MICKALENE THOMAS
New York-based artist Mickalene Thomas is best known for her elaborate paintings composed of rhinestones, acrylic, and enamel. Thomas introduces a complex vision of what it means to be a woman and expands common definitions of beauty. Her work stems from her long study of art history and the classical genres of portraiture, landscape, and still life.
Francois Meyer, Mickalene Thomas, 2013. Courtesy Francois Meyer. Image is Copyright © Francois Meyer.
ANDY WARHOL
Pop artist Andy Warhol (1928-1987) was one of the most influential artists of the twentieth century. Obsessed with celebrity, consumer culture, and death and disaster, he revisited those themes throughout his career in his iconic images of Marilyn Monroe and the electric chair series. Fascinated with mechanical reproduction, Warhol used the medium of silkscreen printmaking to achieve his characteristic hard edges and flat areas of color. His infamous quips-"art is what you can get away with" and "everyone will be famous for 15 minutes"-outlive the artist today.
Andy Warhol promotional photo for his book A, a Novel, 1970s. Gelatin silver print, 8 x 10 in. (20.3 x 25.4 cm.). The Andy Warhol Museum, Pittsburgh; Founding Collection, Contribution The Andy Warhol Foundation for the Visual Arts, Inc. © 2016 The Andy Warhol Museum / Artists Rights Society (ARS), New York.
SPONSORS
PRESENTING

SUPPORTING
Judy Eisen, Scottie and Winfield Gartner, Todd Sack and Barbara Sharp