oneColumn
CALL & RESPONSE
REINTERPRETING MOCA JACKSONVILLE'S PERMANENT COLLECTION
OCTOBER 21, 2017 - APRIL 1, 2018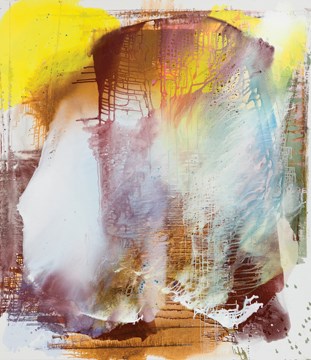 © JACKIE SACCOCCIO, Time (Smelt), 2016. Oil and mica on linen, 90 x 79 inches. Museum of Contemporary Art Jacksonville, museum purchase with funds provides by Brooke and Hap Stein in honor of the Stein Prize. Image courtesy of 11 Rivington Gallery.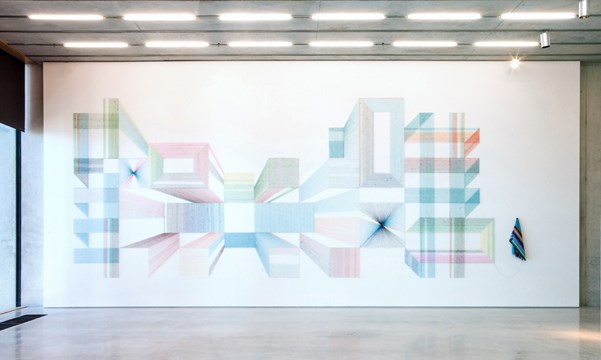 © ADRIAN ESPARZA, Wake and Wonder, 2013. Nails, thread, and serape, 144 x 360 inches. Installation view at the Pérez Art Museum Miami. Collection of Pérez Art Museum Miami, museum purchase with funds provided by Darlene and Jorge M. Pérez and the Helena Rubinstein Philanthropic Fund at The Miami Foundation, photo credit: Daniel Azoulay.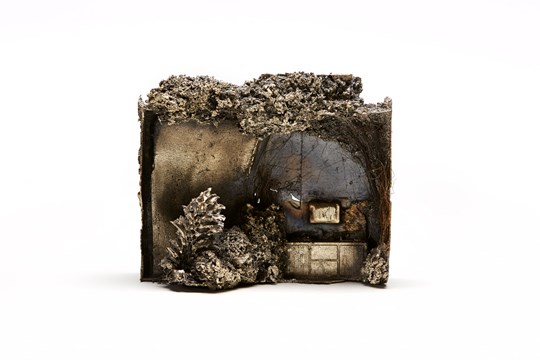 © BETH LIPMAN, Distill #1, 2016. Brass, 9 x 13 x 1 inches. Courtesy of the artist, photo credit: John Michael Kohler Arts Center and Kohler Co.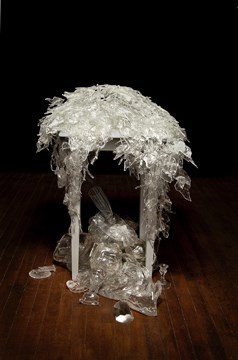 © BETH LIPMAN, Overcome, 2016. Glass, paint, wood, and adhesive, 40 x 38 x 32 inches. Courtesy of the artist.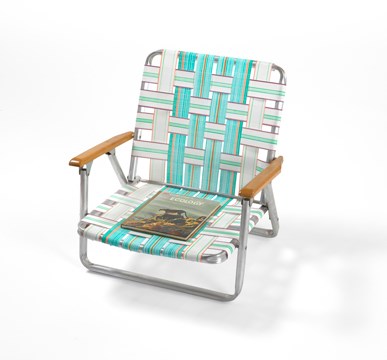 © CARLY GLOVINSKI, Nature Library—Ecology, 2016. (Chair) ink, correction fluid on paper, aluminum chair frame, (Book) acrylic on wood, 25 x 26 x 24 inches. Courtesy of the artist and Morgan Lehman Gallery, photo credit: Steve Clements.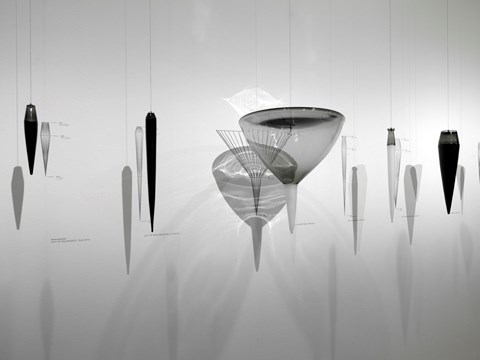 © NORWOOD VIVIANO, Cities: Departure and Deviation, 2011. Glass and inkjet print on vinyl, 10 x 1 x 1 inches. The Museum of Fine Arts, Houston, Museum purchase funded by the Caroline Wiess Law Accessions Endowment Fund, 2015.524.1-.24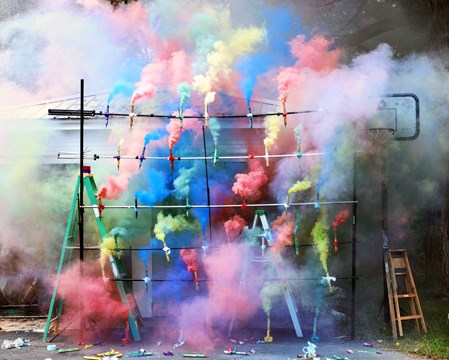 © OLAF BREUNING, Smoke Bombs 2, 2011. Mounted c-print on 6mm sintra, 49 1/8 x 61 inches. Courtesy of the artist and Metro Pictures, New York.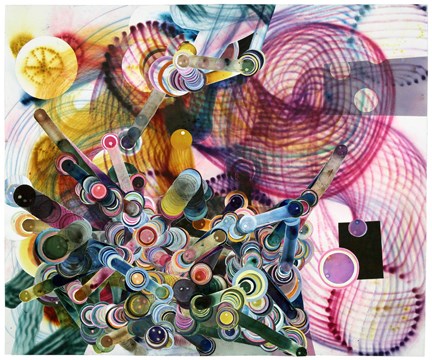 © ROSEMARIE FIORE, Smoke Painting #34, 2013. Color smoke firework residue on paper, 59 x 70 inches. Courtesy of Rosemarie Fiore Studio and Von Lintel Gallery.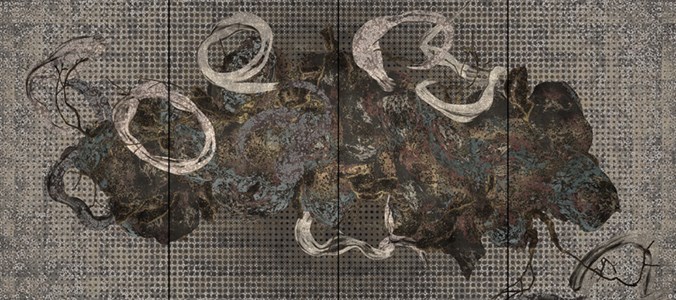 © TEAMLAB, Impermanent Life, 2017. Digital work, 4 channels, 10 minutes, continuous loop, 47 13/16 x 108 x 3 7/8 inches. Courtesy of the artist and Pace Gallery, New York.
In 2016, the Museum adopted a new thematic collecting strategy that celebrates and guides the direction of the Permanent Collection. As it supports a wide array of art-making practices, the six themes explore "Art as Social Commentary," "The Evolution of Mark-making," "Material as Meaning," "New Media," "Process and Object Relationship," and "(Re)presentation." The exhibition Call & Response unveils these collecting areas to the community for the very first time. To illustrate their ongoing relevance in contemporary dialogues, MOCA Jacksonville invited a handful of artists to engage with the collection and participate by either the creation a new work of art or presenting an existing piece for inclusion in the exhibition. By doing so, the Permanent Collection acts as a springboard for artists to respond in a variety of ways and media-from sharing new work inspired by the Permanent Collection's themes and then placing them in conversation with one another.
Invited artists: Olaf Breuning, Adrian Esparza, Rosemarie Fiore, Carly Glovinski, Beth Lipman, Willy Le Maitre, Luke Murphy, teamLab, Norwood Viviano, and Brigitte Zieger
VITO ACCONCI
Often credited as the "father of performance and video art," Vito Acconci (1940-2017) was a pioneer in experimental and innovative art-making. It wasn't until after Acconci attended graduate school that he became acquainted with the New York art scene and galleries in general. With this newfound discovery, Acconci transitioned from writing poetry to creating performative art. His performances explore the relationship between space and the human body with elements ranging from self-inflicted bite marks to traces of lipstick from a performer's mouth.
RADCLIFFE BAILEY
Radcliffe Bailey is an Atlanta based artist recognized internationally for his painting, sculpture, and mixed media works that range in both material and style. Often Bailey incorporates found objects like piano keys, Georgia clay, sheet music, and African sculpture into his work. Known also to include relics of his own past-namely family tintypes-Bailey succeeds in creating works that are at once deeply personal and yet also universal. In many ways, his body of work addresses the human condition by exploring themes of ancestry, race, ethnic identity, and collective history.
© Photo by LaMont Hamilton.
SADIE BENNING
Sadie Benning (b.1973) developed an early interest in film, using a Fisher-Price toy camcorder to create one of their first video works at the age of fifteen. Regarded as a seminal figure in gay and lesbian cinema, and in particular, pre-Internet video-work, Benning's short films often feature autobiographical content in fragmented narratives that address feminism, gender identity, and youth and popular cultures. Benning's more recent painting and mixed media pieces are made from jigsaw-cut wood, resins, and acrylic. Despite this shift in media, a conceptual relationship remains: constructions of identity become realized in abstracted cutouts.
OLAF BREUNING
Swiss-born artist, Olaf Breuning, currently lives and works in New York City. In his photography, sculpture, installations, and works on paper, Breuning merges humor, kitsch, and pop culture to investigate the relationship between high and low art, often calling into question our assumptions regarding historically designated "masterpieces" by artists such as Pablo Picasso and Jackson Pollock. Breuning's works also tend toward the fantastic or the surreal, depicting subjects in an ironic, bizarre, or illusory manner.
Courtesy of the artist and Metro Pictures, New York.
INGRID CALAME
Ingrid Calame was born in 1965 in the Bronx, New York. She received her BFA from the State University of New York at Purchase and her MFA in art and film from the California Institute of the Arts in Valencia, California. Calame's work has been the subject of solo exhibitions at the Albright-Knox Art Gallery in Buffalo, the Indianapolis Museum of Art, the Institute of Contemporary Art Philadelphia, Museum of Contemporary Art Cleveland in Ohio, Monterey Museum of Art in California, Art Gallery of Ontario in Canada, and the Kunstverein Hannover in Germany. A mid-career survey on the artist opened at The Fruitmarket Gallery in Edinburgh, Scotland, in fall 2011.
Image courtesy of Thomas Hager.
LARRY CLARK
Artist Larry Clark, born in Tulsa, Oklahoma, gained early insight into the art of photography by assisting his mother with her portrait business. Clark continued to learn about photography while attending the Layton School of Art in Milwaukee from 1961-1963. Often in his photography, writing, and filmmaking, Larry Clark captures an American youth subculture engaged in illegal drug use, violence, and sex. Although Clark has mentioned documentary photographers including Dorothea Lange as early influencers, Clark's approach to individual and group portraits is not strictly objective nor "documentary." As a friend to some of his subjects, Clark's photographs present adolescent vulnerabilities with a markedly sympathetic approach.
Image courtesy of Ralph Gibson.
JOELLE DIETRICK
Joelle Dietrick's paintings, drawings, and animations explore contemporary nesting instincts and their manipulation by global economic systems. Her recent artworks and research consider housing trends that complicate our relationship to place, particularly the notion of home in the wake of the housing industry collapse. Her work has been shown at Transitio_MX in Mexico City, TINA B Festival in Prague and Venice, Museum of Contemporary Art (MCA) Chicago, MCA San Diego, Long March Space Beijing, ARC Gallery Chicago, Soho20 New York, and MPG Contemporary Boston. She has attended residencies at the Künstlerhaus Salzburg, Anderson Ranch, the Virginia Center for the Creative Arts, Banff Centre for the Arts, and the School of the Visual Arts and received fellowships from the University of California, Florida State University, and the Deutscher Akademischer Austausch Dienst (DAAD).
Image courtesy of Holly Clark.
ADRIAN ESPARZA
Based in El Paso, Texas, Adrian Esparza creates brightly colored and geometrically intricate paintings, drawings, and installations. In many of his works, Esparza engages a cross-cultural dialogue through his meticulous manipulation of deconstructed Mexican serape blanket thread, and in some cases includes pieces of the original Mexican garment loosely connected to a thread installation. Esparza's work pays homage to his Mexican-American heritage and references migration, movement, and displacement. By removing the serape thread from its original design and context and reworking it into contemporary geometric compositions, Esparza alludes to the complexities inherent in cultural identities
KOTA EZAWA
Japanese artist Kota Ezawa was born in Stuttgart, Germany, and later moved to the United States, where he received a BA from the San Francisco Art Institute and later an MA from Stanford University. Ezawa creates highly stylized animated videos, collages, prints, and slide projections that address the appropriation of current events and the oversaturation of related images in popular culture. Perhaps best known for his computer animated films, Ezawa's practice is process-oriented and labor-intensive often involving the production of hundreds of drawings for one piece.
Image courtesy of Kota Ezawa.
ROSEMARIE FIORE
Working in a range of media including paintings, drawings, blown glass, and installation, Rosemarie Fiore creates vivid abstractions through various technological mechanisms, such as fireworks, lawn mowers, waffle irons, and cars. With these tools, Fiore's works present both intricate kaleidoscopic effects and simplistic smoke-streaked colors and stained layers.
Courtesy of Rosemarie Fiore Studio and Von Lintel Gallery.
SAM GILLIAM
Sam Gilliam received his MA in painting from the University of Louisville in 1961 and has been an active painter, teacher, and innovator since the 1950s. Gilliam was a key member of the group of artists known as the Washington Color School (1950s-1960s). This group originated in Washington, D.C., and included artists in favor of flat planes of color as opposed to gestural abstraction that was characteristic of many New York School artists from the preceding decade. Few modern and contemporary artists are regarded as the first in employing certain techniques or artistic visions. Gilliam, however, succeeded in that effort serendipitously when he first removed his painted canvas from the stretcher and manipulated it into a three-dimensional draped sculpture. While Gilliam is perhaps best known for his drape paintings, he also created colorful collages, prints, works on paper, and two-dimensional paintings inspired and influenced by jazz music and Abstract Expressionism.
Sam Gilliam, 2014. Photography: Steven Frietch. Courtesy of the artist and David Kordansky Gallery, Los Angeles, California.
CARLY GLOVINSKI
Carly Glovinski finds inspiration in everyday objects including lawn chairs, old fabric, floor tiles, and a rusty planter, among others. As a classically trained painter, she incorporates a significant art historical technique into her work, tromp l'oeil, which translates literally to "deceives the eye." It is a method in which artists employ hyperrealism to create the illusion that a painted detail is a three-dimensional object. For Glovinski, her objects and installations mimic real objects so much that viewers find it necessary to look closely and question if what they are viewing is manufactured, organic, or created by the artist's hand.
Image courtesy of Michael Winters.
KEITH HARING
Keith Haring rose to prominence in the early 1980s with his graffiti drawings made in the subways and on the sidewalks of New York City. He developed a distinct Pop-graffiti aesthetic centered on fluid, bold outlines against a dense, rhythmic overspread of imagery of crawling children, barking dogs, and dancing figures, all set in motion by staccato-like lines. Haring is regarded as a leading figure in New York's East Village Art scene in the 1970s and 1980s.
Photo courtesy of Keith Haring Foundation.
JOAN JONAS
Joan Jonas's interest in the arts began at a young age and was cultivated by several significant artists and noteworthy institutions. She received a BFA from Mount Holyoke College, where she studied sculpture art history. She also studied sculpture at the School of the Museum of Fine Arts, Boston and traveled throughout Europe, ultimately receiving her MFA in 1964 from Columbia University. Following this rigorous education, Jonas worked with choreographer Trisha Brown for two years, likely informing the performance and video-based work for which Jonas is most well-known. Explorations of female identity, autobiography, and memory are realized not only in her video-work and performances but also in her two dimensional works.
WILLY LE MAITRE
New media artist Willy Le Maitre is best known for his lenticular photographs and Stereo 3D artwork, where he explores movement and connected spaces. Le Maitre's lenticular photographs, or biconvex images, provide viewers with two subtly different views of one object and collapse the images together, resulting in what seems to be a moment in movement. Through these technological means, Le Maitre challenges viewers' perceptions of the work, allowing them to draw meaning from the links between the "scenes."
BETH LIPMAN
Beth Lipman, who lives and works in Sheboygan Falls, Wisconsin, creates glass sculptures influenced by still life paintings from the seventeenth century. Similar to the painters who worked centuries before her, Lipman's work addresses materiality, consumerism, mortality, and temporality. Many of her hand-sculpted glassworks are created as portraits of individuals but also represent society more broadly. These glass inanimate objects include decanters, books, chalices, food, and other various consumable goods meant to address a collective infatuation with excess and extravagance.
Courtesy of the artist.
NICOLA LÓPEZ
American artist Nicola López specializes in printmaking, drawing, and installation. She uses cartography to exaggerate and reconfigure urban landscapes. Her focus on describing "place" comes from an interest in urban planning, architecture, and anthropology, and is fueled by time spent working and traveling in different landscapes.
Portrait of the artist. Photo Credit: Joel Jares.
GORDON MATTA-CLARK
Although he died at the young age of thirty-five due to pancreatic cancer, Gordon Matta-Clark, contributed significantly to the fields of site-specific, minimalist, and conceptual art. Originally trained as an architect, Matta-Clark is perhaps best known for his exploration of "anarchitecture," photographing and documenting buildings with sawed and carved out sections or other dilapidated city structures. Other noteworthy photographs highlight New York pop culture and graffiti as well as sewers and tunnels in New York City and Paris, photographs of which he would often re-imagine through collage.
LUKE MURPHY
Originally from Nova Scotia, systems-based artist Luke Murphy, now lives and works in New York. Murphy worked as a painter in the early 1990s but transitioned to working as a computer programmer. His knowledge of codes and systems paired with his fine art background allowed him to create artwork based on algorithms, particularly as they relate to random number generation and unpredictability. Murphy creates a new sublime-a form of art that refers to a profound unknowing-by incorporating elements of chance in the form of lines, data, and text in his paintings, drawings, digital works, and LED matrix work.
Image courtesy of Luke Murphy.
ETHAN MURROW
Ethan Murrow received his bachelor's degree from Carleton College and his MFA from The University of North Carolina at Chapel Hill. Recent solo shows of drawings, video, and sculpture include La Galerie Particulière in Paris and Brussels, Slete Gallery in Los Angeles, Winston Wachter Fine Art in New York City and Seattle, and the Clay Center for the Arts and Sciences in West Virginia. Murrow was recently commissioned by the Institute of Contemporary Art Boston to build a two-story wall drawing for the Feinberg Art Wall in the museum's lobby. His work is in many public, private, and corporate collections and has been reviewed and published widely around the world. Murrow is a professor at the Museum School at Tufts University in Massachusetts. Murrow is MOCA Jacksonville's 2017 Stein Prize recipient.
Photo by Stewart Clements Photo.
JILL NATHANSON
The color field paintings by Jill Nathanson are rich with contradiction as they explore color energies, material versus immaterial, as well as tensions between form and color. Process oriented, she embarks on a thorough practice of creating studies from torn transparent paper before finalizing placements and hues. Nathanson then pours polymer gels of hand-crafted oils and acrylics into elegant, fluid paintings on panel.
Photo by Polite Photographic.
FRAN O'NEILL
The paintings of Australian-born Fran O'Neill rely upon a construction/deconstruction equation, where she uses her physical body to produce, alter, destroy, and recreate oversized gestures. Layer upon layer, O'Neill applies paint only to swipe, smear, and remove it with her body or another material. Her paintings are as much as an additive process as a subtractive one, where at times she reinvents imagery on the same canvas. Most recently, her large-scale gestural paintings capture one movement within a square canvas.
Image courtesy of the artist.
TOM OTTERNESS
Originally from Wichita, Kansas, Tom Otterness moved to New York where he studied at the Art Students League in 1970 and at the Independent Study Program of the Whitney Museum of American Art in 1973. Although trained in sculpture, Otterness also experimented in film-making with the artists' group known as "Colab" (Collaborative Projects), focusing on punk art and depictions of aggression. His most well-known works are monumental, sculpture-based public art pieces as well as palm-sized sculptures, which often depict human figures, critique American society by addressing race, sex, class and money.
Photo by Tim Fulda
ARNALDO POMODORO
Born in Morciano, Romagna, Italy, in 1926, Arnaldo Pomodoro, began his career working as a goldsmith and studying stage design. After moving to Milan in 1954, Pomodoro continued to develop his practice and became acquainted with several artists including Alberto Giacometti, and later Louise Nevelson and David Smith. In addition to being a working sculptor, Pomodoro organized exhibitions of contemporary Italian art in New York and San Francisco during the 1960s. Pomodoro also helped found the Continuità in Italy, an informal group of painters and sculptors working in abstraction who favored geometric order. Pomodoro's body of work is an exploration of geometric shapes that range from cubes to columns and address both self-destruction and regeneration.
© Nicola Gnesi, 2014. Courtesy Fondazione Arnaldo Pomodoro, Milano.
ROBERT RAUSCHENBERG
American painter and graphic artist Milton Ernest "Robert" Rauschenberg is regarded as one of the most influential artists of the twentieth century. Rauschenberg was born in Port Arthur, Texas, later served in the U.S. Navy, and subsequently attended the Kansas City Art Institute and Black Mountain College in Asheville, North Carolina. Rauschenberg and his close friend Jasper Johns are referred to as Neo Dadaists; this category of artists continued the earlier Dada movement in which artists questioned the very definition of a work of art. In the 1950s, Rauschenberg created what would become his most well-known "combines," where he merges painting and sculpture by adhering photographs, detritus, and found objects into paintings.;
Robert Rauschenberg in his Broadway studio, New York, ca. 1962, with Navigator (1962). Photograph Collection. Robert Rauschenberg Foundation Archives, New York. Photo: Attributed to Steve Paxton, 1962.
JACKIE SACCOCCIO
In 2008, abstract painter Jackie Saccoccio first began an ambitious body of work relating to portraiture. Her "improvisational portraits," as she refers to them, are borne out of her interest in centrifugal forces in portraits. As she reinterprets portraiture, she researched the materials, such as mica, utilized by Renaissance painters. Evolving the practice, Saccoccio's surfaces are freckled with mica and translucent varnishes, creating multilayered planes of shifting forms. In these large-scale paintings, Saccoccio's process includes tipping, dragging, and shaking the large-scale works over one another, where liquid pools of color, directional lines, and translucent orbs coexist.
Portrait of Jackie Saccoccio with Portrait (Candy). Photo credit: Anna D'Alvia.
ANDY SCHUESSLER
Born in Chicago in 1955, Andy Schuessler received an MFA from the University of Southern California. Throughout his artistic career, Schuessler experimented with kinetic and electro-mechanical construction, creating assemblages that join disparate, everyday objects including ironing boards, light bulbs, vintage lampshades, and barstool legs. Some of these electro-mechanical assemblages invite participants to activate a mechanism in order for the object to perform a certain function. The ready-made component of his work blurs the distinction between high and low art.
Image courtesy of Mr. Will Schuessler.
SHINIQUE SMITH
Born in Baltimore, Maryland, Shinique Smith now lives and works in upstate New York. Her work is inspired by the vast nature of "things" that we consume and discard, which resonate on a personal and social scale. The graffiti of her youth, Japanese calligraphy, and abstraction are influences from which she extracts "the graceful and spiritual qualities in written word and the everyday." Smith's work has also been widely exhibited at prestigious venues such as the Museum of Fine Arts, Boston, the Brooklyn Museum, the Denver Art Museum, the Los Angeles County Museum of Art, the Madison Museum of Contemporary Art in Wisconsin, the Bronx Museum of the Arts, the Smithsonian National Portrait Gallery in Washington, D.C., Yerba Buena Center for the Arts, Contemporary Arts Center New Orleans, the New Museum in New York, MoMA PS1 in New York, and the Studio Museum in Harlem, among others. Smith earned her BFA (1992) and MFA (2003) from the Maryland Institute College of Art, where she now serves on the Board of Trustees, and her master's degree in teaching (2000) from the School of the Museum of Fine Arts and Tufts University, both in Massachusetts.
Portrait of the artist. Photo by Eric Wolfe.
TEAMLAB
The interdisciplinary group of artists known as teamLab was established in 2001. Through a collaborative approach, these artists create installations and video inspired by ancient Japanese art as well as contemporary anime. Some digital installations are interactive and invite viewers to consider the convergence of art and technology. Often prerecorded animations run on a loop as viewers walk within the work, ultimately diffusing the boundary between the exhibition space and the art.
Image courtesy of teamLab.
NORWOOD VIVIANO
Working with transparent cast glass, Norwood Viviano creates sculptures and installations that address the growth and collapse of industries in significant U.S. manufacturing cities. He creates meticulously mapped out pieces by gathering population and topographical data, utilizing computer imaging, 3D printing, and other technologies. For Viviano, the use of such data, set in conversation with striking handcrafted pieces, promotes more meaningful conversations about our sense of time and place than statistical data alone.
Image courtesy of the artist.
KARA WALKER
Kara Walker received a BFA from the Atlanta College of Art in 1991 and obtained an MFA from the Rhode Island School of Design in 1994. At the age of twenty-eight, she became the youngest artist to receive the John D. and Catherine T. MacArthur Foundation Genius Grant Award for her large-scale black paper silhouettes cut and applied to white walls. Walker's silhouetted figures, often mural-sized, present ambiguous narratives that explore the intersection of race, sexuality, and violence. However, since the 1990s Walker has worked in several other media including video, installations, sculpture, painting, and drawing. Walker's oeuvre directs critical attention to the black body in American history and in art history, often recreating scenes from the Antebellum South through provocative and interrogating means.
Photo by Ari Marcopoulos.
BRIGITTE ZIEGER
Paris-based German artist Brigitte Zieger uses a range of media, including resin cast sculpture and eye shadow, to address notions of gender, conquest, and the exotic. Violence and gun imagery are at times overt in her wallpaper animations and wall "drawings" made from ax markings. At other times, Zieger explores the notion of the "feminine" through new explorations of floral motifs, idyllic pastoral landscapes, and pastel colors.
Image courtesy of the artist.