oneColumn
ALLY BRODY: PUBLIC DOMAIN
JANUARY 16, 2021 - APRIL 18, 2021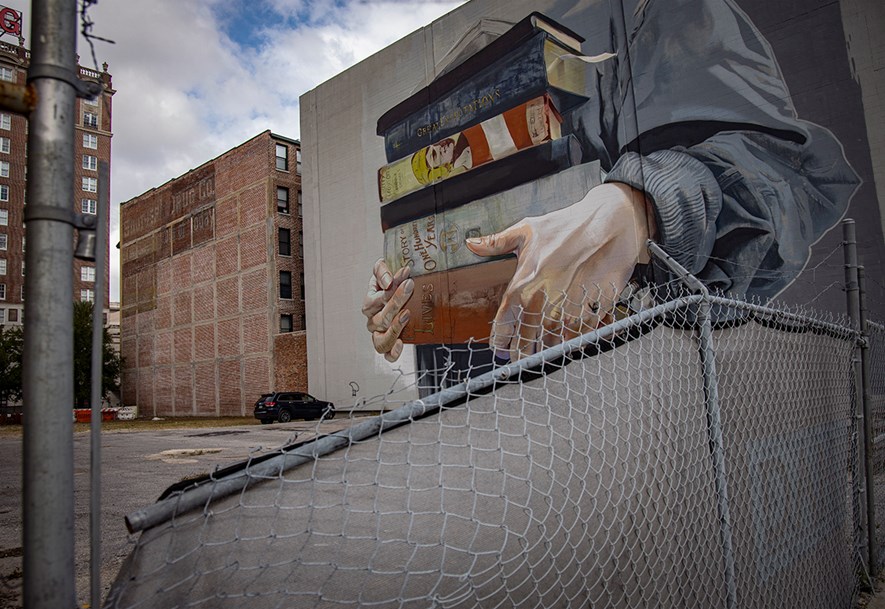 © Ally Brody, Volumes (Mural by Case Maclaim, Jacksonville, FL), 2020. Archival Inkjet Print. Image courtesy of the artist.
In her work, Ally Brody, the Museum of Contemporary Art Jacksonville (MOCA) 2020 University of North Florida Artist-in-Residence, uses personal accounts to explain societal changes, environmental issues, and human experiences. Mixing analog and digital processes, she incorporates collage and other media to communicate her ideas.
In her series Public Domain, developed during her residency at MOCA, Brody explores the inclusivity of street art and how it changes over time. Brody creates photographic compositions that feature both commissioned and independent street art works found throughout Northeast and Central Florida (Jacksonville and surrounding areas, St. Augustine, Gainesville, Sanford, Orlando, DeLand, and Daytona).
Once thought of only as vandalism, street art has developed into its own art form, attracting private companies and city officials to commission "Public Art" works by street artists as a tool to promote tourism and rebirth of neighborhoods. The media utilized by these artists includes murals, wheat-pastes, sticker art, and graffiti tags. Street art often reflects the community's local culture; religious beliefs; traditions, social standards and aspirations; and architectural styles, making each work unique to that certain location. Brody's project highlights this specificity.
Special thanks to The Jacksonville Fine Art Forum who provided a scholarship to Ally Brody in support of her current body of work. The artist would also like to thank the street artists who participated in this project; Mark and Wendy Brody; Hannah Brody; UNF professor and advisor, Alex Diaz, and the UNF Photography Department and the Department of Art, Art History, and Design.