oneColumn
A DARK PLACE OF DREAMS
Louise Nevelson with Chakaia Booker, Lauren Fensterstock and Kate Gilmore
APRIL 28, 2018 - SEPTEMBER 9, 2018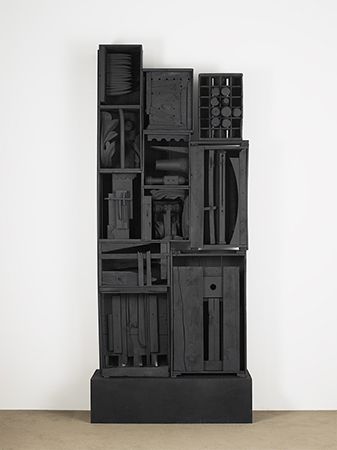 © LOUISE NEVELSON, Beards' Wall, 1958-1959. Painted wood, 102 ½ x 41 ½ inches. Private Collection. © 2018 Estate of Louise Nevelson / Artists Rights Society (ARS), New York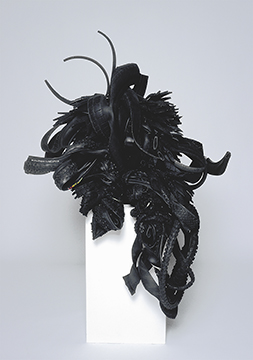 © CHAKAIA BOOKER, India Blue, 2001. Rubber tires and wood, 73 x 43 x 38 inches. Collection of the Flint Institute of Arts, Flint, Michigan; Bequest of Rusell J. Cameron, by exchange and partial gift from the Friends of Modern Art, 2002.11.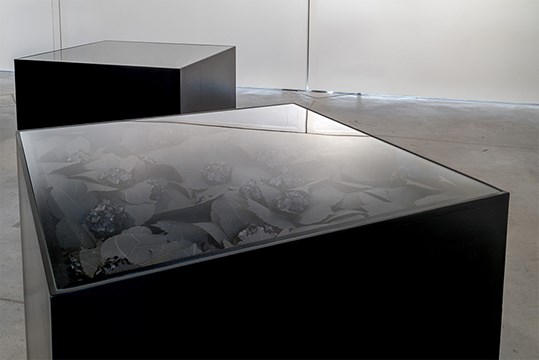 © LAUREN FENSTERSTOCK, Claude Glass (Cube 1), 2014. Mixed media, 36 x 36 x 36 inches. Museum of Contemporary Art Jacksonville, Museum purchase. Image courtesy of the artist and Claire Oliver Gallery.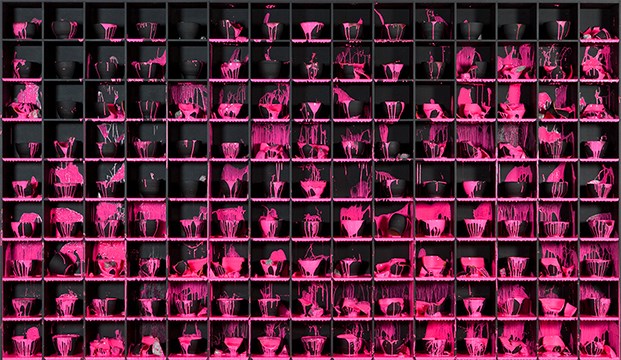 © KATE GILMORE, Rock, Hard, Place, 2012. Video. Image courtesy of the artist and David Castillo Gallery.
Thirty years after her passing, A Dark Place of Dreams revisits the monochromatic assemblages of Louise Nevelson (1899-1988), one of the pioneering American sculptors of the twentieth century, alongside three contemporary artists: Chakaia Booker, Lauren Fensterstock, and Kate Gilmore. In her most iconic works, Nevelson utilized wooden objects she gathered from debris in urban environments to create her monumental installations. Here, each artist expands Nevelson's tradition of assemblage in innovative and provocative ways. By sharing key stylistic elements in the artworks, such as their frontality, obsession with surface and static quality, the contemporary sculptures echo the mystery and scale of Nevelson's pieces, registering as somber black objects dissolving into complex surfaces. A Dark Place of Dreams celebrates Nevelson's artistic accomplishments and her lasting impact on contemporary sculptors, while highlighting the prolific sculptural practices of Booker, Fensterstock, and Gilmore as well as their facilities with material and ongoing explorations.
CHAKAIA BOOKER
Perhaps most well known for her sculptural and abstract assemblages made from recycled tires Chakaia Booker creates works that range from wearable sculptures to wall-mounted pieces. Her work engages a multitude of themes including race, gender, class, environmentalism, and commercialism. Often the artist's prints and sculptures retain little to no color and are typically rendered entirely in black. In this way, the tread patterns and textured details become more apparent, and allude to both scarification practices employed by some African cultures, as well as marks from slavery whippings.
Image courtesy of Chakaia Booker studio
LAUREN FENSTERSTOCK
Interested in natural history and Modern art, Lauren Fensterstock explores the evolving history of our relationship to nature via elaborate, all-black sculptures and installations. Drawing from the natural imagery in decorative arts traditions, specifically the flora and fauna of Victorian gardens, she creates large-scale works of quilled paper and, most recently, resin cast seashells. Such intricate artworks are constructed in the material of ladies' accomplishments, such as quilled paper and shell work, emphasizing the capacity of traditional female crafts to reflect on the complexities of the world beyond the domestic sphere.
Fensterstock holds a Master of Fine Arts from the State University of New York at New Paltz and a Bachelor of Fine Arts from the Parsons School of Design. Her work has been exhibited in museums and galleries around the country and appears in many collections, including the Portland Museum of Art, the University of Maine Museum of Art, and Wheaton College in Norton, Massachusetts.
Portrait of the artist. Photo by Greta Rybus.
KATE GILMORE
The performances, installation, and video art of Kate Gilmore are often understood within feminist ideologies. In her physically demanding work, the artist casts herself as the lead protagonist to addresses female identity that is further expanded upon through her careful selection of dress, allusions to physical pain or ridicule often through sound, and the use of props such as hammers, axes, and ropes. The resulting work often functions as a cultural or social commentary, the methods of which recall those utilized by earlier avant-garde Fluxus artists and Dadaism of the early twentieth-century. Gilmore's work has been exhibited at the Brooklyn Museum, the J. Paul Getty Museum, the 2010 Whitney Biennial, and MoMA/PS1 Contemporary Arts Center, among others.
Photo by Joe Fig
LOUISE NEVELSON
Louise Nevelson (1899-1988) is remembered as one of the most significant artists of the twentieth-century; her most iconic pieces include abstract, assemblaged sculptures made from discarded wood, which she predominantly painted black and sometimes white or gold. Nevelson also experimented with other materials and motifs, including works on paper, printmaking, and jewelry that range from abstracted geometric shapes to portraiture and still life. Typically rendered with minimal color or a muted color palette, Nevelson's works, however, challenged the conventions of the field of Abstract Expressionism, which traditionally favored painting and bright color. Nevelson's monumental sculptures and installations not only influenced women sculptors of the 1960s and 1970s, but continue to play an integral role in the field of Feminist art history.
Louise Nevelson. Not Dated. Photograph courtesy of Pace Gallery. Artwork © 2018 Estate of Louise Nevelson / Artists Rights Society (ARS), New York