twoColumn twoRight
Meet Our Interns: Yahalice Donayre
September 26, 2023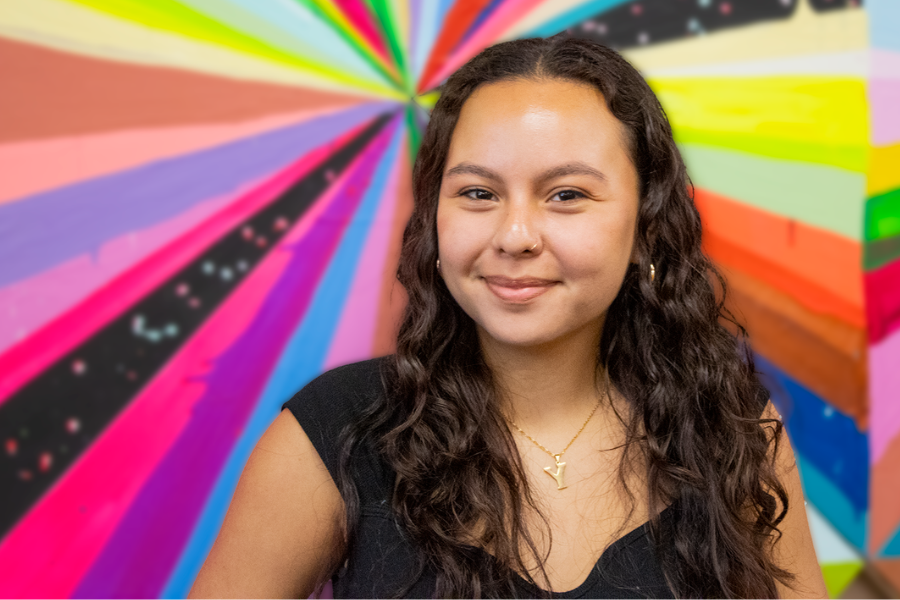 My name is Yahalice Donayre, and I am a marketing and education intern at MOCA Jacksonville. I go to Mandarin High School and I will be a 2024 graduate.
Last year, I was president of the Teen Art Council (TAC) here at MOCA. Throughout the school year, we met bi-weekly creating an incredible event made for teens by teens. It was an enlivening experience to see this event unfold and teenagers coming together from many different schools. I met amazing people I can now call my friends and learned how to take on a leadership role. This experience led me to becoming part of the education department as an intern, assisting with Camp @ MOCA. For this year's TAC, I am co-president with last year's vice president. We are so thrilled to see that this year holds.
Throughout my high school career, I've done many community projects, such as Deck the Chairs, a non-profit promoting recycled art projects lighting up the Christmas season. At school, I was the historian and now president of the Eco-Art Club. We reduce, reuse, and recycle to create visually pleasing projects like Deck the Chairs. During my sophomore year, we also helped organize a thrift store at our school.
Currently, I'm working on the marketing event planning team with Think Green Network, a non-profit educating the community on more sustainable ways of living, sponsored by Grassroots Natural Market at Riverside. We are planning monthly themed events at the market, focusing on sustainable and earth-friendly ways to bring people together.
I admire the movie and fashion industry, and with my career, I hope to direct and lead the marketing teams for either movie studios or fashion companies. For example, I enjoyed how they promoted the horror film Smile with live actors in public spaces and would love to be a part of a creative project such as that. I'm also inspired by Vogue's marketing ideas with their YouTube channel, Vogue Beauty Secret, which persuaded me to try celebrities' daily and nightly make-up looks. 
With this internship, I've gained incredible experience for the career I'm planning to pursue. Throughout my time at MOCA, I have improved my communication, writing, teamwork, and office skills. It has been and continues to be an honor to be a part of the MOCA team, as they have a huge heart for their community. I will continue my community involvement and studies wherever I am accepted.
---
The internship program at MOCA Jacksonville offers high school, undergraduate, and graduate students an exciting opportunity to gain real experience in a variety of fields. Internships are available throughout the year in marketing, curatorial, education, and more. Our team will work with you to make sure you get the most out of your experience and leave with qualifications that will look great on your resume and help you land dream jobs post-graduation.