twoColumn twoRight
BLACK ART MATTERS WITH MATANA ROBERTS
February 24, 2023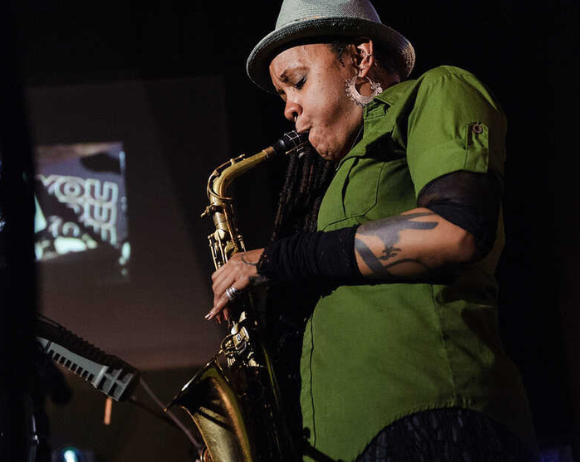 BY KON AWET
MOCA Jacksonville's virtual lecture series Black Art Matters (BAM) highlights Black art, culture, representation, and history. Each talk is led by leading Black voices in the arts, including noted artists, curators, and historians. In December, we were joined by Matana Roberts, a visual artist, jazz musician, and composer.
Roberts (they/them) is a self-taught composer and Chicago-based artist born in 1975. Robert's father was an educator by trade and encouraged them to learn about and explore arts, politics, avant-garde music, and African American culture. They began practicing music at the age of 7, dabbling in violin, bassoon, and clarinet. They were most drawn to the clarinet, recalling they could not only hear it but feel it - the various vibrations and the sound of the wood. When Roberts turned 16, they picked up the saxophone and studied under the wing of Reginald Willis, a bassist. In public school, they picked the art of improvisation as a core theme of their work. Attending free art programs provided by public schools, they became conflicted in practicing both music and theater, and it became overwhelming. They had to pick one or the other eventually choosing music as their primary focus.
Influenced by composer, saxophonist, and Velvet Lounge owner Fred Anderson, Roberts began to write, compose and perform. They then had another realization when they were an undergraduate in college, stating "they were starting to really crave people that look like them doing what it is they were doing." Thus, Roberts picked up the saxophone to do just that. Never really dropped the clarinet, they said they were never at ease. However, with the saxophone, it was like an extension of their voice, and it ultimately becomes their tool of expression.
However, in college, Roberts started to receive negative messages, which drove them to explore Chicago's nightlife, soaking up as much culture as possible. A wave of musicians and clubs spouted at that time and Roberts experienced a better environment there than at college. So they left college for a bit after a professor advised them to stop taking composing courses. In need of work, they worked as a musician/freelancer playing for big bands. Yearning for more, they wanted to be in a place that offered something new. They considered moving to New York but settled in Boston. There they enrolled at the New England Conservatory of Music, which was the first institution where they felt respected. Roberts realized all the people outside the institutions in Chicago made them feel that way. They didn't need to travel someplace else to feel accepted. So, they finished their master's degree at the New England Conservatory, then traveled to New York and became a street musician. At first, they played on the subways and street corners, performing songs people requested. While on the streets, Roberts mets the poet, Reggie Gaines, who offered them a chance to play at the Bowery Poetry Club. Roberts was fascinated by Gaines. He would sell out shows in old knitting factories, where Roberts would act like a fly on the wall, observing him as he performed. It would make them reminisce about their childhood, going to opera shows with their grandmother. They began to formulate ideas that seemed pastiche at first, but they then noticed the possibility of history, Growing up, their family told vivid stories that involved historical elements, with some related to their bloodline.
This coupled with their fascination with empathy and endurance, gave birth to the Coin Coin works. Coin Coin is a 12-work visionary multi-volume project of panoramic sound quilting that works as a tool to express history, humanity, and experience. As their mother puts it, "a musical monument to the human experience." In terms of human understanding, everybody has an understanding of emotions and experiences. Some people have positive experiences and others have negative ones. This duality encouraged them to continue the projects. They used the Coin Coin project as a vessel for ideas that didn't match the areas of their musical exploration, aiming to enhance people's critical thinking skills, not only question what they're listening to or viewing.
Before the Whitney Museum of American Art finished construction, they would play concerts there and people attend them wearing hard hats. When the museum was completed, Roberts was given a studio. They began experimenting with collages, paint, digital, and moving images. This was a huge moment in their career, one that they very much appreciated. Roberts started on other projects such as "I Call America" a series based solely on present-day issues in America, such as police brutality. It explores the grim reality of colored people dealing with the police. With their recent Coin Coin Chapter 4 Project complete, Roberts is continuing to make more records and projects. With their visual works, they're actively exploring and working on installation and speaker pieces.