twoColumn twoRight
#5WOMENARTISTS MARIA CHAVEZ
March 27, 2023
BY MOCA STAFF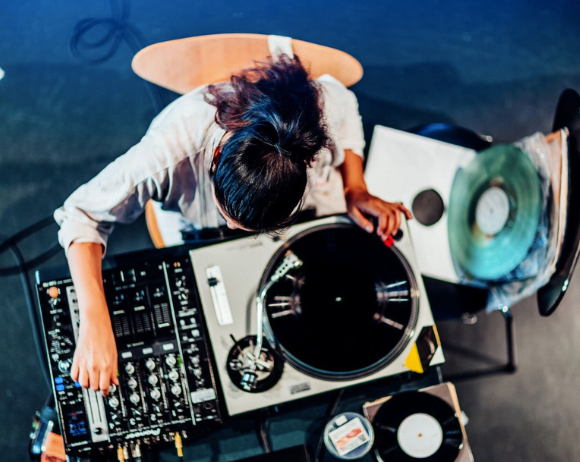 CAN YOU NAME FIVE WOMEN ARTISTS?
Since 2016, the National Museum of Women in the Arts (NMWA) has been asking this question on social media each March during Women's History Month. Using the hashtag #5WomenArtists, the campaign calls attention to the fact that women have not been treated equally in the art world, and today they remain dramatically underrepresented and undervalued in museums, galleries, and auction houses.
Each year, hundreds of cultural organizations and thousands of individuals take to social media to answer the challenge, sparking a global conversation about gender equity in the arts. This year, MOCA has chosen 5 women artists we are currently working with to join the conversation and highlight the amazing projects on view in the museum. 

Maria Chavez is an avant-garde sound artist from Lima, Peru. She is well-regarded for her experimental turntable performances and is often referred to as a turntablist. Chavez's work is primarily influenced by the improvisational nature of contemporary art as well as the notion of time as a paradox. Her stylistic use of needles in her work allows for the unique sounds that characterize her work with the turntable. The process of wear that a needle is subjected to as it is used on vinyl causes the sounds to evolve, hence the artist's reference to needles as the "pencils of sound." Chavez's appreciation of the process of deterioration is evident in her work, and many of her artworks and installations are site-specific to emphasize the effects of deterioration and the passage of time within a given environment.
Chavez has performed her music globally, in places such as Moscow, Lisbon, Basel, and Istanbul as well as in a screenplay by composer Christian Marclay at the Whitney Museum. She has worked as an artist in residence at the Merce Cunningham Dance Company, the Clocktower, the Dia:Beacon Museum, and Issue Project Room. She has been awarded the Jerome Foundation's Emerging Artist Grant and the Van Lier Fellowship by the Edward and Sally Van Lier Fund of the New York Community Trust. 
In 2012, she published a book entitled Of Technique: Chance Procedures on Turntable, which delves into the abstract techniques she employs on the turntable and serves as "how-to" manual for aspiring turntablists.


Maria Chavez, Topography of Sound: Vinyl Landscape (based on Amanda Ghassaei's 3-D printing experiments), 2018. Watercolor, archival ink, archival paper, display, and mirror. 67 ¾ x 28 inches. Courtesy of the artist.

Chavez is featured in the exhibition Don't Blame It On Zen: The Way of John Cage & Friends, which is on view at MOCA Jacksonville through May 7, 2023. Her piece, Topography of Sound: Vinyl Landscape, resembles a mountain range at first glance but is a detailed image of record grooves from an analog vinyl. It is seen in reverse through a mirror above, and it contributes to the theme of echo that can be seen throughout the exhibition. Chavez was at the Rauschenberg Residency on Captiva, here in Florida, when she began to make drawings such as these, and she created this one specifically for the John Cage exhibition.