twoColumn twoRight
#5WOMENARTISTS FELICI ASTEINZA
March 9, 2023
BY KON AWET
CAN YOU NAME FIVE WOMEN ARTISTS?
Since 2016, the National Museum of Women in the Arts (NMWA) has been asking this question on social media each March during Women's History Month. Using the hashtag #5WomenArtists, the campaign calls attention to the fact that women have not been treated equally in the art world, and today they remain dramatically underrepresented and undervalued in museums, galleries, and auction houses.
Each year, hundreds of cultural organizations and thousands of individuals take to social media to answer the challenge, sparking a global conversation about gender equity in the arts. This year, MOCA has chosen 5 women artists we are currently working with to join the conversation and highlight the amazing projects on view in the museum. 
Installation view of Project Atrium: MILAGROS Flutter Zone at MOCA Jacksonville, on view December 9, 2022 - April 9, 2023. Photo by Doug Eng.

Project Atrium: MILAGROS Flutter Zone has been a hit on social media, but how much do you know about the woman behind the colorful, interactive exhibition? 
Co-founder of the MILAGROS collective, Felici Asteinza is a Honduran muralist and painter. Born in San Pedro Sula, Honduras, and raised in Panama City, Florida, Asteinza recalls being interested in art since she could functionally hold a pencil. She took art classes throughout her education before landing at Florida State University (FSU), where she studied studio art. One of her professors from FSU describes her as an "authentic force of nature, a prolific artist, and business minded."
In 2006, while at the university, she met Joey Fillastre, the other co-founder of MILAGROS. MILAGROS is a collective founded in 2008 and currently based in New Orleans, Louisiana, that creates public art, such as mural and park installations, as well as art installations, clothing, and small works.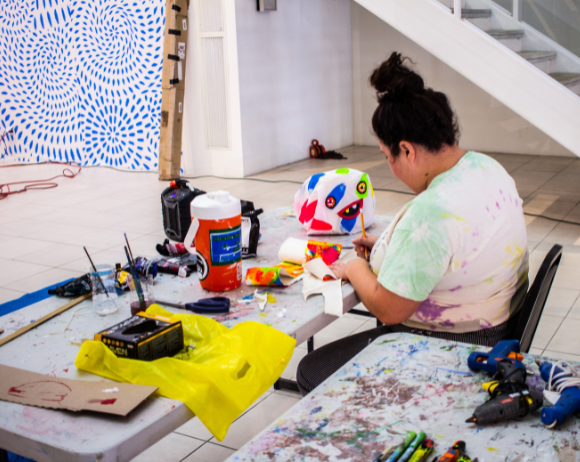 Artist Felici Asteinza working on the MILAGROS Project Atrium installation.

Asteinza's work favors an almost psychedelic feel, with concentric line patterns and abstract forms leaving ambiguous meanings. Her use of diverse shapes overlaying each other creates a labyrinth-like aura. Her choice of color palettes gives depth and perspective. Does it portray a DNA structure with a generation's worth of information? Or a still-life of captured frequencies?
Asteinza, Fillastre, and their friend Evan Galbicka opened an art space in a former Baptist church in Gainesville, Florida called "The Church of Holy Colors," an underground art gallery and music venue that serves as a haven for amateur artists, furnished with abstract murals and modern works. Moving throughout the country, Asteinza has collaborated with the city of Decatur, Georgia, the New Orleans Public Library, the Young at Art Museum in Plantation, Florida, and Hotel Peter & Paul, a de-sanctified Catholic church turned hotel. 
Despite her success, Asteinza has still experienced intense misogyny throughout her career. A variety of people, from young viewers to close friends, have attempted to stymie Asteinza's voice. "The whole damn system is set up for men to succeed. We need women in charge and restructuring things to make them more equitable and accountable. I think there is a tendency for folks to not validate voices that aren't cis male and white and that's a crying shame because all of the other voices are what makes our country great. There is no such thing as neutrality and anyone trying to convince you of that more than likely has ulterior motives," said Asteinza in a VoyageMIA article in 2019.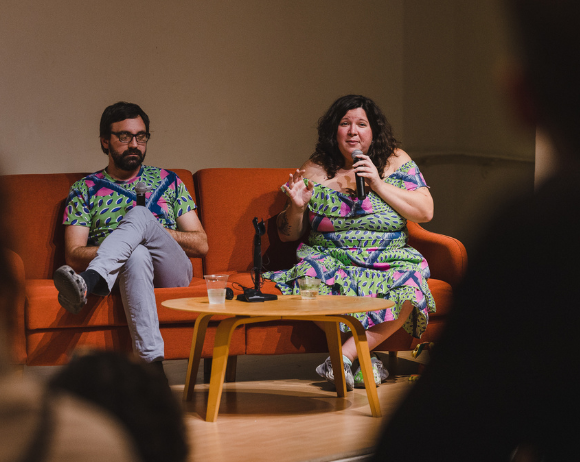 Felici Asteinza speaks at the opening of the Project Atrium: MILAGROS Flutter Zone. Photo by Laura Evans

The MILAGROS collective has put together a multimedia, painted fabric, and foam installation called Flutter Zone in MOCA Jacksonville's Project Atrium, a bold series featuring site-specific and site-sensitive installations by emerging and mid-career artists. The unique placement, dimensions and scale of the Atrium Gallery provide a compelling challenge to the chosen artists-a call to reinvention and active collaboration with the architecture of the museum on a monumental scale. See Project Atrium: MILAGROS through April 9 at MOCA Jacksonville. 
LEARN MORE ABOUT PROJECT ATRIUM: MILAGROS >>