MARLENE GANDOZA
oneColumn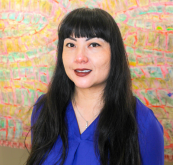 EVENTS AND CATERING COORDINATOR
---
Marlene Gandoza serves as the Events and Catering Coordinator at MOCA Jacksonville, where she enjoys cultivating spaces and creating authentic connections. With over ten years of dynamic experience in the hospitality and service industry Marlene brings a unique vision to her work, which results in stewarding unforgettable events and experiences at MOCA Jacksonville. Prior to joining the MOCA team, Marlene worked on event implementation nation wide for a Fortune 500 company.
Marlene has been immersed in the arts since her early days as a student at UNF. She was involved in many artists cooperatives and assisted in figure drawing, sculpture, and photography classes at UNF, JU, and FSCJ.
Aside from her professional experience, Marlene is a certified yoga instructor and brings her enthusiasm for wellness to her work. In her free time, she enjoys spending quality time with family and friends, and planning trips stateside and overseas.
CONTACT
904-620-3223