AMBER SESNICK
oneColumn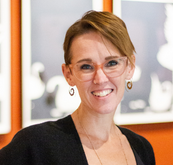 DIRECTOR OF MARKETING AND COMMUNICATIONS
---
Amber Sesnick has been working in the nonprofit and cultural fields for more than 18 years and spent the past decade as the leading voice for two influential Jacksonville nonprofit organizations, where she used storytelling and strategic communications in ways that were meaningful, socially-aware, and relevant to the community in order to further the mission and fundraising efforts of each organization. She holds a bachelor's degree in art history and a master's degree in public administration/nonprofit management, both from the University of North Florida.
Prior to joining the team at MOCA Jacksonville, Sesnick was the Marketing Officer at Pine Castle, a Jacksonville nonprofit serving adults with intellectual and developmental disabilities. As the first marketing staff member in the organizations 70-year history, she revitalized their brand, reputation, and collateral through the development of a communications strategy built on storytelling, community education, and advocacy. She also spent six years as Marketing Manager at the Cummer Museum of Art & Gardens where she managed their 2014 rebrand, developed and contributed to multiple award-winning publications, and actively supported a team focused on diversity, access, inclusion, and community engagement, resulting in significant improvements in the experiences of visitor of all ages, abilities, and backgrounds.
Led by a firm belief in the important role of nonprofit organizations in the community and the power of the arts to impact people's perception of their world, Sesnick has been active in many local organizations, including Cultural Fusion, the Nonprofit Center of Northeast Florida, NPN Jax, and Yellow House, among others. Her passion for the Jacksonville community has resulted in a career driven toward removing barriers, increasing access, and altering perceptions in ways that support a more equitable future.
CONTACT
904-620-3224