oneColumn
UNF STUDENT ARTIST-IN-RESIDENCE
AN UNPARALLELED EXPERIENCE FOR UNF ART STUDENTS
The University of North Florida Student Artist-in-Residence is a highly competitive opportunity that awards access to a MOCA Jacksonville studio and exhibition space to complete a new body of work and hone skills over the course of a final semester.
The MOCA Student Artist-in-Residence program is being offered this spring semester, January-May 2024, at MOCA Jacksonville. The Student-in-Residence has access to a private onsite studio (ten hours per week a minimum required) and the opportunity to work with museum professionals and participate in visitor and public engagement programs. The Student-in-Residence receives a downtown parking pass for the spring semester and a Family Level MOCA Membership for one year.
The Residency culminates in an exhibition at MOCA to showcase and celebrate the student's work, to take place May-September 2024, exact dates TBD, in the fifth-floor Education Gallery.
This opportunity is exclusive to UNF students! The candidate must be in their final year at UNF during the residency. All visual arts majors welcome!
For more information or questions, email the Curatorial team at mocacuratorial@unf.edu. 
Applications are now open! 
Applications are due by Friday, Nov 3 at 11:59 p.m. and require a biography (500 words max), resume/C.V., proposal (500 words max), and five submissions.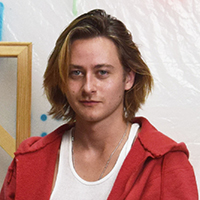 Photo courtesy of the artist.
BRENNAN WOJTYLA
2022 UNF Artist-in-Residence Brennan Wojtyla is a multi-disciplinary artist and graphic design major. Wojtyla is heavily interested in utilitarian industrial artifacts and decontextualizing them... >> Read More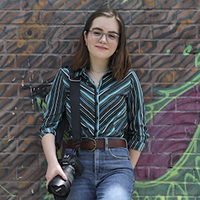 Photo courtesy of the artist.
ALEXANDRA BRODY
Alexandra Brody, the 2020 UNF Artist-in-Residence, is a photography senior at UNF, with a minor in Mass Communications and Art History. In her work, Brody explores social and political topics... >> Read More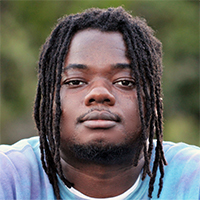 Photo courtesy of the artist.
ANDERSON GONCALVES
2021 MOCA Artist-in-Residence Anderson Goncalves is a Painting, Drawing, Printmaking major at UNF, who uses a wide range of media and techniques, such as screen printing, collage/chine-collé... >> Read More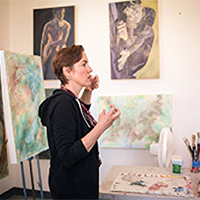 Photo by Hannah Joy Wells.
RACHEL HUFF SMITH
Rachel Huff Smith is MOCA Jacksonville's third annual UNF Student Artist-in-Residence. During her residency, Smith developed emotionally resonant portrait paintings to be included in her exhibition Circumvolve... >> Read More
MARK LESTER
Lester began pursuing a degree in Fine Arts from UNF in 2016 and was selected as MOCA's Student Artist-in-Residence in 2018. Growing up in Northeast Florida, Mark Lester drew inspiration at an early age from local natural environments... >> Read More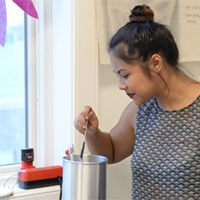 Image courtesy of Jennifer Grissom and the University of North Florida.
ERICA MENDOZA
Erica Mendoza received her BFA in sculpture at the University of North Florida and is currently an MFA candidate at the University of Tennessee in Knoxville. Interested in many different materials such as cast metals, steel, leather, and natural... >> Read More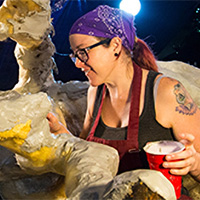 Photo courtesy of the artist.
JENN PEEK
Jenn Peek is a multidisciplinary artist attending the University of North Florida to complete her Bachelor of Fine Arts with a concentration in sculpture. Her artwork focuses on processes of cast iron and steel fabrication, but she... >> Read More
MARY RATCLIFF
Mary Ratcliff graduated from the University of North Florida with a Bachelor of Fine Arts concentrating in sculpture and a minor in professional education in 2017 and was MOCA's 2016 Artist-in-Residence. Her artwork primarily focuses on... >> Read More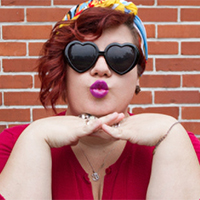 Photo courtesy of the artist.
AMANDA ROSENBLATT
Amanda Rosenblatt is a fine art and creative portrait photographer currently living in Jacksonville. The exhibition Allegory of Fortune is the result of her student residency at MOCA Jacksonville... >> Read More